Harry Walter Berry was a native of Chelmsford, who joined the army from Hoffmann's in the first weeks of the war, survived its duration, but died from pneumonia in February 1919 after being married for just three months. He lived in South Primrose Hill.
BERRY, HARRY WALTER,
Corporal, Royal Army Service Corps
Aged 25, and by then serving as a Corporal, Harry married Prudence Ruth Fanny Andrews on 24th August 1918 at Chelmsford Cathedral. His home address was given as 34 South Primrose Hill, Chelmsford (today's 76), where he is thought to have lodged with George and Florence Sawyer. His 22 year-old bride was the daughter of Frederick John and Eliza Prudence Andrews. At the time she was resident at '39 West End Terrace, Chelmsford', today known as 103 South Primrose Hill. Frances' father had been a drayman. She had been born in Hungerford, Berkshire on 15th November 1895. Meanwhile Harry's father was then living in Ontario, Canada.
Harry died from illness at Woolwich Military Hospital, London, aged 25 on 10th February 1919, while serving as Corporal T/29465 in the 1st DSC of the Royal Army Service Corps.
Harry was born in Chelmsford in 1893 (at the time his forenames were recorded as 'Walter Harry'). He was the son of Charles Walter Berry and Sarah Berry (nee Reid). The couple had married in 1892. His father had been born in Chelmsford in 1866; his mother had been born in Hornchurch in 1871.
Harry's only known sibling was Miriam Rosetta Berry (born in Chelmsford in 1895).
The 1901 census recorded eight year-old Harry visiting 73 year-old Elizabeth Byatt at 14 Pleasant Place [Upper] Bridge Road, Chelmsford. Elizabeth was Harry's mother's aunt. At the same time Harry's parents and sister were living at 6 Lydford Road in Paddington, London where Harry's father was a dairyman.
Harry has yet to be found in the 1911 census.
In 1913 his sister married George V. McKenzie in Hampshire.
Prior to joining up at the start of the war Harry worked at Hoffmann's ball-bearing factory in Chelmsford. He landed in France on 12th August 1914.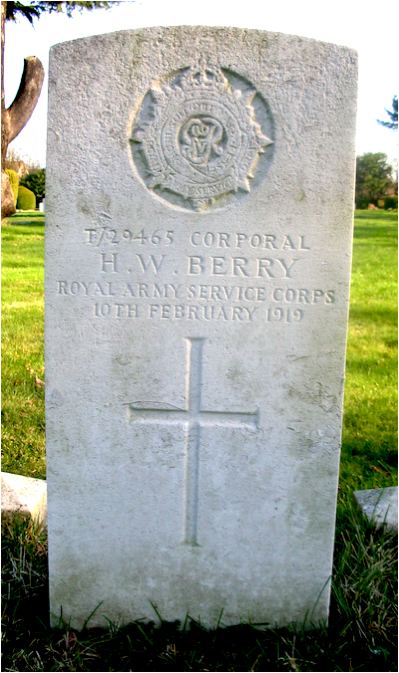 The Essex Chronicle reported upon his death on 14th February 1919:
"Corporal's death - The death of Cpl. H. W. Berry, of the R.A.S.C, of South Primrose Hill, took place at the Royal Herbert Hospital, Woolwich, on Monday, from pneumonia and heart trouble, at the age of 25. He joined up in August 1914, and left for France at the end of August the same year. He was in the retreat from Mons. He had only bee married three months. He was employed at Hoffmann's before joining up/ The funeral will be at Writtle Road Cemetery on Monday."
Harry was buried at Chelmsford Borough Cemetery in Writtle Road on 17th February 1919 (grave: A. 1159). The Rev. George Colley, Curate of Chelmsford Cathedral, conducted the service. At the time Harry's home address was given that of his in-laws. He was entitled to the Victory, British War and 1914 Star medals.
A report of his death and funeral appeared in the Essex Weekly News on 21st February 1919::
"Miitary funeral - On Monday the funeral of Cpl. H. W. Berry R.A.S.C., of South Primrose Hill, Chelmsford, took place with military honours at the Borough Cenetery, the Rev. G. Collet officiating. The deceased, who was 25 years of age, died at the Royal Herbert Hospital, Woolwich, on the 10th inst, from pneumonia and heart trouble. He was formerly employed at the Hoffmann Works, but joined up in Augustr= 1914. He left for France at the end of the same month, and was in the retreat from Mons. He had been married only over three months."
Harry is commemorated on the Civic Centre Memorial, Chelmsford and by the Chelmsford Parish Great War Memorial in Chelmsford Cathedral.
On 10th May 1934 Harry's mother-in-law, Eliza Prudence Andrews, was buried in his grave, having died aged 63.
During the Second World War Harry's widow was awarded the British Empire Medal (Civil) for her work as a forewoman in the Cage Department at Hoffmann's. She died in 1971.
Harry was one of the 'South Primrose Hill Boys'.
160208