Yorick John 'John' Bonnett was born and bred in Chelmsford, worked for Crompton's and joined the army early in the war. He died from a kidney disease in France in January 1916. His family home was in Widford Road. A brother died in the army in India in 1919.
John was born in Chelmsford in March 1891, the son of Robert Arthur Bonnett and Beatrice Bonnett (nee Murkin). His father had been born in 1848; his mother in 1860, both at Hargrave near Bury St. Edmunds in Suffolk. The couple had married c1877.
John was christened at St Mary's Church, Chelmsford (now the Cathedral) on 17th April 1892, along with his sisters Susan Maria Bonnett (born 8th September 1883) and Florence Bonnett (born 6th September 1885). At the time their father was described as a mason of Park Avenue. John's siblings also included Arthur Robert Bonnett (born c1877 died in 1932), Emma E. Bonnett (born c1880), Jessie Bonnett (born c1882), Elizabeth Annie Bonnett (born in 1893), Edward Joseph Bonnett (born 1896) and Catherine Beatrice Bonnett (born in 1899). All the children apart from Arthur were born in Chelmsford. Arthur was born in Derby, Derbyshire.
The 1891 census found one month-old John living with his parents and five siblings at Park Avenue, Chelmsford. His father was a stonemason at the time. A decade later ten year-old John was recorded in the census at Baddow Road, Great Baddow, aged ten, living with parents and five siblings. His father was a stone pavement contractor.
A decade later the 1911 census recorded 20 year-old John living with his parents, four siblings, two cousins, three boarders and his maternal grandmother at Tudor House in Widford (situated in modern day Widford Road). His father was to remain there until his death in 1936. At the time of the census John was an armature winder (probably at Crompton's). His father was described as road and sewage contractor.
John enlisted at Chelmsford and was in the army by September 1914. In February 1915 John was reported to have been rejected by the army as medically unfit. However, by early May 1915 he was reported to be back in the army.
John landed in France on 13th July 1915. He died in hospital on 21st January 1916 from a kidney disease while serving as Driver T4/084384 in the 1st Company Motor Transport of the Army Service Corps. News of his death appeared in the Essex County Chronicle on 4th February 1916:
"Driver Yorick John Bonnett, A.S.C., second son of Mr. and Mrs. R. A. Bonnett of Widford, Chelmsford, died in hospital in France on Jan 21 of nephritis. Deceased who was in in his 28th year was given a military funeral at Le Treport, Canon Hunt Chaplain to the Forces conducting the services. Deceased, a popular young fellow, previously served in the Hussars, and joined the A.S.C. on the outbreak of war. He went to France on June 5 last. Mr and Mrs Bonnett have received several letters from the officers, Chaplain, and sisters speaking of the deceased's good qualities."
BONNETT, YORICK JOHN,
Driver, 1st Company Motor Transport, Army Service Corps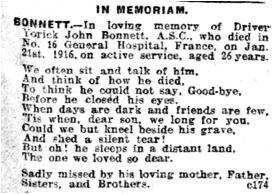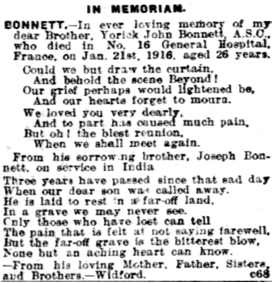 The February 1916 edition of the Widford Parish Magazine reported:
"Our sympathises go out to Mr and Mr Bonnett and family in their sorrow caused by the death of Driver John Bonnett in France, Having received news of his dangerous illness Mr Arthur Bonnett was about to start on his journey visit his brother, when a telegram arrived announcing his death. With so many others of his fellows he has laid down his life for us, and his parents have given him up to their country's cause."
John is buried at Le Treport Military Cemetery, 30 kilometres north-east of Dieppe, France (Plot 1. Row M. Grave 2B).
In the years after John's death the Essex County Chronicle regularly published in memoriam notices from his family.
John is commemorated on the Civic Centre Memorial, Chelmsford and at the Widford Parish Memorial in St. Mary's churchyard, Widford. John's brother Edward died on 17th November 1919 and is also commemorated on those two memorials. John was entitled to the 1914-15 Star, British War Medal, and Victory Medal.
John's mother lived to be 70 and was buried at St. Mary's Church in Widford on 30th June 1930.
His father was buried there on 18th June 1936 having died three days earlier aged 89; his brother Arthur, the last of the three brothers, was also buried there on 14th May 1932 having died aged 55.
120825