Ernest Frederick Brackstone (alias Millbank) had a troubled childhood, served in the army under an assumed name and was killed in action in the early weeks of the Battle of the Somme in July 1916. His family home was in Hamlet Road.
BRACKSTONE, ERNEST FREDERICK,
Private, 5th (Service) Battalion (Pioneers) South Wales Borderers
Ernest enlisted into the army at Hammersmith, London under the surname 'Millbank'. He served as Private 19427 in the 5th (Service) Battalion (Pioneers) of the South Wales Borderers. It was a New Army battalion that had been formed in September 1914 and was part of the 58th Brigade in the 19th (Western) Division.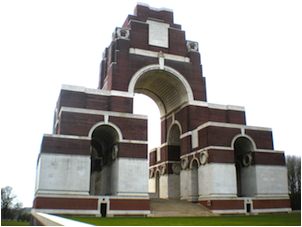 He was born on 20th July 1895 in Reigate, Surrey, the second son of the house painter and decorator Charles Brackstone and Mary Ann Brackstone (nee Argent). Ernest's father had been born in 1862 in Appleshaw, Hampshire; his mother in 1868 in Writtle. His parents had married at St. Nicholas' Church in Charlwood, Surrey on 19th October 1889. Two years later they had been living at Oakhill Road in Reigate.
Ernest was baptised at St. Mary's Church, Reigate on 18th January 1896, at which time his father was a printer living at Howard Road in Reigate.
Ernest had five siblings, two of whom died by 1911. They were Charles Henry Brackstone (born in 1891 in Reigate), Edith Winifred Brackstone (born in 1893 in Reigate, died 1915), Dorothy Beatrice Brackstone (born in 1898 in Reigate and died in 1899) , Sidney Victor Brackstone (Born in 1901 in Chelmsford, died in 1910), and Bertha Evelyn Brackstone (born in 1903 in Chelmsford, died in 1977).
Ernest's family arrived in Chelmsford around 1900. His education began at Moulsham Infants School in Moulsham Street, Chelmsford on 12th June 1900, at
which point his family lived at Holmwood in New [Upper] Roman Road, Chelmsford.
The 1901 census found five year-old Ernest, his surviving siblings and parents living in Upper Roman Road. Ernest's father was then working as a house painter and decorator.
On Friday 27th September 1907 Ernest's father appeared before the magistrates, led by Mayor Fred Chancellor, at Chelmsford Petty Session. A local newspaper subsequently reported:
"Charles Brackstone, painter, of Chelmsford, asked that his son, Ernest Frederick, should be sent to an Industrial School. The father said his son, who was 12 years old, would not go to school. Without any authority he went to Mr. Fincham and asked for 1s. for his mother. The money was lent, and tho boy bought a football. This he sold for 2s. 6d., and went to London with the proceeds. He had stayed out all night four times, and on one occasion he went to Southend. Until the summer holidays there was not a better boy.— An order for the boy's detention in an industrial school until the age of 16 was made."
By 1910 street directories show that Ernest's parents were then living at 16 Hamlet Road, Chelmsford, a semi-detached house close to the junction with Upper Roman Road. In October that year Ernest's brother, Sidney, died aged eight.
The census the following year recorded Ernest's parents, sisters Edith and Bertha, and a lodger still resident there. Ernest's father was a house painter; his sister Edith a dressmaker. Meanwhile Ernest, then aged 15, was at the Essex Home School for Destitute Boys in Rainsford Road, Chelmsford, where he was a part time student.
In June 1914 Ernest's mother placed an advertisement in the local press seeking tenants:
"Apartments: suit married couple; with or without attendance; or two friends sharing rooms; piano. Mrs. Brackstone, 16 Hamlet Road, Chelmsford."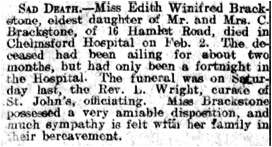 On 2nd February 1915 Ernest lost his third sibling when his sister Edith died at the Chelmsford & Essex Hospital.
On 2nd February 1915 Ernest lost his third sibling when his sister Edith died at the Chelmsford & Essex Hospital.
Ernest landed in Le Havre, France on 17th July 1915. His battalion participated in the Battle of the Somme. In late July 1916 the battalion served in Fricourt Wood and in the Bazentin-le-Petit and
Mametz areas. Ernest was killed in action on 30th July 1916. He was aged 21.
On 25th August 1916 the Essex County Chronicle carried a family announcement: regarding Ernest's death:
"BRACKSTONE. - Killed in action in France in the South Wales Borderers, July 30th 1916. Ernest. aged 21, the dearly loved second son of Mr. and Mrs. Brackstone, of 16 Hamlet Road, Chelmsford, late of 8 Effingham Road, Surrey."
The following week the same paper carried a short report of his death:
"Ernest Brackstone. S. Wales Borderers, killed in action on July 30. was the second son of Mr. and Mrs. Brackstone of 16 Hamlet Road, Chelmsford, and was 21 years of age."
Ernest has no known grave and is commemorated at Thiepval Memorial, near Albert, Somme, France, on the Civic Centre Memorial, Chelmsford, and the Moulsham Parish Memorial, St John's Church, Moulsham. He was entitled to the 1914-15 Star, British War Medal, and Victory Medal.
Ernest's father remained 16 Hamlet Road until at least 1929 when a street directory listed him there and described him as a decorator. In 1919 his father featured prominently in reports in the local press about a strike of Chelmsford's house painters in his guise as the secretary of their local trade union.
Ernest's mother died on Christmas Eve 1926, aged 58, after a long illness.
In 1948 Hamlet Road was renumbered and number 16 became number 41 (pictured).
130815