Charles Edward Brown was born in Chelmsford, worked at the railway station and then joined the army around 1908. He saw action in Gallipoli, Egypt and France suffering wounds in each. He married in 1916, but was killed near Loos in March 1917. His family home was in South Prinrose Hill. An adopted brother was also killed.
He was born in Chelmsford in 1890, the son of John Frederick Brown and Alice Caroline Brown (nee Chapman). His father had been born in Springfield in 1860; his mother also in Springfield in 1858. They had married in 1883.
Charles' siblings, all born in Chelmsford, included Frederick J. Brown, born c1887 and Mary Lucy Eleanor Brown (born in 1891). Charles also had a half-sister, Edith Caroline Brown, born in 1882 in Battersea, London.
At the time of the 1891 census four month-old Charles was living with his parents, two elder siblings and a lodger at 19 South Primrose Hill, Chelmsford. His father was an electrical engineer's general labourer (and army reservist in the 44th foot). The 1901 census found ten year-old Charles at 25 South Primrose Hill with his parents and two siblings. His father was a furniture remover, and his brother Frederick was a market gardener. The property was renumbered 39 before the war, then 51 during the war and finally 75 in 1946).
The 1911 census recorded Charles' parents and sister Mary at 39 South Primrose Hill. His father was a labourer, his mother a laundress and his sister a clerk at an electrical engineer's. However, Charles has yet to be found in the 1911 census, but was probably by then abroad.
Having previously worked at Chelmsford Railway Station Charles enlisted at Chelmsford around 1908-9 and served in the 1st Battalion of the Essex Regiment. The battalion, part of the regular army had been in Mauritus when the war started, and returned to England in December 1914. In January 1915 it sailed for Gallipoli, via Egypt and Mudros. The battalion, including Charles, landed at Cape Helles, Gallipoli on 25th April 1915. Charles survived that campaign, though wounded, and was subsequently evacuated from Gallipoli to Egypt in January 1916. From there the battalion sailed to Marseilles on 16th March 1916. It then took its place on the Western Front in April 1916 and later that year participated in the Battle of the Somme.
Charles married Louisa M. Wilkin in December 1916, presumably while home on leave.
Charles was killed in action by a shell on 24th March 1917 while serving as Company Serjeant Major 9453 having by then transferred to the 11th (Service) Battalion of the Essex Regiment.
BROWN, CHARLES EDWARD, Company Sergeant Major,
11th (Service) Battalion, Essex Regiment (formerly 1st Battalion Essex Regiment)
The raid experienced very little opposition in the first line trench, while the support line had been knocked out by British artillery. German infantry retaliation was weak. Nine Germans were taken prisoner; many others were killed. Charles' battalion's casualties were four officers wounded and 62 other ranks killed and wounded, the majority including Charles having become casualties in before the battalion left the trenches.
The Essex County Chronicle of 20th April 1917 included the following entry in its Roll of Honour:
"Brown – Killed in action, in France, on March, 24th, 1917, C.-S.-M. Charles Edward Brown, youngest and dearly loved son of Mr. and Mrs. Fred. Brown, 51 South Primrose Hill Chelmsford. R.I.P."
The same paper also included a report on his death:
"Mr. and Mrs. Frederick Brown, of 51 South Primrose Hill, Chelmsford, have lost their son, C-Sergt.-Major Charles Edward Brown, Essex Regt., killed in the war. He was 26 years of age, and only married in December last Miss Louisa Wilkin, of Sawyer's Hall, Brentwood, in which town she now lives with her parents. The deceased soldier had served in the Army for eight years, and before that he was employed at the Chelmsford passenger station under the then station-master, Mr. Rowe. He had been through the Dardanelles and in Egypt, and then in France, and was wounded in each country, on the third occasion being rendered quite deaf, regaining his hearing after some months. He was killed in France by a shell. His Captain says he was his right hand man, and it will be difficult to fill his place. He lost his life while trying to save others who had been buried by an explosion. As he dug in his endeavour to save these men a shell came from the enemy, exploded, and killed him instantly. This was during a night attack upon the enemy's trenches. Mr. and Mrs. Brown's other son, Pt. Cox Brown. Essex Regt., aged 27 years, was killed two months after the war broke out. Their eldest son, Fredk., is also serving."
Charles is buried at Philosophe British Cemetery, Mazingarbe, north-east of Loos, Pas de Calais in France (grave: I. N. 9).
He is commemorated on the Civic Centre Memorial, Chelmsford and by the Chelmsford Parish Great War Memorial in Chelmsford Cathedral. He was entitled to the 1914-15 Star, British War Medal, and Victory Medal.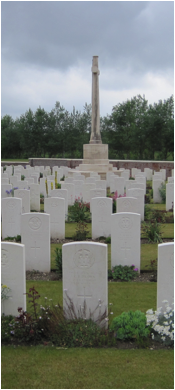 On the day of his death some eight officers and 320 other ranks from Charles' battalion, formed into four companies, and were detailed to raid a German-held area known as 'The Lozenge', north-east of Loos and immediately north of Puits 14 bis and the Chalk Pit. The first wave comprising of two companies assembled in the British front line, with the second wave in the support line. A post-war history of the battalion continued:
"It was a fine clear day and in the afternoon the assaulting columns started trickling into their forming up trenches. Just after they had got into position some German aeroplanes came over. Everyone stood stock still, for if they had been detected the results would have been serious with the men thickly lining the trenches....The details of the attack were very carefully worked out. There was first a heavy bombardment of the enemy front and back areas, and then six minutes before zero-hour an 18-pounder barrage on the first and second lines. At zero (7 p.m.) the infantry were to move forward, the first wave being timed to enter the German front line six minutes later. A ten minutes; bombardment of the second and third lines was to ensue and then at 7.16 p.m. it was hoped that the second wave would be in the second German line. The British artillery fire had been so effective that the wire offered no obstacle to the assault. The 18-pounder barrage was also excellent, enduing all ranks with the utmost confidence in our artillery. Forty minutes before the infantry were due to jump the parapet and whilst they were standing packed in the trenches the German heavy artillery opened and this, with several 'shorts' from our heavy artillery, caused much damage to the trenches and to Posen Alley, causing 35 to 40 casualties. Of these, ten were killed,
including C.S.M. Brown....A certain amount of disorganisation inevitably followed, but the officers and N.C.O.'s admirably responded to the emergency and were well backed up by the men. It was probably the most critical moment of the whole operation, as not only were there casualties, but many men were actually half buried. A minute before zero the German bombardment came down again, but it did not stop the first wave, who went forward promptly at 7 p.m., protected by trench motar fire on the right flank. The second wave went through ten minutes later wand was also exactly on time."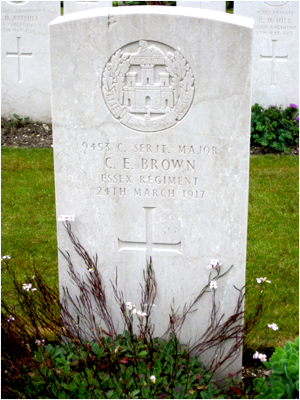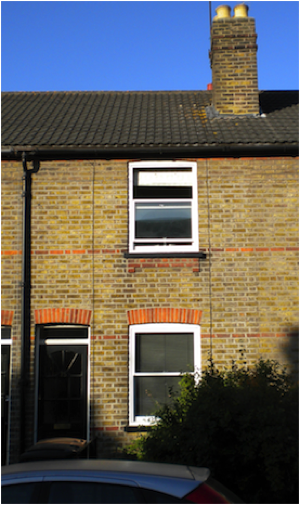 The 1918 register of electors showed Charles' parents still at their property in South Primrose Hill (today's number 75). In early 1918 his widow married Thomas Skingley and they subsequently lived at 17 New Street, Chelmsford.
Charles' adopted brother Herbert William Cox-Brown was killed in action on 3rd October 1914.
Charles was one of the 'South Primrose Hill Boys'.
13023