William Henry Bull was born in Chelmsford, brought up by a single mother, and sent to the Essex Industrial School after his mother 'found she was unable to control him.' He later worked as a groom, joined the navy in 1909 and was killed at the Battle of Jutland in May 1916. His family home was in Cable's Yard, off Moulsham Street.
BULL, WILLIAM HENRY,
Stoker, H.M.S. Queen Mary, Royal Navy
and served on H.M.S Hecla from 3rd February 1910. On 17th March 1910 he was transferred to H.M.S. Blake, a 9,150 ton armoured cruiser. In early April 1911 the census found 21 year-old William serving as a stoker on board H.M.S. Test, a torpedo boat destroyer of the 2nd Flotilla Home Fleet at Portsmouth Dockyard in Hampshire.
On 7th April 1910 he returned to H.M.S. Victory II now as a stoker 1st class before joining H.M.S. Revenge, a pre-dreadnought battleship on 19th May 1911.
He returned to H.M.S. Victory II on 13th June 1913 and joined his final ship, the battlecruiser H.M.S. Queen Mary on 4th September 1913, the month when she was first commissioned.
In August 1914 H.M.S. Queen Mary took part in the First Battle of Helingoland Bight and underwent a refit in early 1915. William was killed on 31st May 1916 while serving as Stoker 1st Class K/2475 when H.M.S. Queen Mary exploded and sank during the Battle of Jutland with the loss of all but nine of her crew of 1,226.
The Essex County Chronicle of 16th June 1916 reported:
"First-class Stoker W H Bull, who lost his life at the Battle of Jutland, going down on H.M.S. Queen Mary was the son of Mr & Mrs Bull of Moulsham Street, Chelmsford. He was 26 years of age."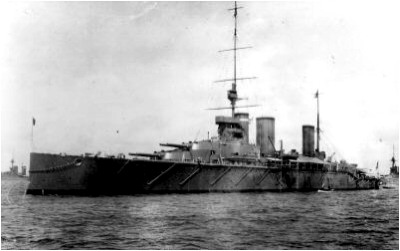 William was born in Chelmsford on 24th May 1889, the son of, Jane Bull (nee Pilley). The likelihood is that his father was Jane's husband, Charles Albert Bull, who died two months before William's birth. Jane and Charles had married on 25th September 1880 at St. Mary's Church in Broomfield. At that time Charles had been a 22 year-old millwright; his bride was a year younger and both lived in Broomfield. Charles had been born in Little Waltham.

The couple had a child before William, Lillie Bull, who had been born in Chelmsford in 1881.
The 1891 census found William, aged one, living with his mother at 1 Cooper's Row, off Broomfield Road in Chelmsford, along with an elder probable half-sibling who had been born since Charles Bull had died - he was six year-old Bertie Bull, who had been born in Chelmsford in 1894 or 1895. The household also contained two lodgers in their early twenties. William's mother's occupation in the census was 'Lodger widow, taken in lodgers.'
In the following decade Jane had two more Chelmsford-born children - Florence Eliza Bull (born 1891), and Robert Bull (born c1895).
Florence was baptised at St. Mary's Church, Chelmsford (today's Cathedral) on 8th July 1892 at which time Mary was described as 'a single woman of 1 Cooper's Row.' Robert followed suit there on 5th March 1898 by which time Jane was 'a single woman of 2 Compasses Row,' another terrace off the western side of Broomfield Road.
In 1901 the census recorded 11 year-old William, living at Union Yard, off the western side of Tindal Street in Chelmsford,. He was accompanied by his 42 year-old mother, 19 year-old sister Lillie, brother Bertie (aged 16), plus two younger siblings, both Chelmsford-born - Florence Bull (aged 8) and Robert Bull (aged 6).
In October 1901 magistrates at Chelmsford agreed to send William to the town's Essex Industrial School until he was 16, after his mother had reported she could no longer control him.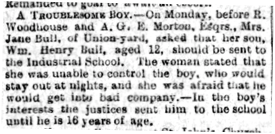 Less than three years later, on 21st May 1904 William's mother had another child - Alice Maud Bull. She was baptised at St. Mary's Church in Chelmsford on 4th September that year. By then William's mother was living at 2 Rainsford Road, Chelmsford.
Perhaps through the direction and efforts of the Essex Industrial School William enlisted into the Royal Navy on 15th April 1909 for a period of engagement of twelve years. At the time he was
described as five feet two and a tenth inches tall, with a chest of 36 inches, brown hair and eyes, a fresh complexion and a small scar on his chin. He had previously worked as a groom and served in the Territorials.
His initial posting as stoker 2nd class was to H.M.S. Nelson, a former armoured cruiser used as a training ship for stokers. On 12th August 1909 he transferred to H.M.S. Patrol, a 2,900 ton scout cruiser. He moved to H.M.S. Victory II, a shore-based training establishment, on 19th October 1909,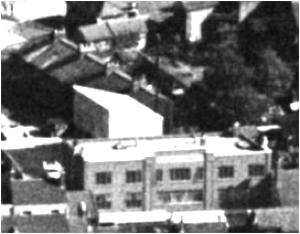 The 1918 register of electors listed William's mother at 3 Cable's Yard, Moulsham Street, Chelmsford. Cable's Yard, which was off the eastern side of Moulsham Street, between numbers 32 and 33, consisted of ten properties, all now demolished.
The 1918 register of electors showed that two other households in Cable's Yard had lost sons in the war: the adjacent cottage, number 2, was home to the parents of Ernest Horrex and Fred Horrex, while 5 Cable's Yard was the home of Charles Bridgeman's mother.
William has no known grave and is commemorated on Portsmouth Naval Memorial (memorial reference: 17), on the Civic Centre Memorial, Chelmsford, and the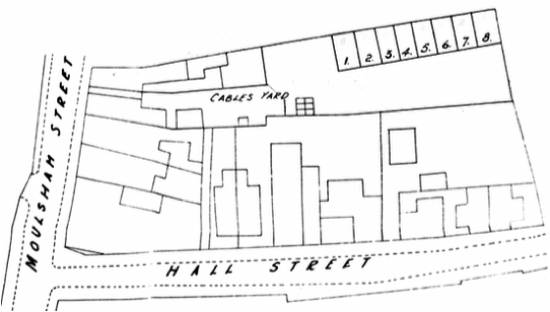 Moulsham Parish Memorial, St John's Church, Moulsham.
His mother died in 1929.
The wreck of H.M.S Queen Mary was discovered in 1991, lying in 60 metres of water, with the shallowest part of the wreck at 44 metres.
140323