Frank Ernest Burgess was a career soldier who joined the army in 1905, married five years later and produced a son. He landed in France eight days into the war. He died from wounds during the First Battle of Ypres in October 1914. His widow lived in Henry Road.
BURGESS, FRANK ERNEST,
Sergeant, 1st Battalion King's Royal Rifle Corps
The 1911 census recorded Frank's widowed father, his father's sister and two of Frank's brothers at 26 Clifton Road in Winchester. Frank's father was a night watchman; and his 15 year-old brother Reginald, a golf caddie. Frank has yet to be found in the census.
Frank married Ethel Hooker on 6th April 1912 at Portsmouth Parish Church, Hampshire. Ethel was the sister to George Alexander Hooker and John William Hooker, both of whom were killed in the war and are commemorated by the Civic Centre Memorial in Chelmsford.
Frank and Ethel had one son, Frank Richard Burgess who was born on 5th November 1912 in Farnham, Hampshire (he was always known as 'Guy' due to his birthday falling on Guy Fawkes Day. Frank's brother Reginald also served in the 1st Battalion of the King's Royal Rifle Corps.
On 27th May 1913 at Aldershot Frank successfully applied to extend his service to twelve years. He repeated the exercise the following summer - on 26th June 1914 at Aldershot he re-engaged to complete 21 years' army service At the time he was a Sergeant (since 1st August 1913). In the interim, a report dated 11th September 1913 described Frank as 'a thoroughly capable hardworking non-commissioned officer. Has been through a course of mounted infantry. Thoroughly trustworthy and sober and has extended to twelve years'. Ten days later at Chalfont St. Peter he was absent from 8 p.m. to 10.55 p.m. and subsequently reprimanded.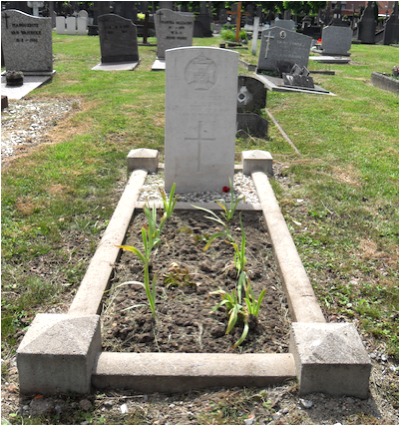 Frank was born in St Paul's, Winchester, Hampshire in 1888, the son of William Burgess and Emmeline Burgess (nee Kennison). His father had been born c1857 in Beauworth, Hampshire; his mother c1862 in Worthington, Hampshire. They had wed in 1882 in Hampshire.
Franks' siblings included Alice Maud Burgess (later Jones, born in 1883), Eva Florence Burgess (later Alborough, born in 1890), Reginald Burgess (1895-1973) all in Winchester, and Edward Silas Burgess (1902-1959).
The 1891 census found Frank, aged three, with his parents and two siblings at 26 Clifton Road, Weeke, Winchester. His father was a drayman. A decade later the family were still at Clifton Road,
though Frank's father was now a bricklayer's labourer. Frank was then 13 years old.
Frank attested for nine years' service (plus three in reserve) with the King's Royal Rifle Corps at Winchester on 10th May 1905. At the time he was 18 years and two months old and employed as a hospital porter in Winchester. He was five feet eight inches tall and weighed 132 pounds. His chest was 34 inches with an expansion to 36.5 inches and good physical development. He had blue eyes, brown hair and a fresh complexion and was a member of the Church of England. He had a birthmark behind his right trochanter and a scar on his upper lip, left side. He joined the depot of the King's Royal Rifle Corps on 22nd May 1905 and was posted to the 1st Battalion of the regiment on 7th September that year as a rifleman with the service number 6505.
He remained in the U.K. until 26th September 1905 before leaving for Egypt where he served for just over three years until 12th February 1909. During that period he was appointed lance-corporal (on 16th January 1907), missed his mother's death also in 1907, was hospitalised in Khartoum, Sudan, and passed a class in mounted infantry (September 1907). Frank spent the next few years back in the U.K. until the outbreak of the war saw him land in France.
On 18th January 1910 Frank had been promoted to Corporal (Lance/Sergeant). On 19th November that year he was severely reprimanded in Gosport for being in bed at 6.45 a.m.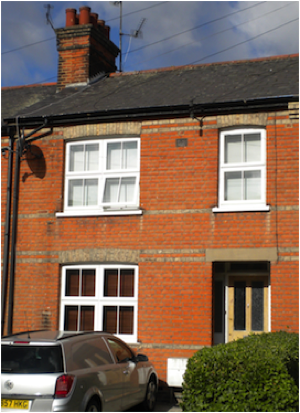 At the outbreak of the war the 1st Battalion of the King's Royal Rifle Corps was based at Aldershot in Hampshire. As part of 6th Brigade in the 2nd Division it soon moved to France, with Frank going ashore at Le Havre on 12th August 1914. The battalion fought through Mons, the Retreat and the Ainse, sustaining heavy losses. By 12th October 1914 only ten of the battalion's original officers remained. Seven days later it moved to the Ypres Salient at the start of the First Battle of Ypres.
Frank was wounded in action on 26th October 1914 with bullet wounds to his left leg and left foot. He was admitted to hospital the next day but died from his wounds on 28th October 1914 while with the 6th Field Ambulance. He was aged 26 and is buried at Ypres Town Cemetery in Belgium (grave: C. 1). The cemetery also contains the grave of Lieutenant His Highness Prince Maurice of Battenburg, the youngest grandson of Queen Victoria. Prince Maurice was an officer in Frank's battalion and was killed in action on 27th October 1914, the day before Frank succumbed to his wounds.
On 28th May 1915 the War Office wrote to the Rifle Record Office at Winchester informing them that articles of Frank's personal 00701
property in their possession should be dispatched to his widow, Ethel Burgess at Selsey, Henry Road, Chelmsford. On 7th June 1915 the War Office sent a further letter confirming that Frank's widow and son would receive a weekly pension. It is presumed that Ethel had come to Chelmsford due to her family connections to the town through her brothers and their families.
Frank is commemorated on the Civic Centre Memorial, Chelmsford and by the Chelmsford Parish Great War Memorial in Chelmsford Cathedral. He was entitled to the 1914-15 Star, British War Medal, and Victory Medal.
Frank's widow, Ethel, was recorded in the 1918 register of electors at 34 Henry Road, Chelmsford (pictured). She was still there according to a 1921 street directory and eventually died in 1962, aged 74. Their son 'Guy' Burgess died in Essex in 1981.
100701