William Burton came to Chelmsford in the late 1890s, working as a butcher and then draper. He joined the army early in the war and landed in France in March 1915. He was killed in action the following month at the Second Battle of Ypres. His father lived in Wood Street.
William was born in 1877 in Colchester, the son of the butcher William Burton and Ellen Burton. His father had been born in 1851 in West Bergholt; his mother c1853 in Brentwood.
William was baptised at St. Giles Church, Colchester on 1st July 1877. At that time his father was a butcher resident at Shrubland Road, Colchester,
William's six siblings included Samuel Wyles Burton (1878-1959), Charles Burton (1880-1917), Harry Burton (1881-1946), Bertie Burton (born 1885-1967) and Percy Burton (1896-1917). The first three were born in Colchester, the remainder in Brentwood.
In 1881 William, then aged three, was recorded by the census with his parents and two brothers at Winnock Road in Colchester. William's father was a butcher. Ten years later the 1891 census listed 13 year-old William living with his parents and four brothers at Portland Place, Tower Hill in Brentwood. William's father was still a butcher.
In the late 1890s William's family is thought to have moved from Brentwood to Chelmsford.
The 1901 census recorded 23 year-old William living with his parents, three brothers and two servants at 18 Moulsham Street in Chelmsford (next door to the Windmill Inn). William was employed as a butcher (slaughterman) working for his father who had the same occupation. William's brother Charles was a draper's assistant, while brother Bertie was a butcher's assistant.
On 9th July 1908 William's mother died in Chelmsford.
BURTON, WILLIAM,
Private, 2nd Battalion, Manchester Regiment
William lived in Chelmsford and enlisted at Cleethorpes in Lincolnshire. He served with the 2nd Battalion of the Manchester Regiment, a regular army unit which was at the Curragh, Ireland at the outbreak of the war. The battalion went to France in August 1914, though William did not land in France until 20th March 1915.
In April 1915 the battalion moved to a sector on the Ypres front in Belgium, taking a line east of the mound at St Eloi to the western end of Armagh Wood, in preparation for the attack on Hill 60. The attack on Hill 60 continued for three weeks, but what came to be known as Second Ypres continued into May. William was killed in action on 23rd April 1915 while serving as Private 2362 in the 2nd Battalion of the Manchester Regiment. He is buried at Chester Farm Cemetery (grave: I. A. 11), five kilometres south of Ypres.
William's death was reported in the Essex County Chronicle on 14th May 1915:
"Pt. W. Burton, 3rd Manchester Regt., killed in action on April 23, was a native of Chelmsford, and formerly assisted his father in a butcher's business in Moulsham Street."
William is commemorated on the Civic Centre Memorial, Chelmsford. He was entitled to the 1914-15 Star, British War Medal, and Victory Medal.
The Commonwealth War Graves Commission record William's father's address as 48 Wood Street, Chelmsford - the address of the Chelmsford Union Workhouse, later St. John's Hospital. William's father eventually died in 1928, aged 77.
140221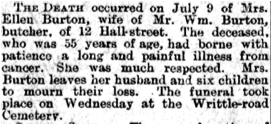 The 1911 census found William's 59 year-old widower father, living with William's brothers, Charles and Percy, at 12 Hall Street in Chelmsford. William's father was a butcher; brother Charles was a draper. Meanwhile 34 year-old William was recorded by the census also working as a draper and staying at the Salvation Army's Working Men's Hotel and Shelter in Middlesex Street in the City of London.