Percy Charles Butcher came to Chelmsford from Halstead and worked at Hoffmann's bearings factory. He married, had three children and was a Territorial. He died in Suffolk in October 1914 from from appendicitis. His home was in Upper Bridge Road.
BUTCHER, PERCY CHARLES,
Sapper, Essex Fortress Company, Royal Engineers
The 1911 census found 26 year-old Percy living with his parents and three siblings at 10 Upper Bridge Road in Chelmsford (today's number 20). He was employed as a grinder at Hoffmann's ball-bearings factory in Chelmsford. His father was a carpenter for a builder. His brother Albert was a stores clerk for an electrical engineer's, while sister Beatrice was a day servant.
Percy married Ipswich-born Martha Hazell on Christmas Eve 1911 at St. John's Church in Moulsham. At the time Percy was aged 26, was working as a mechanic, and lived at 10 Upper Bridge Road, Chelmsford. His bride was said to be aged 24 (she was really 26), lived at 26 (New) London Road, Chelmsford, and was the daughter of Samuel Hazell, a mechanic.
Percy and Martha had three children: Wilfred Charles Butcher (1912-1968). Beatrice May Butcher (born in 1913), Harry Samuel Butcher (1914-1998). When Wilfred and Beatrice were baptised at St. John's Church, Moulsham on 1st November 1913 Percy was described as an 'electrical engineer of 204 Upper Bridge Road.' He worked at Marconi's in Chelmsford.
Percy enlisted at Chelmsford and served as Sapper 108 in the Essex Fortress Company, a territorial unit of the Royal Engineers which took many of its men from the Chelmsford engineering factories. In the autumn of 1914 the Company is thought to have been part of the Harwich coastal defences.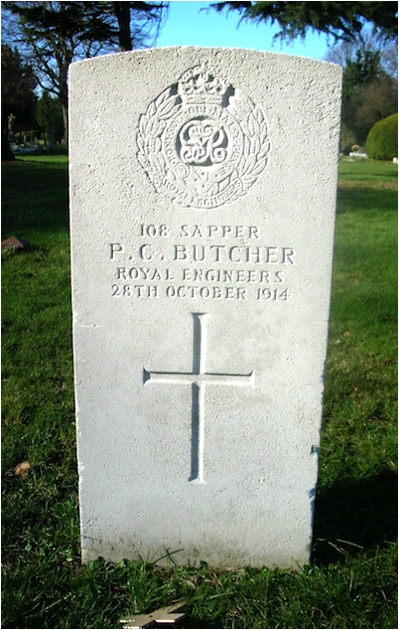 Percy was born in Halstead on 13th January 1885, the son of the carpenter and joiner Harry Edwin Butcher and Emily Butcher (nee Brett). His father had been born in Colne Engaine in 1860; his mother at Halstead in 1859. They had married on 24th February 1882 at Holy Trinity Church in Halstead. At the time Percy's father was a 22 year-old carpenter; his mother was also aged 22. Both were resident in Halstead.
Percy was baptised at Holy Trinity Church in Halstead on 19th December 1890.
Percy was one of 14 children, ten of whom survived beyond 1911. His siblings included Ethel Butcher (born c1881), Harry Edmund Butcher (born in 1883), Ernest Francis Butcher (born in 1886), Albert Thomas Butcher (born in 1887), Edith Butcher (born in 1889), Maud Alethea Butcher (born in 1891), Florence May Butcher (born 1893), Beatrice Lilian Butcher (born in 1895), Lily Violet Butcher (born in 1898) and Daisy Alice Butcher (born in 1900). All up to and including Edith were born in Halstead, the remainder in Chelmsford, suggesting the family arrived at the latter town in 1890.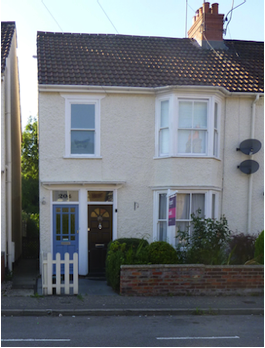 the family arrived at the latter town in 1890.
Percy was educated at Moulsham Infants School in Moulsham Street, Chelmsford from 30th June 1890 to 22nd January 1894. On admission he lived in [New] Writtle Street.
The 1891 census found six year-old Percy living with his family and five siblings at 8 Wolseley Road, Chelmsford. At the time Percy's father was a carpenter and joiner. His occupation had also been recorded as carpenter in the 1881 census of Colne Engaine.
By the time of the 1901 census the Butcher's had moved to 7 Seymour Street, the neighbouring road to Wolseley Road. Percy's father was still a carpenter, while Percy was a houseboy. By that time a ten year-old boy named Thomas Fewell had moved into 8 Wolseley Road - he was to also lose his life in the war.

Percy died at the Pier Hospital in Felixstowe, Suffolk on 28th October 1914 from appendicitis. He was 29 years old.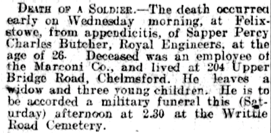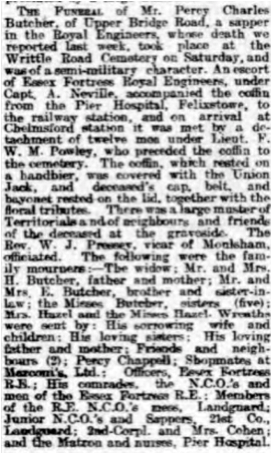 He was buried in grave B1236 at Chelmsford Borough Cemetery in Writtle Road on 31st October 1914. His home address was The Flats [204], Upper Bridge Road, and his occupation described as fitter on active service as a territorial with the Essex Fortress Company. The funeral service was conducted by Rev. W. J. Pressy, Vicar of Moulsham.
Percy is commemorated on the Civic Centre Memorial, Chelmsford. He is not commemorated by the war memorial at St. John's Church in Moulsham Street.
On 29th October 1915 the Essex County Chronicle included the following in memoriam notice:
"Butcher. - Om loving memory of my dear husband and a loving father, Sapper Percy Butcher, who died serving his King and country, Oct. 28, 1914.
Oh for the touch of a vanished hand; And the sound of a voice that is still. 201 Upper Bridge Road, Chelmsford."
His widow was listed in the 1918 register of electors at 201 Upper Bridge Road (pictured left). She married widower Edmund Abraham Bence (1881-1958) at St. John's Church, Moulsham on 18th May 1918. The couple later lived at Parkstone in Galleywood.
Percy's mother died in 1936. His father died in 1949.
130825