Caleb Augustine Chaplin arrived in Springfield from Goldhanger as a boy and then followed a 27-year career in the merchant navy. He married, had children, and was killed in March 1917 when his ship was torpedoed and sunk in the Atlantic Ocean. His home was in Henry Road.
CHAPLIN, CALEB AUGUSTINE,
Captain (First Mate), S.S Newstead
In November 1898 he was mate on the Queen Olga (mercantile number 104562) for a voyage to the East Indies. She was a 3347 tons cargo ship, built by Bartram Haswell and completed in September 1894. T. Dunlop and Sons of Glasgow owned her. Caleb made a number of further voyages as mate on board the ship. In February 1899 he went to the East Indies; and on 28th May 1901 to the Mediterranean.
Caleb was away at the time of the 1901 census which found his wife and two children at Old Church Road in Romford, along with his sister-in-law Venus. Meanwhile the census recorded his parents still at 18 Springfield Terrace, Springfield with Caleb Chaplin senior now retired. Their neighbours at 19 Springfield Terrace included the young Stanley Arthur Thorne who was also to lose his life in the War.
On 25th March 1902 Caleb left the UK for South Africa on board the ship Queen Olga, but two days later she struck sunken rocks and was re-floated (details appear in Lloyd's List of 29th July 1902 – column 38 and 6th August 1902 – column 26).
He had further trips as mate on her to South Africa on 11th August 1903, to the Mediterranean on 22nd August 1906, and on 5th May 1908 and 25th November 1908 for voyages to the Far East and United States respectively. On 6th March 1909 he was engaged as Captain's mate on Queen Olga on a voyage to Brazil. Queen Olga was eventually destroyed by fire in November 1921 at Valencia.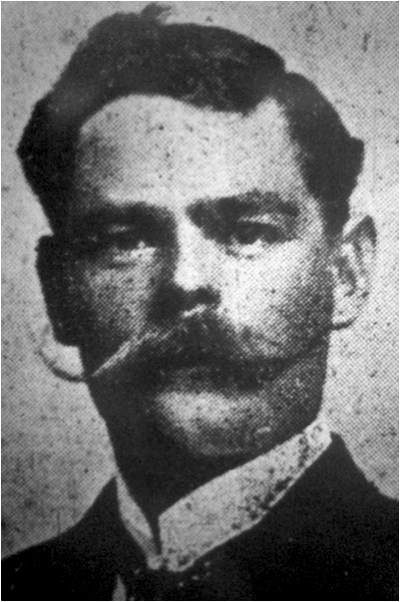 Caleb was born at Goldhanger in 1867, the son of Caleb Joseph Chaplin and Angelina Mary Chaplin. His mother was a daughter of John Alger, of the tambour lace factory, Coggeshall. Caleb's father had participated in the Australian gold rush of the 1860s.
Caleb's father had been born in Goldhanger in c1837, and his mother in Coggeshall or Rochford c1833. The couple are thought to have married in the Witham District in the December Quarter of 1862 (probably at Coggeshall).
Caleb had two elder brothers, Louis John Chaplin (born in 1863) and Herbert Mark Chaplin (born in 1865), both born at Coggeshall. His younger siblings were Frederick Chaplin (born c1869 in Goldhanger) and Mary Angelina Chaplin (born in 1871 in Chelmsford).
The 1871 census found Caleb, his mother and siblings living in Arbour Lane, Springfield. At the same time his father was working nearby in Chelmsford Gaol as a warder. Ten years later the
census recorded the family at 14 Springfield Hill, Springfield. Caleb Chaplin senior was a prison cook and baker. Of his siblings, Louis John Chaplin was a clerk, Herbert Mark Chaplin was a fitter's boy at an iron foundry, while the younger two were scholars. Caleb himself was an errand boy.
Soon afterwards, aged 15, Caleb became an apprentice on the famous tea clipper on the China route 'Leander' under the command of Captain A. Hamilton, whose father was chaplain of Chelmsford Prison. Caleb served for eight years on the Leander, his ability leading to him becoming Second Officer and the Chief Mate. Afterwards he made a model of the Leander, which, a newspaper reported, became on of his most cherished possessions.
The 1891 census recorded Caleb's parents and siblings Herbert Mark Chaplin and Mary Angelina Chaplin living at 18 Springfield Terrace, Springfield Road, Springfield (later renumbered as 175 then 117). Caleb's father remained a prison warder, his brother was an engineer's fitter and his sister was dressmaker.
After his service on the Leander Caleb served on the S.S. Violante, chartered by the African Steamship Company., a vessel engaged in the coast and river traffic on the west coast of Africa. After two years' service on that deadly coast, on 20th February 1892 Caleb had a very narrow escape from drowning when the vessel, returning home to Cardiff, was driven ashore on the coast of Wexford, Ireland.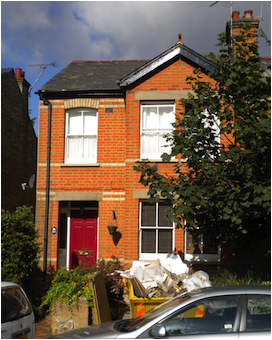 The vessel was unable to make any headway against a terrific gale, and she was driven on to the Black Water Bank. Fortunately she went clean over this, but then she struck on the inner bank within about 300 yards of the shore. In the watch previous to the vessel striking Chaplin had to lash himself to the the bridge in order to avoid being washed overboard, the seas washing right over the masts. The crew had to spend the night in the wrecked vessel, but were all saved the following day by means of the rocket apparatus, the captain who was unwell and Caleb being the last to leave the ship. Despite the chaos Caleb did not forget a large parrot, bringing the bird ashore. Eventually the bird was taken by Caleb to his Chelmsford home where it used to welcome all visitors by saying "Come in John."
The Violante was got off the rocks, patched up, towed to Cardiff, and subsequently left for the Gulf of Mexico, with Caleb as chief officer, and then the Violante came home, and Caleb left her.
Caleb was awarded his master's certificate (number 020427) in London in 1894. It confirmed that he was competent to act as a master of a
vessel. The 'Captain's Registers' show that he was mate on the 2,087 ton cargo vessel President Garfield (mercantile number 82047) which embarked for the East Indies on 1st October 1895. She had been launched in January 1882 and was later sunk by a mine on 22nd February 1915 at 53.56 North by 7.56 East.
Caleb married in the Pancras District, Middlesex in 1897 to Ellen Sophia Wells. The couple had at three children: James Caleb Chaplin (born 1897 in Kentish Town, died in 1980), Nellie May Mary Chaplin (born 1898 in , Lower Edmonton, died 1953), and John Herbert Chaplin (born 1906 in Chelmsford, died 1977).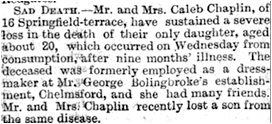 He was mate on the Arizona (mercantile number 81271) which set off to the Far East on 3rd March 1898. Arizona was 5,164 ton British passenger ship, built by Elder's at Govan and launched on 10th March 1879. She was owned by S.B. Guion of Liverpool and was eventually broken up in 1926.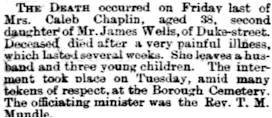 During the mid 1900s Caleb lost two very close family members while he was abroad - on 11th October 1907 Caleb's wife, Ellen Sophia Chaplin died, aged 38, after a very painful illness that lasted several weeks. She left Caleb and three young children.
Then, on 23rd February 1908, Caleb's father died aged about 70. He had been retired for about 10 years, having previously served in the prison service for 30 years, latterly as a cook-warder at Chelmsford. He was later buried at Holy Trinity Churchyard in Springfield.
Caleb was home from sea just in time to see his mother die, on 8th April 1908, just six weeks after his father's and was buried beside him at Holy Trinity Churchyard.
Caleb had now lost both parents and his wife within six months. He had only returned home three days before his mother's death, having been abroad for 18 months.
After the loss of his wife Caleb's children appear to have been looked after by her sister Venus Lilia Wells.
In 1908 one of Chelmsford's newspapers reported Caleb's regret at the way England did not support its merchant navy compared to the way the French did theirs; in France the merchant seamen formed the national navy reserve, with a small percentage of their salary paying towards to a pension. Caleb said that the time would come when England would very sorry she hadn't copied the French as he believed there would be a 'great Arnageddon' - prophetic words.
On 2nd September 1909 Caleb was mate on board Queen Louise (mercantile number 102620) on another trip to Brazil. She too was a merchant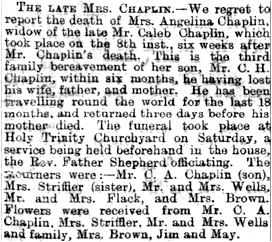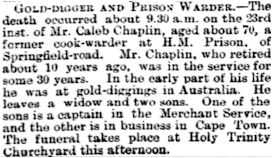 vessel owned by T. Dunlop & Son of Glasgow, built by Bertram Haswell, completed in September 1893 and of 3385 tons) He served as mate on a further two voyages on the same ship, on 31st March 1910 to Brazil, and 23rd January 1910 to the Mediterranean. The vessel was subsequently wrecked in July 1911.
The 1911 census recorded Caleb's three children living with his sister-in-law Venus at 15 Cottage Place in Chelmsford.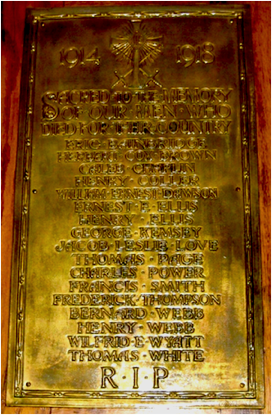 Caleb was killed on 3rd March 1917 while serving as First Mate on S.S. Newstead (Mercantile number 104265) when the vessel was torpedoed without warning by German submarine U-49 and sunk in the Atlantic at 52.02 North by 13.24 West. Fourteen other men on board the 2,836 ton merchant ship also perished. Caleb was aged 49. Newstead had been completed in October 1894 by Palmers, and was originally owned by Newcastle Steam Ship Company Ltd (Forster), of Newcastle.
U-49 went on to sink 39 ships, with a combined tonnage of over 89,000 tons, before she was rammed and sunk in the Bay of Biscay on 11th September 1917 with the loss of all 43 hands.
On 8th March 1918 the Essex County Chronicle carried the following in memoriam announcement:
"Chaplin. - In loving memory of our dear father, Capt. Chaplin of 'Carisbrook', Henry Road Chelmsford, third son of the late Mr. and Mrs. Chaplin, of Springfield, who went down with hi
s ship, that was torpedoed without warning, on the 3rd March, 1917. After 27 years' service for his country in the Merchant Service. R.I.P. 'Greater love hath no man than this that he lay down his life for his friends'."
Caleb is commemorated on Tower Hill Memorial in London (one of 12,000 merchant sailors killed during the war and commemorated there), on the Civic Centre Memorial, Chelmsford, and on the War Memorial at Church of Our Lady Immaculate in New London Road, Moulsham 9pictured).
The 1918 register of electors listed Caleb's sister in law at Carisbrook (number 37), Henry Road, Chelmsford (pictured).
140308