Charles 'Charlie' Clark (sometimes 'Clarke') worked as a railway platelayer before joining the army in December 1915. He was killed in action in August 1917 near Ypres. His home when he joined the army was in Compasses Row.
CLARK, CHARLES, Private, 8th Battalion, The Buffs (East Kent Regiment)
(formerly of the East Surrey Regiment and the Royal Fusileers)
A week later the Essex County Chronicle reported:
"Mrs. G. Hanchett, of 1 Compasses Road, Chelmsford, is informed that her brother, Pt. C. Clarke, East Kent Regt., was killed in action on August 4.
Charlie has no known grave and is commemorated on the Civic Centre Memorial, Chelmsford, by the Chelmsford Parish Great War Memorial in Chelmsford Cathedral, and on the Ypres (Menin Gate) Memorial. He was entitled to the British War Medal and Victory Medal.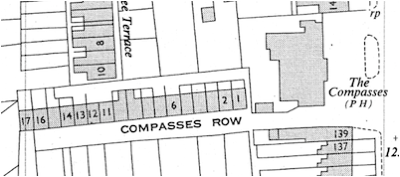 Charlie was born in Maldon in 1884, one of seven children of William Clark (1847-1916) and Emily Clark (nee Chapman) (1848-1924). His parents has married at St. Thiomas' Church in Bradwell-on-Sea on 27th September 1871.
Charlie's siblings were Alfred Clark (born c1872 in Mayland), Walter Clark
(born c1875 in Dengie), Franl Clark (born 1877 in Little Baddow), George Clark (born c1879 in Little Baddow), Henry Clark (born c1887 in Maldon), and Edith Mary Clark (born in 1892 in Maldon).
The 1891 census recorded Charlie aged seven with his parents and four siblings at 4 Cromwell Lane in Maldon, where his father was a coal carter. A decade later the 1901 census listed 17 year-old Charlie, working as a carman and living with his father and two brothers. His father and one of the brothers were also carmen.
Charlie's attestation for service for the duration of the war was completed on 11th December 1915 at Holton in Suffolk. At that time he gave his address as I Compasses Row, Broomfield Road in Chelmsford. He appears to have also lived at 23 Fish Street in Poole, Dorset. He was 31 years and five months old, unmarried and employed as a platelayer. He marked the attestation form rather than signed it. His next of kin was his mother Emily, also of 1 Compasses Row and previously of 5 Mill Lane in Maldon, and his religion was Church of England.
Upon mobilization on 8th May 1916 Charlie was medically examined and was described as five feet six inches tall, with an expanded chest of 40 inches, and weighed 151 pounds. From that day he was initially posted to the 3rd Battalion of the East Surrey Regiment as Private 10710 but twelve days later he was transferred to become Private 41923 in the 16th Battalion of the Royal Fusiliers. He crossed the Channel from Dover in late August 1916 and was posted upon arrival in France into the 9th Battalion of the Royal Fusiliers (with a service number of G/41923).
On 12th September 1916 he was transferred once again, this time to the 8th Battalion of the Buffs (East Kent Regiment) as Private G/12596. He was killed in action on 4th August 1917 and has no known grave. He had served for one year and 237 days. He was aged 32.
The Essex Weekly News of 31st August 1917 reported:
"Mrs. G. Hanchett, of 1, Compasses-rd., Chelmsford, has received news that her brother, Pte. C. Clarke, East Kent Regt., was killed in action on Aug. 4."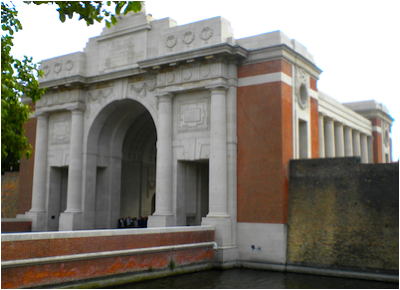 His sister Edith May was married to George Hanchett and was living with her mother at 1 Compasses Row in August 1917. His three brothers were Alfred who lived at Briton Ferry in south Wales, Walter who lived at Suffield Road in Middlesex and George who lived at Francis Street. North Woolwich.
The 1918 register of electors listed Charlie's brother-in-law at 1 Compasses Row.
130914