Ernest Clark (sometimes 'Clarke') came from Great Waltham where he worked as a gardener. He married, and had a daughter before joining the army. He was killed in action during the Battle of the Somme in November 1916.
CLARK, ERNEST,
Lance-Corporal, 1st Battalion, Essex Regiment
Ernest lived in Great Waltham and enlisted at Chelmsford with the 1st Battalion of the Essex Regiment, which formed part of the 88th Brigade in the 29th Division. The battalion had been in Mauritus when the war started, and returned to England in December 1914. Between April 1915 and January 1916 it saw action in Gallipoli. The battalion was subsequently evacuated from Gallipoli to Egypt in January 1916. From there it sailed to Marseilles on 16th March 1916. The battalion took its place on the Western Front in April 1916, and from July 1916 until November 1916 it participated in the Battle of the Somme.
Ernest was killed in action at Les Boeufs on 22nd November 1916 while serving as Lance-Corporal 30364. He was aged 35. His battalion had taken over the front line the day before from the Worcestershire Regiment. Ernest has no known grave and is commemorated on the Thiepval Memorial, near Albert, Somme, France, and on the Civic Centre Memorial, Chelmsford (which records his rank as Private).
Ernest was entitled to the British War Medal and Victory Medal.
After the war Ernest's parents lived at Laburnham Cottage, Broad's Green, Great Waltham. His widow died in 1968, his daughter in 1986.
His connection with Chelmsford has yet to be identified.
170225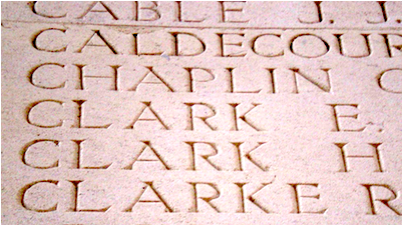 Ernest was born in 1880 in Great Waltham, the son of Walter Clark and Eliza Clark (nee Wakeling). His father had been born in Great Waltham c1856; his mother in Pleshey in 1857. The couple had married on 23rd September 1876 in Great Waltham. At the time Ernest's father was aged 21, a labourer of Great Waltham, and the son of William Clark, a labourer. His bride was aged 20, servant, daughter of John Wakeling, a labourer.
Ernest was baptised at St. Mary & St. Lawrence's Church in Great Waltham on 1st August 1880 at which point his father was a labourer of Great Waltham. His siblings (all born at Great Waltham) included Herbert Clark (born in 1883), Charles Clark (born in 1885) and David Clark (born in 1890).
Nine month-old Ernest was recorded in the 1881 census living with his parents at Garnetts in Great Waltham - his father was an agricultural labourer. At the time of the next census in 1891 Ernest, aged ten, was living with his parents and three younger brothers at Bredes in Great Waltham. His father was still employed as an agricultural labourer.
The 1901 census recorded 20 year-old Ernest living with his parents and three younger siblings at Broads Green, Great Waltham. He was employed as a domestic gardener. His father was an ordinary agricultural labourer as was his brother Herbert. Brother Charles was house boy.
On 22nd September 1906 Ernest married Laura Hornsby at Great Waltham. At the time he was aged 26 and working as a labourer. His bride was the 23 year-old daughter of George Hornsby and like Ernest she was living in Great Waltham. By 1911 the couple had one child, Dorothy Victoria Clark, born in Great Waltham in 1909. The census of 1911 found 30 year-old Ernest living with his wife, daughter and father-in-law at Broad's Green. He was a domestic gardener; his father-in-law a farm labourer.