George Edwin Clark (occasionally 'Clarke') was born and raised in Springfield. He enlisted into the army in Chelmsford and was killed in action in France in August 1918. A brother also lost his life in the war. His home was in Arbour Lane.
CLARK, GEORGE EDWIN,
Private, 2nd Battalion, Hampshire Regiment (formerly of the Essex Regiment)
A decade later 13 year-old George, his parents and three siblings were recorded by the 1911 census still at the same address. George's father remained a labourer in a gravel pit, while brother Bertie was a horseman in a brewery. A 1913 street directory listed George's father still at 56 Arbour Lane
George enlisted at Chelmsford and saw service as Private 28601 in the Essex Regiment. His brother Bertie John Clark died from wounds on 12th July 1916 while serving with the Essex Regiment.
George later transferred to the Hampshire Regiment and was killed in action on 23rd August 1918 while serving as Private 26545 in the 2nd Battalion of the Hampshire Regiment. He was aged 21. He is buried at Borre British Cemetery, Nord, France (grave: II. H. 12).
George is commemorated on the Civic Centre Memorial, Chelmsford, on the Springfield Parish Memorial at All Saints' Church, and by the Chelmsford Parish Great War Memorial in Chelmsford Cathedral. He was entitled to the Victory and British War medals.
The 1918 register of electors listed George's parents at 3 Coval Lane, Chelmsford (renumbered as 95 Coval Lane in 1927, pictured). His mother was still there in 1929.
140316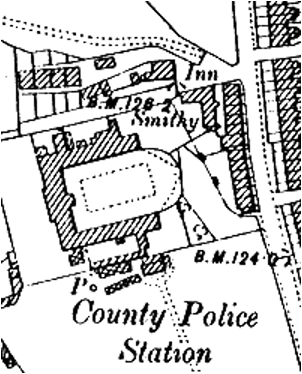 George was born in Springfield on 23rd June 1897 the son of George Clark and Emily Clark (nee Fincham). His father had been born in Willingale Doe or Shellow Bowells in 1862; his mother in Boreham in 1859.
George's parents had married on 24th May 1885 at Springfield All Saints' Church. At the time George's father was a 23 year-old labourer living in Springfield. His bride was a 25 year-old widow who had previously been married to a Mr. Stubbings. In 1891 George's parents had been resident in Arbour Lane, Springfield.
George was baptised at Springfield Holy Trinity on 24th October 1897. The church was also the venue for the baptisms of his six siblings: Alice Mary Clark (1887 – 1967), Frederick George Clark (1889 – 1890). Bertie John Clarke (1891 –1916), Beatrice Emily Clark (1894 – 1901), Lillian Maud Clark (1895 – 1972), and Florence Agnes Clark (1903 – 1974).
He also had a half-sister, Louise Fincham, born in 1879 in Springfield. All the children were born in Springfield.
George's mother lived in Arbour Lane since at least 1881 and in 1891 had been living there with George's father, her elderly father and her daughter.
The 1901 census found three year-old George living with his parents, three siblings and maternal grandfather at Knotts Croft, (later number 56) Arbour Lane, Springfield. The property was one of a terrace of twelve, now demolished, which stood on the western side of Arbour Lane in front of Old Court, the then County Police Headquarters. His father was employed as a labourer in a gravel pit – perhaps one of George Bolingbroke's pits.