Richard Thomas Cole came to Chelmsford from Harwich as a young boy, moved away to Wales where he married, had a daughter and joined the army. He joined the army early in the war and went to Gallipoli where he died from wounds in November 1915. His parents lived in Upper Bridge Road.
COLE, RICHARD THOMAS,
Private, 1st Battalion, Essex Regiment
He is buried at Hill 10 Cemetery, Turkey, a cemetery made after the Armistice, on a site close to the sea inland from Suvla Bay, by the concentration of graves from isolated sites and from the 88th Dressing Station, 89th Dressing Station, Kangaroo Beach, 'B' Beach, 26th CCS and Park Lane cemeteries (grave: V. C. 6).
The Essex County Chronicle of 7th January 1916 included the following family announcement:
"Cole - On Nov. 22, from wounds received on Nov. 21 at the Dardanelles, Pt. R. Cole, 1st Essex Regt., eldest son of Mr. and Mrs. E Cole, of 153 Upper Bridge Road, Chelmsford."
On 16th November 1917 the Essex County Chronicle included the following in memoriam notice:
"Cole. - In ever loving memory of our dear son, Richard Thomas Cole, who died from wounds received at the Dardanelles, Nov. 22nd, 1915.
Two years have passed since that sad day when our dear son was called away. No morning dawns, night begins but what we always think of him.
Regina Road, Chelmsford."
Richard is commemorated on the Civic Centre Memorial, Chelmsford. He was not commemorated by the war memorial at St. John's Church, Moulsham.
Richard was born in Harwich in 1891, the eldest child of Richard Thomas Cole and Jane Louisa Cole (nee Bradley). His father had been born in 1860 in Springfield; his mother in 1870 in Great Waltham. The couple had married in 1890.
Richard's eight siblings, included: Jane Louisa Cole (born 1892 in Harwich, died 1962), Charles Joseph Cole (born 1893 in Harwich, died 1972), William George Cole (born 1895 in Harwich), Arthur John Cole (born 1899 in Dovercourt, died 1973), and Lucy Maud Cole (born 1905 in Chelmsford, died 1999). Three of the eight were to die by 1911.
The 1891 census found three month-old Richard living with his parents maternal grandparents, an uncle and cousin at Sheepcote Cottages in Great Waltham. His father was an agricultural labourer.
The 1901 census recorded Richard living with his parents and five siblings in Moulsham Street, Chelmsford. His father was an engineer's labourer. A decade later his parents were living at 146 Upper Bridge Road in Chelmsford (renumbered as 153 by 1916).
In 1911 the census also listed 20 year-old Richard living as a servant in the home of the farmer James Owen Davies and his family at Rhydymain, Velindre in Pembrokeshire. Richard was a horseman.
He married Mary Elizabeth Jenkins in 1913 in the Cardigan District, Wales. The couple are thought to have had a daughter, Annie J. Cole, born in the same district in 1913.
Richard lived at Clydach Vale and enlisted into the army at Tonypandy, Wales. He served as Private 17635 in the 1st Battalion of the Essex Regiment. The battalion was
part of the 88th Brigade in the 29th Division and had been in Mauritius at the outbreak of the war. It returned to England in December 1914, invaded Gallipoli, Turkey on 25th April 1915 and was involved in fierce fighting over the following months around Krithia. Richard had not participated in that initial landing in Gallipoli - instead he arrived there on 20th July 1915 as a reinforcement.
On 6th August 1915 his battalion fought in the Battle of Krithia Vineyard, an action that claimed the lives of three other Chelmsford men in the battalion. Two weeks later the battalion was transferred from the Krithia area northwards to Suvla Bay where it arrived in the early hours of 21st August 1915 and was soon in action against Turkish positions. Ten days later the battalion was withdrawn for rest on the island of Imbros, before returning to Suvla Bay on 7th September 1915. For most of the month it was involved in improving the defensive positions, while October 1915 was also comparatively quiet as was November. It was during the latter month, on 21st, that Richard was wounded. He died at Suvla in Gallipoli on 22nd November 1915, aged 23.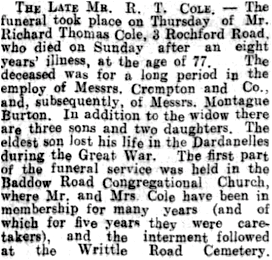 He was entitled to the 1914-15 Star, British War Medal, and Victory Medal.
After the war his widow, Mary Elizabeth Cole, lived at 4 Goat Street, Newport, Pembrokeshire. Richard's father died in 1937, aged 77. His mother died in 1946, aged 76.
Richard's nephew Ernest William Cole lost his life in the Second World War having been invalided out of the army.
151118