Edward Collyer was brought up in Berkshire and married in Chelmsford in September 1916 when already a soldier. He was killed near Ypres in August 1917. His widow lived in Upper Bridge Road.
COLLYER, EDWARD,
Private, 2nd Battalion, Royal Berkshire Regiment
On 19th July 1918 the Essex County Chronicle reported:
"Mrs. Collyer, 47 Upper Bridge Road, Chelmsford, has been officially informed that her husband, Pt. E. Collyer, R. Berks. R., missing in August 1917, must be considered dead.
Edward has no known grave and is commemorated on Tyne Cot Memorial in Belgium, on the Civic Centre Memorial, Chelmsford, and the Moulsham Parish Memorial, St John's Church, Moulsham. He was entitled to the British War Medal and Victory Medal.

Edward was born in Wokingham, Berkshire in 1894, the son of the gamekeeper William Collyer and Annie Jane Collyer (nee Chandler). His father had been born in 1865 in Wokingham; his mother c1866 in Pirbright, Surrey. The couple had been living at Hutt's Farm in Wokingham in 1891.
Edward's three siblings were Winifred Collyer (born c1888 in Wokingham), William Thomas Collyer (born in 1889 in Wokingham), and May Collyer (born c1898 in Frimley, Surrey).
The 1901 census found seven year-old Edward living with his parents and three siblings at Pound Wood in Aldermaston, Berkshire, where his father was a gamekeeper. A decade later 16 year-old Edward was recorded by the 1911 census living with his parents and two siblings at Round Wood in Aldermaston. He was employed as an 'odd boy' on a farm. His brother William was a farm labourer and his father was still employed as a gamekeeper.
Edward subsequently lived in Chelmsford. He married Lily Mary Grenham on 9th September 1916 at St. John's Church in Moulsham. At the time Edward was 22 years' old, a soldier and lived at West Mersea. His bride was also 22 years' old and lived at 47 Upper Bridge Road in Chelmsford. She had been born in Springfield on 10th April 1894, the daughter of Charles and Eliza Grenham, and had been christened at Springfield Holy Trinity Church on 3rd June 1894.

Edward had enlisted into the army at Aldermaston. He was killed in action on 16th August 1917 while serving as Private 200178 in the 2nd Battalion of the Royal Berkshire Regiment.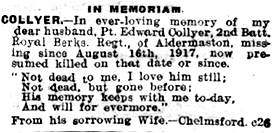 Edward's widow married gardener Arthur Henry Samuels, a dozen years her senior, at St. John's Church, Moulsham on 6th September 1920. She died in London in 1980, having had a child from her second marriage.
His home at 47 Upper Bridge Road was demolished around 1947.
130815