Henry James Coppen was born and brought up in Chelmsford. He served with the Essex Regiment and then the Machine Gun Corps and was killed in action in March 1918 at the start of the great German spring offensive. His home was in South Primrose Hill.
COPPEN, HENRY JAMES,
Private, 25th Company Machine Gun Corps (Infantry) (formerly of the Essex Regiment)
The Commonwealth War Graves Commission record the date of Henry's death as 21st March 1919.
News of his death appeared under a family announcement in the Essex Weekly News of 8th November 1918:
"Coppen. - Pte. H. J. (Jim) Coppen, Machine Gun Corps, died from wounds in Germany on or about March 21st, 1918. Son of Mr. and Mrs. E. A. Coppen, of 54, South Primrose-hill, Chelmsford. - R.I.P."
The same edition carried a short report, probably slightly erroneous, on his death:
"Pte. H. J. (Jim) Coppen, M.G.C., son of Mr. and Mrs. E. A. Coppen, of 54, South Primrose-hill, Chelmsford, who was reported missing in March, has died of wounds as a prisoner of war in Germany."
Henry has no known grave and is commemorated on the Arras Memorial (Bay 10), on the Civic Centre Memorial, Chelmsford and by the Chelmsford Parish Great War Memorial in Chelmsford Cathedral. Henry was entitled to the Victory and British War medals.
His parents remained at their South Primrose Hill home after the war, by which time it had been renumbered number 54; finally becoming number 69 in 1946.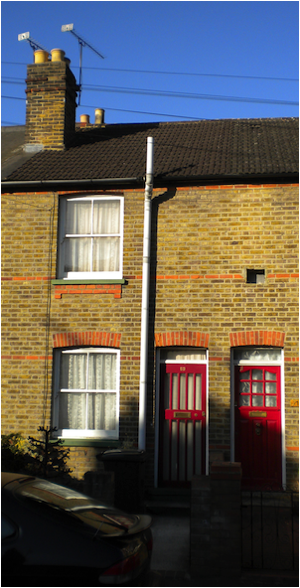 Harry was born in Chelmsford on 26th August 1897, the son of Ernest Albert Coppen and Emma Coppen (nee Crow). His father had been born in 1869; his mother in 1871, both in Sandon. The couple had married on 10th February 1894 at St. Mary's Church (later the Cathedral) in Chelmsford, at which time Henry's father was a 25 year-old carman, living in Chelmsford, and the son of a labourer James Coppen. Henry's mother was a 22 year-old servant, from Moulsham, the daughter of Henry Crow, also a labourer.
Henry's four siblings, Chelmsford-born, included Clifford Albert Coppen (1896-1939), Stanley Coppen (1898-1981) and Ambrose Victor Coppen (1902-1964). The fifth child died in childhood.
At the time of the 1901 census three year-old Henry was living with his parents, his two brothers, an uncle and a boarder at 28 South Primrose Hill, Chelmsford (today's number 69). Henry's father was a printer's carman.
A decade later the 1911 census recorded 13 year-old Henry living with his parents, three brothers and a boarder at the same address then numbered 42 South Primrose Hill. He was a houseboy, while his father was a corn merchant's carman.
Henry enlisted at Chelmsford and served at Private 28585 in the Essex Regiment.
He was killed on 21st March 1918 having been transferred to serve as Private 53200 in the 25th Company of the Machine Gun Corps (Infantry). He was aged 20.
That day saw the launch of the 'Kaiserschlacht', Germany's spring offensive, a final determined effort to beat the British army and force the French to seek armistice terms.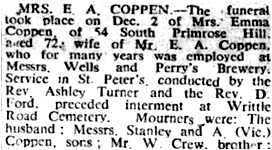 Ernest's mother died in 1943, aged 72. His father died in 1951, aged 82. His brother Clifford, 'an invalid all his life', according to a local newspaper, had died in 1939, aged 43, 'after a lifelong affliction most pateiently borne.'
Henry was one of the 'South Primrose Hill Boys'.
130921