John Couzens came to Essex from London after his father died. His mother settled in Rayleigh and John joined the army before the war. He was Mentioned in Dispatches, and later killed in action in May 1915. His sister lived in Victoria Road. A brother was also killed during the war.
John was born at Battersea, London in 1890, the son of Robert Deane Couzens and Alice Annie Couzens (nee Giggins). His father had been born in Westminster, London in 1860; his mother in Rayleigh in 1858. The couple had married in Kent in 1880 and in 1881 had been resident in London.
John's siblings included Beatrice Annie Couzens (1882-1974), Hilda Maud Couzens (1886-1903), and William Robert Couzens (born in 1887). Beatrice Annie was born in Chelsea, London, and the others at Battersea. He also had a brother Bert Couzens, details of whom have yet to be traced.
The 1891 census recorded one year-old John living with his family at 2 Bullen Street in Battersea, London. His father was a whitesmith. His father died the following year in London, and the widowed Annie returned to Rayleigh. There she bore a son Arthur Couzens in 1894.
His mother married William Arthur King (born c1861 in Ipswich) in the Rochford District in 1898. They had a daughter Alice M. King, born at Rayleigh in 1901. The 1901 census found John, then ten years old, living at High Street, Rayleigh with his mother, step-father (a brick-maker) and siblings.
COUZENS, JOHN,
Sergeant, 2nd Battalion, Essex Regiment
In fact John had also been killed before news of his heroism had appeared in the local press - he was killed in action on 13th May 1915 while serving as Serjeant 8592 in the 2nd Battalion of the Essex Regiment. He was aged 25. Two other men from the 2nd Battalion of the Essex Regiment and commemorated on the Civic Centre Memorial, Chelmsford died the same day – Frederick James Ruffell and William George Warner.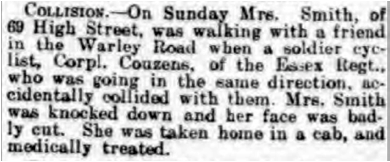 At the time he enlisted in the army at Warley he lived at Rayleigh. He served with the 2nd Battalion of the Essex Regiment and landed in France on 28th December 1914.
A 1914 newspaper report mentioned Corporal Couzens of the Essex Regiment - it could refer either to John or his brother William.
The Essex County Chronicle of 28th May 1915 reported:
"Heroic Essex Corporal – In the battle of Ypres many heroic deeds were done, not the least of which was that of Corpl. Couzens of the Essex, who carried his machine gun away with him when his company was gassed out of their trench, and later, when reserves came up, he followed them, carrying the gun on one shoulder and the tripod on the other. On reaching his position he at once got the gun going, and did great execution."
The London Gazette of 1st January 1916 reported that John had been mentioned in dispatches (As had his brother William Robert Couzens, also of the Essex Regiment).
John has no known grave and is commemorated on the Ypres (Menin Gate) Memorial West-Vlaanderen, Belgium, on the Civic Centre Memorial, Chelmsford and by the Chelmsford Parish Great War Memorial in Chelmsford Cathedral.
At the time of his death

his sister was living at 13 Victoria Road in Chelmsford.
In a letter to her concerning his death, Sergeant Thomas of the 2nd Essex said: "The regiment mourns the loss of a brave and fearless man in Sergeant John Couzens."
John's brother, William Robert Couzens, was killed in action on 31st August 1918 and is also commemorated the Civic Centre Memorial. Their cousin Edward Wallis (also William's brother-in-law) was killed near Ypres in 1917.
After the War John's mother lived in Rayleigh.
100701