Frederick James Ruffell came to Chelmsford from Maldon and worked at Hoffmann's bearings factory. Married in 1913, he joined the army and went to France in December 1914. He was killed in action in May 1915 near Ypres. His home was in Victoria Square.
RUFFELL, FREDERICK JAMES,
Lance Corporal, 2nd Battalion, Essex Regiment
On 6th August 1915 the Essex County Chronicle carried an appeal from Frederick's wife for news of him:
"News wanted – Mrs. F. Ruffel [sic], of Victoria Square, Chelmsford, would be grateful for any news of her husband, Lance-Corpl. F. Ruffel, 2nd Essex Regt. He is reported missing by the War Office since May 13th. When Mrs. Ruffel last heard from him he had been in action on Hill 60."
By then Frederick was dead, and was later presumed to have been killed in action on 13th May 1915 while serving as Lance Corporal 5496 in the 2nd Battalion of the Essex Regiment. Two other men from the 2nd Battalion of the Essex Regiment and commemorated on the Civic Centre Memorial, Chelmsford died the same day – John Couzens and William George Warner.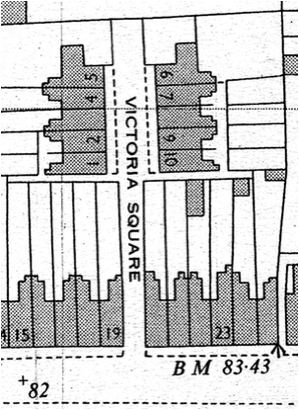 rederick was born in Maldon on 18th September 1880, the son of the bricklayer William Ruffell and Eliza Ruffell (nee Unwin). Frederick's father had been born in Maldon in 1860; his mother in Little Baddow in 1858. They had married on 9th November 1878 at St. Mary's Church in Maldon and in 1881 had been resident in Maldon.
His five siblings included William Joseph Ruffell (1879-1942), Emma Mary Ruffell (1882-1970), Alice Ruffell (1885-1967) and Annie Ruffell (1885-1956). All the children were Maldon-born. A fifth siblings died in infancy.
The 1891 census found Frederick aged ten at 20 Church Street, Maldon. His father was a bricklayer. Ten years later the Frederick's parents were living at 8 Victoria Square, Chelmsford, though Annie was their only child still with them.
In April 1911 the census recorded 30 year-old Frederick living with his parents at 8 Victoria Square in Chelmsford. He was employed as a grinder at Hoffmann's ball-bearings factory in Chelmsford. His father was still employed as bricklayer. Victoria Square (pictured from the north) was a short cul-de-sac off the northern side of Victoria Road, later redeveloped as part of the site of Chelmsford's Royal Mail sorting office and Waitrose supermarket.
Frederick's mother died in 1912, aged 54.
Aged 32, Frederick married Beatrice Alice Radley on 26th July 1913 at St. Mary's Church, Chelmsford (now the Cathedral). At the time he was a labourer, living at 8 Victoria Square. His 25 year-old bride, who lived at the same address, was the daughter of the late Charles Radley, a mechanic. It appears to have been a joint wedding with that of Frederick's sister Alice to Henry J. Everett.
Frederick lived and enlisted at Chelmsford. He served with the 2nd Battalion of the Essex Regiment and landed in France on 11th December 1914.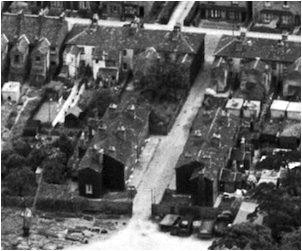 Frederick has no known grave and is commemorated on the Ypres (Menin Gate) Memorial, West-Vlaanderen, in Belgium, on the Civic Centre Memorial, Chelmsford, by the Chelmsford Parish Great War Memorial in Chelmsford Cathedral, on the Hoffmann Manufacturing Company's War Memorial at Chelmsford Cathedral and on the Springfield Parish Memorial at All Saints' Church.
Frederick was entitled to the 1914-15 Star, British War Medal, and Victory Medal.
In 1922 Frederick's widow married Charles E. Gall and they later lived in King's Road, Chelmsford. Frederick's father died in 1932, aged 72.
Frederick's nephew, Douglas Crozier, was killed in the Second World War.
Frederick's widow died in 1945.
131230