Herbert Arthur Croft came from Dorset, arrived in Chelmsford before the First World War, served in the army and then the Royal Flying Corps, where he was killed in February 1917 when his aircraft was shot down by the famous German ace Manfred Albrecht Freiherr von Richthofen, 'The Red Baron'.
CROFT, Herbert Arthur,
Second Lieutenant, Royal Flying Corps (formerly of the Army Service Corps)
Herbert was posted to 2nd Squadron, Royal Flying Corps. On 14th February 1917 he was the observer in a B.E.2d aircraft (number 6231) flown by Second Lieutenant Cyril Douglas Bennett when, around 11.15 am their aircraft was attacked by Manfred Albrecht Freiherr von Richthofen, 'The Red Baron', west of Loos in France.
Von Richthofen later wrote: "after flying back from a conference with Jagdstaffel Boelcke, I spotted an enemy artillery flyer at a height of 2,000 metres west of Loos. I attacked the enemy and approached unnoticed to 50 metres. After firing some several hundred shots the plane dashed to the ground falling into the trenches. The pilot (2nd Lt. C.D. Bennet) was killed and the observer (2nd Lt. H.A. Croft) seriously injured when landing". In fact Cyril was badly injured and taken prisoner and Herbert killed. It was Red Barons's 20th 'official kill'.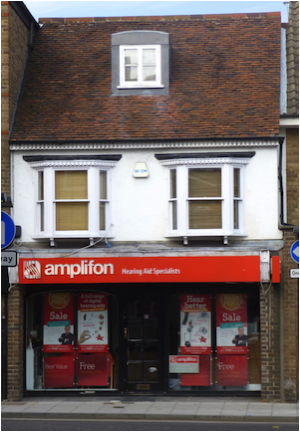 Herbert was born on 1st October 1885 in High Street, Fordington, a suburb of Dorchester in Dorset, the elder son of Benjamin Croft and Charlotte Croft (nee Everett) who had married in Dorset the previous year, He was baptised at St. George's Church in Fordington on 3rd January 1886, at which time his father was a mail cart driver. His brother was Albert Benjamin (1893-1976).
The 1891 census recorded Herbert, aged five, with his parents at Church Street in Dorchester; his father was employed as a groom. A decade later the 1901 census found 15 year-old Herbert with his parents and brother at 1 The Old Bear in the Dorset village of Wool. His father was a coachman groom, presumably at The Old Bear.
Within the ten years up to the 1911 census Herbert and his brother moved to Kingston-upon-Thames in Surrey where he ran his own 'cycle and motor dealer' business at 136 London Road.
This was an early example of Herbert's mechanical ability which was to shape his later war service. The 1911 census listed the brothers in Kingston along with two boarders.
Prior to the First World War Herbert moved to Chelmsford, worked as chauffeur mechanic, and lived at 198 Moulsham Street (pictured). He married Amy Theresa (surname unknown); the couple had no children

On 8th September 1914, when aged 28, Herbert passed his medical enlisted into the army as a Private MS 3849 in London, initially serving with the Army Service Corps where his mechanical and driving skills would be of great value. The following day he joined his unit in Aldershot. On 23rd September 1914 he embarked on the ship 'S.S. Ultonia' at Avonmouth and two days later landed at Le Havre in France. By then he had been in the army less than three weeks.
On 23rd September 1914 he was promoted to Acting Corporal (without pay). He rose to Corporal on 22nd February 1915, and had four days leave at the end of March 1915. He.was appointed Acting Sergeant on the first anniversary of the war on 4th August 1915. He had seven days leave in November 1915 and a further eight days in May 1916.
In late 1916 Herbert applied to join the Royal Flying Corps seeking a commission as a temporary Second Lieutenant.
That application was successful and he was placed on the army's General List and posted for duty with the Royal Flying Corps. His discharge papers from the Army Service Corps, dated 30th December 1916 show that he was then serving with 70 Company (Motor Transport) , No. 38 Anion Sul Park as a Corporal Acting Sergeant. He was then 30 years old, five feet eight inches tall, of a sallow complexion, with blue eyes and fair hair. He was said to have a 'very good' military character, and was a 'good, steady, reliable non-commissioned officer' and 'a very good motor driver.' By then he had served with the Army Service Corps for 2 years and 113 days.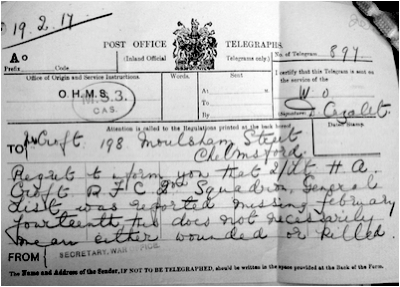 Five days after the incident Herbert's wife received a dreaded telegram from the army.
In early May 1917 a postcard home from Second Lieutenant C. D. Bennett from his prisoner of war camp was intercepted by the British censors. In the postcard Bennett confirmed that Herbert had been shot and killed in the aerial combat. That was sufficient evidence for the army to send a letter to that effect to Herbert's widow on 15th May 1917.
A further letter to her, dated 26th June 1917, reported that his name had appeared on an official German list of casualties forwarded by the Red Cross.
Today Herbert lies at Cabaret-Rouge British Cemetery, Souchez, Pas de Calais, France (grave: VII. H. 11). He was entitled to the 1914 Star, British War Medal, Victory Medal. Those medals were subsequently issued to Herbert's brother.
After his death Herbert's widow lived at 5 Petworth Street in Battersea Park, London. In 1920 she was living at 19 Boscombe Spa Road in Bournemouth.
In 1927 she married Frederick W. Wise in Surrey.
130818