Elijah George Cutting originated in Norfolk, and arrived in London by 1891 where he worked as a civil servant within the General Post Office. He married in Chelmsford in June 1907. As a pre-war Territorial he landed in France in March 1915 and was killed in action in October that year. His home was in Park Avenue.
CUTTING, ELIJAH GEORGE,
Lance Corporal, 1st/14th (County of London) Battalion, London Regiment (London Scottish)
Aged 33, Elijah married Emily Dowling on 29th June 1907 at St. Mary's Church, Chelmsford. At the time he was a civil servant living at 25c Park Avenue, Chelmsford (later known as number 31, then 45 and is today's number 23, pictured). His bride, also aged 33, was the daughter of the late Edmund Dowling, coachman, and lived at Rosemeath in Chelmsford. She had been born in Chichester, Sussex.
In 1911 the census recorded Elijah and Emily living together at 25c Park Avenue, Chelmsford. Elijah was described as civil servant working in London for the General Post Office. The couple had no children.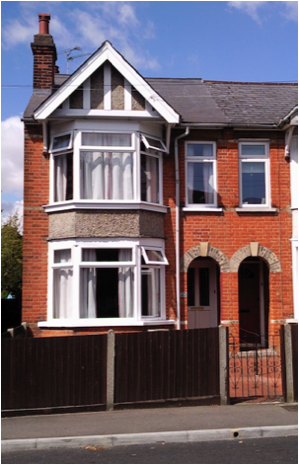 Elijah was born in 1873 in Great Yarmouth, Norfolk, the son of the licensed victualler Elijah Walker Cutting and Elizabeth Cutting (nee Boyce). Elijah's father had been born in 1844; his mother in 1848 both in Great Yarmouth. They had married in Great Yarmouth on 23rd September 1872.
Elijah's siblings, all Great Yarmouth-born, included Gertrude Mabel Cutting (born in 1874, died in 1936), Ethel Florence Cutting (born in 1876) and George Charles Cutting (born in 1877).
The 1881 census found Elijah aged seven at Northgate Street in Great Yarmouth. He was accompanied by his parents, three siblings, a great-aunt and a lodger. His father was a licensed victualler.
Ten years later the census revealed that Elijah's father was running the Prince Albert in Victoria Road, Hornsey, Middlesex. Elijah, now 17, was a civil servant.
The 1901 census listed Elijah, aged 27, living with his parents, younger brother George and a servant at 42 Darenth Road, Hackney, London. Elijah was a civil servant 2nd division with the General Post Office, while his father was a retired wine and spirit merchant. His father died on 22nd May that year in London.

A 1913 street directory listed Elijah still at his 1911 home, which had been renumbered as 31 Park Avenue in the interim.
Elijah lived in Chelmsford and enlisted in London and served with a Territorial unit, the 1st/14th (County of London) Battalion, London Regiment (London Scottish) which was in Westminster, London at the outbreak of the war. Elijah landed in France on 18th March 1915. He was killed in action on 13th October 1915 while serving as Lance Corporal 3198. He was aged 42.

Elijah has no known grave is commemorated on the Loos Memorial at Dud Corner Cemetery, France, some five kilometres north-west of Lens, on the Civic Centre Memorial, Chelmsford and by the Chelmsford Parish Great War Memorial in Chelmsford Cathedral. Elijah was entitled to the 1914-15 Star, British War Medal, and Victory Medal.
The 1918 register of electors listed Elijah's widow, Edith, still at 31 Park Avenue. On 1st Febuary 1919 she married a solicitor, George Frederick Meriton at St. Anne's Church in Brondesbury, London. She was 45, resident at 31 Park Avenue, while her husband was two years her junior, a solicitor's clerk, widowed and resident at 25 Kingswood Avenue in Willesden, London.
A 1920 street directory listed them at 31 Park Avenue. By 1929 they had moved to St. Fabian's Drive, Chelmsford. George Meriton died in 1941, aged 64. Elijah's widow died in St. Peter's Hospital in Maldon on 19th November 1960.
130929