Frederick Charles Cutts was a born and bred Chelmsfordian who fought against the Turks in the Middle East and died in Iraq in 1917, probably died whilst a prisoner of war. His home was in Compasses Row.
CUTTS, FREDERICK CHARLES,
Private, 1/6th Battalion, Essex Regiment
Frederick lived at Chelmsford and enlisted at Warley, serving as 5896 in the Essex Regiment.
His brother-in-law Alfred Charles Ketley was killed in action in 1915 and is commemorated on the war memorial at St. Andrew's Church in Good Easter.
Frederick subsequently served as Private 276078 in the 1/6th Battalion of the Essex Regiment. The battalion, a Territorial unit, was part of 161st Brigade in 54th (East Anglian) Division. It fought in Gallipoli in 1915, was evacuated to Egypt in December 1915, before moving into Palestine.
On 4th May 1917 the Essex County Chronicle reported that Frederick was a prisoner in Turkish hands. He died in Iraq on 6th October 1917, aged 23., presumably while still captive. Today he lies in Baghdad (North Gate) War Cemetery in Iraq (grave: XXI. U. 19).
Frederick is commemorated on the Civic Centre Memorial, Chelmsford and by the Chelmsford Parish Great War Memorial in Chelmsford Cathedral (which records his middle initial as G). He was entitled to the British War Medal and Victory Medal.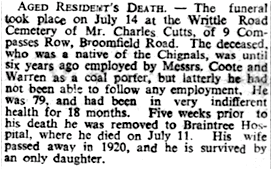 The 1918 register of electors listed Frederick's absent father, and his mother still resident at 9 Compasses Row. His mother died in September 1920, aged 57; his father likewise on 11th July 1939.
Frederick's sister did not die until 1974.
130929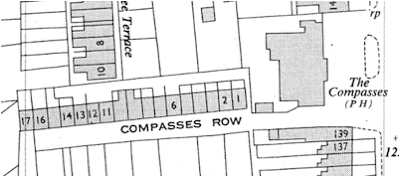 Frederick was born in Broomfield Road, Chelmsford in 1893, the son of Charles Cutts and Susan Cutts (nee Kettley). His father had been born c1860 in Margaretting; his mother c1863 in High Easter. They had married in 1882 and in 1891 had been living in Rainsford Road, Chelmsford.
Frederick's two siblings were Agnes Emily Cutts (born 9th December 1888 in Chelmsford), and Bertie Cutts (born 1896, privately baptised at St. Mary's Church, Chelmsford on 16th July 1896, died 1896).
The 1901 census found seven year-old Frederick living with his parents and sister at 9 Compasses Row, Chelmsford. His father was an agricultural labourer.
On 21st March 1903 Charles was baptised at St. Mary's Church, Chelmsford (later the Cathedral). At the time his father was an agricultural labourer of 9 Compasses Row, a terrace of 17 houses that ran off the western side of Broomfield Road, beside The Compasses Public House which were demolished in the late 1950s.
Eight years later Frederick was recorded by the 1911 Census, aged 17 and living at the same address with his parents and a boarder, 15 year-old Ernest Frederick Cawley, a grocer's errand boy. Frederick was an iron moulder; his father was a farm labourer. Ernest Frederick Cawley was a brother to Sidney Robert Cawley (also commemorated at Chelmsford). The rest of the Cawley's lived next door at 10 Compasses Row at the time.