Stanley Edward Darby was born in Sussex and came to his father's home town in the mid 1890s. His home was in Moulsham Street. Stanley served in the Royal Navy before the war, joined the army in October 1914, and was killed in Gallipoli in August 1915. A brother was also killed during the war.
DARBY, STANLEY EDWARD,
Lance Corporal, 5th (Service) Battalion, (Princess Victoria's) Royal Irish Fusiliers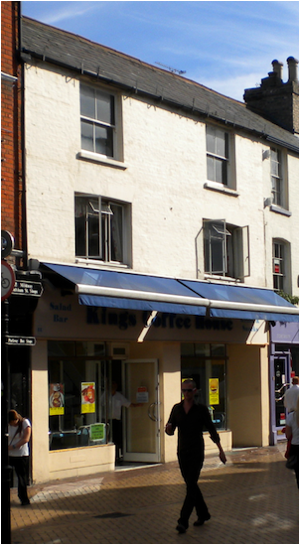 Stanley was born in Eastbourne in Sussex on 4th December 1889, the second son of Ambrose Turner Darby and Alice Darby (nee Fox). Stanley's father had been born in Chelmsford; his mother in Brighton, Sussex, both in 1862. They had married in the Brighton District in 1885.
Stanley's siblings included: Sidney Ambrose Darby (born 1887 in Eastbourne, died 1903), Harry Arthur Darby (born in 1891 in Hove, died 1903), John Frederick Darby (born in 1893 in Hove), Harold Edgar Darby (born in 1897 in Chelmsford and christened at St John's Church, Moulsham on 6th March 1897), Frank Fox Darby (born in 1898 in Chelmsford), Marjorie Alice Darby (born 1904, died 21st October 1905), and Thomas Charles Darby (born on 25th April 1906 in Chelmsford).
The 1891 census found two year-old Stanley with his parents elder brother, two aunts and three boarders at 6 Western Road, Hove, Sussex. His father was employed at the time as a baker & confectioner. In the mid 1890's Stanley's father returned to Chelmsford and in early 1897 his family was living at 49 High Street.
By late 1898 they were living at 23 Roman Road, where they were found in the 1901 census. The household consisted of Stanley, his parents and five siblings. His father was a journeyman cook.
Later that year Stanley was awarded a 'half-free exhibition' place at King Edward VI's Grammar School in Chelmsford.
On 4th August 1903 Stanley's brother Harry Arthur Darby, aged five, was drowned in a boating accident on the River Chelmer near Moulsham Mill which Stanley witnessed. His efforts to save his brother were praised by jury members at the inquest.
Two years later Harold's only sister died aged 13 months and in June 1905 Stanley witnessed a second drowning close to the spot where he lost his brother,
By 1910 Stanley's father was working at his own baker's and confectionary shop at 11 Moulsham Street, Chelmsford, just over Stone Bridge from his High Street premises, and he was still there in 1920. The property had been occupied by Stanley's grandfather at the time of the 1881 census.
The 1911 census recorded 20 year-old Stanley serving as an Ordinary Seaman on board the Australia-based 2nd Class Cruiser H.M.S. Encounter at Vavau, Tonga Islands in the Pacific Island. Meanwhile his parents, four brothers and a servant were living at 23 Baddow Road, Chelmsford (later renumbered as 54). Stanley's 49 year-old father and 18 year-old brother John Stanley enlisted at Colchester In October 1914 and initially served as 6002 with the 5th Lancers. He later joined the 5th (Service) Battalion of the (Princess Victoria's) Royal Irish Fusiliers which was formed in Armagh, Ireland in August 1914. The battalion was part of the 31st Brigade in the 10th (Irish) Division - one of six divisions that made up the First New Army - formed by volunteers responding to Kitchener's appeal for volunteers to expand the army on 5th August 1914.
The division moved on to the Curragh, Newbridge and Kildare in Ireland and in May 1915 it crossed to England to the Basingstoke area of Hampshire.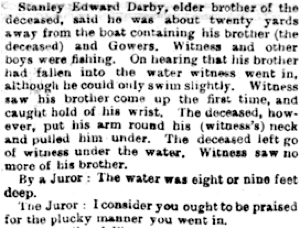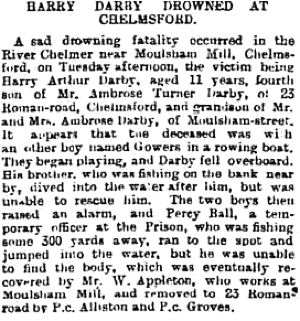 On 11th July 1915 Stanley's battalion entrained for Devonport, Devon from which it left on board the 13,405 ton ship S.S. Andania the following day. The vessel called in at Gibraltar on 15th July 1915 and arrived in Malta three days later. After two days there it left for Egypt and docked at Alexandria, Egypt on 22nd July 1915. Two days later the battalion left for Mudros Harbour, Lemnos which was reached on 26th July 1915. Four days later it arrived at Mitylene, and on 31st July 1915 arrived at Port Iero where it remained in harbour. On 6th August 1915 the battalion transhipped to the S.S. Osmanieh and sailed for Gallipoli, Turkey where they were involved in fierce fighting with Turkish forces over the next few weeks.
The ship anchored in Suvla Bay, Gallipoli 4:30 a.m. the following day and Stanley and his battalion disembarked on 'C' Beach. They advanced under shrapnel fire to Lala Baba and participated in a successful attack on Chocolate Hill. On 9th August 1915 the battalion relieved the 7th Battalion of the South Staffordshire Regiment at Green Hill, where two strong enemy attacks were repulsed. Three days later they were relieved by the 6th Battalion of the Royal Dublin Fusiliers and moved back to Chocolate Hill followed by periods at 'C' Beach, 'A' Beach and Kiretch Tepe Sirt where they took over the line from the 6th Battalion of the Royal Dublin Fusiliers on 16th August 1915. Stanley's battalion then moved back to 'A' Beach via Hill 10 on 21st August 1915, then to Chocolate Hill and Green Hill on 22nd August 1915. Four days later Stanley died from wounds on 26th August 1915 while serving as Lance Corporal 15574. The battalion remained there until 6th September 1915.

Stanley was aged 26 and is buried at Hill 10 Cemetery in Gallipoli, Turkey (grave: II. E. 15). The cemetery was made after the Armistice by the concentration of graves from isolated sites and from the 88th Dressing Station, 89th Dressing Station, Kangaroo Beach, 'B' Beach, 26th CCS and Park Lane cemeteries.
On 24th September 1915 the Essex County Chronicle contained the following family notice:
"Darby. - On Aug. 25, from wounds received that day at the Dardanelles, Lance-Corpl. Stanley Edward Darby, 5th Royal Irish Fusiliers, second son of Mr. and Mrs. Ambrose Darby, Moulsham Street, Chelmsford, in his 27th year."
The same edition of the paper reported:
"Lance-Corpl. Stanley Edward Darby, 5th Royal Irish Fusiliers, died of wounds, is one of five soldier sons of Mr. Ambrose Darby, baker and confectioner, Moulsham Street, Chelmsford. Last October he joined the 5th Lancers, but afterwards transferred to the Royal Irish, and it was his Division to which the 5th Essex were attached at the Dardanelles, where he landed a few weeks ago. On Friday Mr. and Mrs. Darby received official intimation that their son was missing on Aug. 26, and on Sunday they were informed that he died of wounds that same day. He had been in much of the heavy fighting during August. Deceased was in his 27th year."
The Essex Weekly News of the same date also covered Stanley's death:
"Lance Corporal Stanley Edward Darby, 5th Royal Irish Fusiliers, who died of wounds in the Dardanelles on August 26, was one of the five soldier sons of Mr. and Mrs. Ambrose Darby, of Moulsham-street, Chelmsford. He joined the 5th Lancers in October last, subsequently transferring to the 5th Royal Irish Fusiliers, and being sent to the Dardanelles. On Friday his parents received official intimation that he died of wounds the same day. He had been in much of the heavy fighting during August. Deceased was in his 27th year."
Stanley is commemorated on the Civic Centre Memorial, Chelmsford, and the Moulsham Parish Memorial, St John's Church, Moulsham. Both memorials also commemorate his brother Harold Edgar Darby who was killed in action on 26th March 1917.
Stanley was entitled to the Victory, British War and 1915 Star medals.
Stanley's Chelmsford-born uncle Claude Stanley Darby, who served in the war with the Canadian Infantry (Eastern Ontario Regiment), died on 27th July 1917 in Raymere, Saskatchewan, Canada from the effects of being gassed and diseases contracted whilst serving. He is commemorated by the Canadian War Memorial.
The 1918 register of electors listed Stanley's parents at 11 Moulsham Street.
On 7th November 1920, the day that the Moulsham War Memorial was unveiled at St. John's Church, Canon Lake dedicated a brass tablet in the church bearing the inscription: 'Presented by Ambrose and ALice Darby in memory of their sons killed in the Great War - Stanley Edward, 1915; Harold Edgar, 1916. Also Harry Arthur, accidentally drowned 4th August 1903.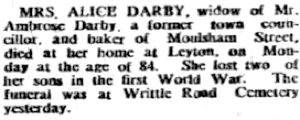 Stanley's father died at the Central Home in Leytonstone on 24th May 1930, aged 68. His mother died there on 24th August 1947.
151118