John George Davey was born and raised in Chelmsford and worked as a bricklayer with his father and for Baker & Son of Danbury. He married in August 1908. He joined the army in December 1915 and went to France in September 1916. He met his death near Ypres in October 1917. His widow lived n Church Lane, Springfield.
DAVEY, JOHN GEORGE,
Private, 6th Battalion, York and Lancaster Regiment (formerly of the Northampton Regiment)
The Tyne Cot Memorial is one of four memorials to the missing in Belgian Flanders which cover the area known as the Ypres Salient. Broadly speaking, the Salient stretched from Langemarck in the north to the northern edge in Ploegsteert Wood in the south, but it varied in area and shape throughout the war.
The Salient was formed during the First Battle of Ypres in October and November 1914, when a small British Expeditionary Force succeeded in securing the town before the onset of winter, pushing the German forces back to the Passchendaele Ridge. The Second Battle of Ypres began in April 1915 when the Germans released poison gas into the Allied lines north of Ypres. This was the first time gas had been used by either side and the violence of the attack forced an Allied withdrawal and a shortening of the line of defence.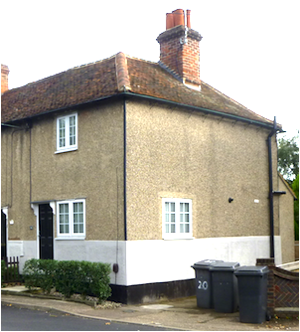 John was born in Chelmsford on 7th December 1885, the son of the bricklayer James Davey and Sarah Harris Davey (nee Lamb). His father had been born in 1852 in Broomfield; his mother in 1854 in Chelmsford.
The couple had married on 15th June 1873 at St. John's Church, Moulsham. At the time John's father was aged 21, a bricklayer of New Writtle Street, Chelmsford, and son of John Davey, a brickmaker. John's mother was aged 19, of Hall Street, Chelmsford, and the daughter of John Harris, a labourer. Eight years later John's parents had been living at 12 New Writtle Street.
John was baptised at St. John's Church in Moulsham on 3rd September 1897 when his father was recorded as a bricklayer of New Writtle Street.
John's eight siblings, all born in Chelmsford, were James Arthur Davey (born 1874), Laura Eliza Davey (born 1876), Violet Rose Davey (1881-1970), Daisy Winifred Belinda
Davey (1883-1952), Joseph Percy Hector Davey (1887-1927), Eva Victoria Emma Davey (born 1890), William Albert Davey (1892-1963) and Lord Gilbert Davey (1897-1968).
John was educated at Moulsham Infants School in Moulsham Street, Chelmsford between 9th September 1890 and 3rd September 1892. Upon admission his address was 3 Baker Street, Chelmsford (subsequently demolished); where he was recorded in the 1891 census, aged six living with his parents and six siblings. At that time his father was a bricklayer.
A decade later the 1901 recorded John still at 3 Baker Street, aged 16 and employed as a bricklayer's apprentice, accompanied by his parents and five siblings. His father was a foreman bricklayer; his sister Daisy a shop assistant and his brother Joseph a domestic houseboy.
John married Ellen Louisa Hunt, several years his senior, at All Saints' Springfield on 22nd August 1908. Just under three years later the 1911 census found the couple living with Ellen's 77 year-old mother at Rectory Cottages in Springfield. John was a bricklayer. John and Ellen do not appear to have produced any children.
On 10th December 1915 John attested at Chelmsford for the the duration of the war and was appointed as Private 25522 in the Northampton Regiment. At the time John was married, still resident at Rectory Cottages, and a bricklayer. He had no previous military service and no children. His attestation papers described John as five feet nine inches tall, with a chest of 36 inches, weighed 148 pounds, with good physical development. He was posted to the Army Reserve the following day.
On 18th May 1916 at the Chelmsford Rural Military Service Tribunal Baker & Son of Danbury, John's employer, sought to obtain an exemption so that John and three colleagues would not be mobilised from the reserve. A local paper reported:
"Baker and Son, builders, Danbury, applied for Albert Brazier, Chris. Ager, carpenters and joiners, Danbury; John Davey, 32, Springfield; and Henry Wade, 35, Great Baddow, bricklayers and plasterers.— Mr. Baker said that in the early stages of the war 22 their men enlisted, two had been killed in action, and all the remaining employees were married and attested. If they could not retain at least two of these men the firm would have to close down.— Conditional exemption granted for Brazier and Wade; the other cases refused.—The Chairman said the Tribunal knew Messrs, Baker had done their best to spare men."
As a result of the refusal John was mobilised on 5th June 1916 and posted to the 9th Battalion of the Northamptonshire Regiment on 7th June 1916.
On 31st August 1916 he moved to the 3rd Battalion. He crossed from Folkestone, Kent to Boulogne, France on 29th September 1916 and joined a depot. On 14th October 1916 he transferred from the Northampton Regiment and was given a new service number of 31839. He was sjot and killed in action on 9th October 1917 while serving as Private 31839 in the 6th Battalion of the York and Lancaster Regiment.
On 26th October 1917 the Essex County Chronicle reported:
"John George Davey, Yorks and Lancaster Regt., whose wife lives with her mother, Mrs. Hunt, in Springfield Rectory Cottages, is unofficially reported killed in action."
The same day's Essex Weekly News reported:
"News has reached Springfield of the death in action of Pte. Jack Davey, of Rectory-cottages, son of Mr. J. Davey, builder, New Writtle-st., Chelmsford. The news was conveyed in a letter from Pte. Bert Doole, formerly a master at Victoria-rd. School, Chelmsford, who stated that he and 'Jack' were in action when the latter was shot, death being instantaneous. Deceased was well known and popular in Chelmsford and Danbury, where for many years he had been in the employ of Messrs Baker, builders. He leaves a widow writing to whom a day or two previous to his death he said he had been chosen for leave and might be expected home any time shortly."
On 9th November 1917 the Essex County Chronicle included the following family announcement:
"Davey. - On Oct. 9th, 1917, killed in action in France, Pte. J. G. Davey, York and Lancaster Regt., dearly-loved husband of Ellen S. Davey, Rectory-cottages, Springfield. aged 33. Deeply mourned."
John has no known grave and is commemorated on the Tyne Cot Memorial in Belgium (pictured), on the Civic Centre Memorial, Chelmsford and on the Springfield Parish Memorial at All Saints' Church.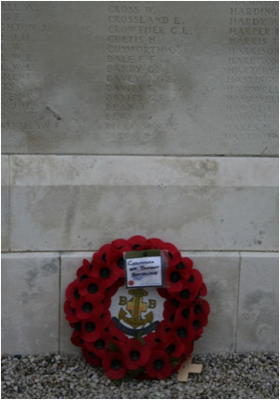 There was little more significant activity on this front until 1917, when in the Third Battle of Ypres an offensive was mounted by Commonwealth forces to divert German attention from a weakened French front further south. The initial attempt in June to dislodge the Germans from the Messines Ridge was a complete success, but the main assault north-eastward, which began at the end of July, quickly became a dogged struggle against determined opposition and the rapidly deteriorating weather. The campaign finally came to a close in November with the capture of Passchendaele.
John's widow was granted a pension of 13 shillings and nine pence with effect from 6th May 1918.
The 1918 register of electors listed his parents at 21 New Writtle Street, Chelmsford. His widow was at 1 Rectory Cottages, Springfield (now 16 Church Lane, pictured) where she remained until her death in 1946.
The Essex Weekly News of 11th October 1918 carried the following in memoriam notice:
"Davey. - In ever-loving memory of my dear husband, Pte. J. G. Davey, York and Lancs. regt., killed in action in France Oct. 9th, 1917.
Though at present we are parted. Some sweet spirit seems to say: Trust in God - be not downhearted: He will watch o'er thee always. And we shall be re-united, Never to part again for aye.
- From his loving Wife, Rectory-cottages. Springfield."
In 1919 John's brother Joseph Davey was living at 65 Upper Bridge Road, Chelmsford; brothers William Davey and (Lord Gilby) Davey were at 21 New Writtle Street; sister Violet Goodship at 22 Fairfax Road; and sister Eva Wellavise at Maltese Road, Chelmsford.
Joseph's father died in 1920, leaving an estate valued at £687 14s. 0d. to his widow. She died in November 1935, aged 80.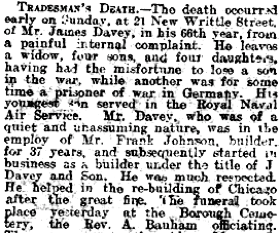 John's brother, Joseph, died in 1927, aged 40, his demise hastened by poor health that had dogged after spending nine months as a prisoner of war while serving with the Royal Fusiliers. A local paper reported:
"Death of Mr. J. P. H. Davey - The death occurred on Friday of Mr. Joseph Percy Hector Davey, aged 40, of 134 Upper Bridge Road, painter and decorator, who was well-known and highly esteemed. The long illness which led to his death was caused by the privations he endured while a prisoner of war in Germany. He joined up in 1917 the Middlesex Regt., and was taken prisoner while serving with the Royal Fusiliers. He was a prisoner of war for nine months, and had been ill for two and a half years. The end, however, came suddenly, he had only returned to his home from a sanatorium the previous Tuesday. Much sympathy felt with the widow and relatives. The funeral was at the Borough Cemetery on Wednesday."
131002