Sydney William Day came from Braintree, played football for the forerunner to Braintree Town F.C., Manor Works. He had been abroad for 19 months when he died from wounds near Ypres in July 1917.
DAY, SYDNEY WILLIAM,
Sapper, 219th Field Company, Royal Engineers
Sydney's father died in 1909, aged 52.
The 1911 census found 23 year-old Sydney living with his widowed mother and five siblings at 33 East Street in Braintree. He was employed as a tool maker at a cycle and motor accessory manufacturers; his brother William was a gas fitter at the gasworks; and sister Mabel was a telephone operator at a silk works.
Sydney played football for Manor Works, the works team of the Crittall Window Company, and the forerunner of Braintree Town F.C.
Sydney enlisted at Chelmsford. He died from wounds on 13th July 1917 while serving as Sapper 134308 in the 219th Field Company of the Royal Engineers. He was aged 29. He is buried at Coxyde Military Cemetery, Koksijde, West-Vlaanderen, Belgium (grave: I. J. 12).
Sydney is commemorated on the Civic Centre Memorial, Chelmsford, but he is not commemorated on the war memorial at St. John's Church in Moulsham Street.
He was entitled to the British War Medal and Victory Medal.
The 1918 register of electors listed his mother at 146 Upper Bridge Road, Chelmsford (pictured). she died in 1936.
140221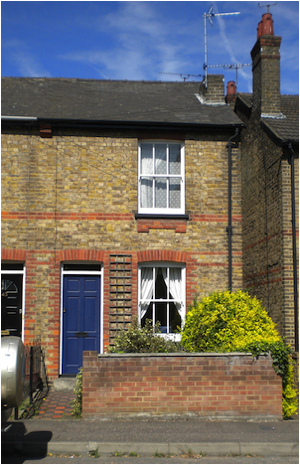 Sydney was born at Braintree in 1887, the second son of William John Day and Maria Day (nee Cook). His father had been born in 1857 in High Easter; his mother c1863 in Coggeshall. They had married in 1881 and in the census of that year had been resident in Coggeshall Road, Bocking.
Sydney's siblings, all Braintree-born, included Bertie O. Day (born c1881), William Stanley Day (born c1892), Emily Mabel Day (born c1896), Cyril Charles Day (born c1900), Elsie May Day (born c1903) and Cissie Constance Day (born c1905).
In 1891 the census recorded three year-old Sydney living with his parents, brother and a boarder at 230 Manor Road in Braintree. His father was a general labourer.
A decade later the 1901 census found 13 year-old Sydney living with his parents and four siblings at 182 Manor Road, Braintree. Sydney was a general oilman's errand boy, his father was a general labourer (gas worker), while his brother Bertie was a brush maker working in the 'pass' room.