William Francis Dean came to Chelmsford as a young boy and joined the Royal Navy in 1896. He remained with the service until his death at the Battle of Jutland in May 1916 when H.M.S. Indefatigable was sunk. His home was in South Primrose Hill.
DEAN, WILLIAM FRANCIS,
Gunner, H.M.S. Indefatigable, Royal Marine Artillery
William's mother died in 1917, aged 75 and was buried at Chelmsford Borough Cemetery on 7th March that year.
The 1918 register of electors listed William's brother, John Robert Dean, at their 1901 property. In the intervening years it had been renumbered as 54 and 66, and was subsequently given its modern-day number, 45, in 1946 (pictured).
William was one of the 'South Primrose Hill Boys'. His father died in 1922 and his brother John died in tragic circumstances on 22nd August 1923. The following week the Essex Chronicle reported:
"MAN DROWNED: SAD CHELMSFORD STORY: Protest Against Mortuary. On Friday an inquest was held at the Shire Hall, Chelmsford, by Mr. Coroner C. E. Lewis, on John Robert Dean, aged 43, a boot repairer, of South Primrose Hill. Chelmsford, who was found drowned the River Cann by the Railway Viaduct, Chelmsford, on the previous Wednesday.
Samuel James Dean, Oxford Road, Ramsgate, identified the body of that his brother. Deceased lived with his aunt at South Primrose Hill. About two years ago deceased was patient at Severall's Mental Hospital, Colchester, for six months. Witness heard from him fortnight ago, when wrote that he contemplated getting married shortly. Witness believed that deceased feared he might have a recurrence of bis mental trouble. He told witness the last time saw him (about six months ago) that he would not go back to Severall's again. He had not. to witness's knowledge, made any threat to do himself an injury. He was always of lively disposition. He had been a cripple since he was about seven years old, and got about on crutches.
Dr. H. W. Newton said he knew the deceased, although had not seen him professionally for about two years. Witness had seen the body, and the circumstances pointed to the fact that death was due to drowning. When witness saw him two years ago he was' very depressed, and sent him to the Infirmary for observation.
Dr. Newton added : While I am here, may I make protest?
The Coroner: Certainly. Is it about the case?
Dr. Newton: No. It is about the place I saw the body in. I would really like to protest that a town of the size Chelmsford should have a mortuary so inadequate, so disgracefully unfit as this one. I think a recommendation made from this Court might be of some effect. It is not a fit place to be in.
The Coroner said that was only too glad to have any place in which to deposit the bodies. In some places where there was no recognised place. He quite agreed, however, that the present mortuary at Chelmsford was somewhat inadequate. He would take notice of the observations, and would communicate with the Town Council on the matter, to see if any better arrangement could be made.
Dr. Newton : There no reason why we should not have a properly constructed, properly lighted, sanitary mortuary. It is not respectful to the dead to put them in the place as is now.
Miss Ann Pope, South Primrose Hill, Chelmsford, said the deceased was her nephew, and resided with her. She last saw him about 9 o'clock on Wednesday morning, came down at 7 o'clock and had his breakfast. He seemed better than he had been. He told her that had had a better night, and that he was going for walk. Witness knew was contemplating marriage. Deceased had not said anything about taking his life. Recently deceased had had delusions. He said that he thought people were talking about him, and that he heard sounds outside distinctly.
Francis A. Witham, a lad, of Baddeley Square, Chelmsford, said that on Wednesday morning, just before 9 o'clock, he was in Viaduct Road when saw a man walking on crutches towards the Recreation Ground. He seemed in great hurry.
Cyril Butler, Cramphorn Road, Chelmsford, said that at 9.15 a.m. on Wednesday he was walking across Oliver's meadow towards the Recreation Ground, close to the river, when saw the body of a man lying in the water, face downwards. There were two crutches by the side of the bank. They were lying close together, as if they had been placed there. Deceased was fully dressed. Witness reported the matter to the Recreation Ground keeper, Mr. Wright, and also to the police,
Joseph, W. Wright, caretaker of the Recreation Ground, said that he received information of the finding of the body, and, with assistance, he got it out of the river. There was no sign of life. The body was stone cold. The deceased usually wore a gold watch and chain, but he noticed that he had not got them on when the body was recovered.
Deceased's brother (interposing) said that he had left the watch at home that day. He usually wore it, however. P.s. Fordham spoke to seeing the body of deceased the river bank. At the spot where the body was found the water was about three feet deep.
The Coroner returned verdict of Suicide during temporary insanity."
131003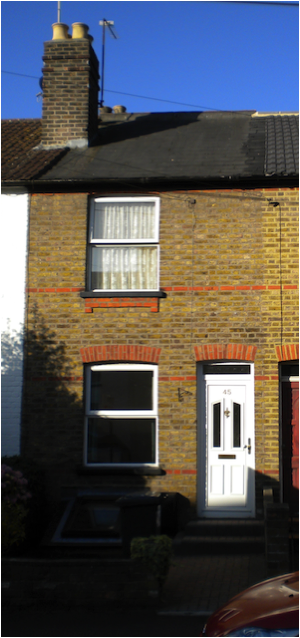 William was born in Carshalton, Surrey on 5th November 1876, the son of Samuel Dean and Mary Dean. At the time his forenames were recorded as 'Francis William'. His father had been born c1837 in Great Baddow; his mother c1842 in Minehead, Somerset. His parents had married c1874.
William's three siblings were Samuel James Dean (born in 1875 in Carshalton), and twins John Robert Dean and Anne Maria Dean (born in 1880 in Chelmsford).
The 1881 census recorded four year-old William living with his parents and three siblings at 4 Primrose Terrace, Lower Primrose Hill, Chelmsford. At the time his father was a skinner. A decade later William, his parents and three siblings were found by the 1891 census at the same property, with the street now renamed South Primrose Hill. William was a post errand boy. His elder brother and father were leather dressers.
On 23rd July 1896 William enlisted into the Royal Marine Artillery. He was absent for the 1901 census which recorded his parents and younger brother were resident at 40 South Primrose Hill. William's father was still employed as a leather dresser.
In 1911 the census found William's parents and brother John at 74 Duke Street, Chelmsford. His father was an assistant caretaker for Essex County Council, while his brother was a self-employed boot repairer. William is thought to have been away at the time with the Royal Marine Artillery.
William was killed on 31st May 1916 while serving as Gunner RMA/6160 of the Royal Marine Artillery on H.M.S. Indefatigable (pictured) when the 590 feet-long battlecruiser was blown up and sunk during the Battle of Jutland by the German battlecruiser Von der Tann. All but two of the 1,017 crew died. He was aged 39.
The Essex County Chronicle of 23rd June 1916 included the following family announcement:
"Dean. - William Francis, of H.M.S. Indefatigable, second son of Mr. and Mrs. Dean, of Chelmsford. Killed in action in the North Sea Battle, on May 31st 1916, aged 39."
The same edition also reported rather 'matter of factly':
"Gunner W Dean RMA, attached to H.M.S. Indefatigable, who was killed in action in the North Sea battle, was the son of Mr and Mrs S. Dean of 66 South Primrose Hill, Chelmsford."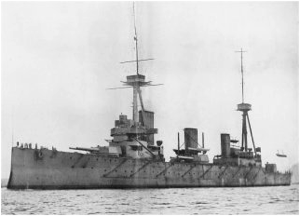 William is commemorated on the Portsmouth Naval Memorial (memorial reference: 21), on the Civic Centre Memorial, Chelmsford and by the Chelmsford Parish Great War Memorial in Chelmsford Cathedral.