Reginald Herbert Edwards came to Chelmsford from Writtle around 1905, and worked as an iron moulder. He joined the Royal Marines in October 1916, and died having been accidentally shot by a comrade in June 1918 in France. His home was in Compasses Row.
EDWARDS, REGINALD HERBERT,
Private, Royal Marine Light Infantry
A statement by PO/18568 Lance Corporal Dibden R.M.L.I. stated:
"I was playing cards in a barn in No.149 Billet, Herissart, & heard a shot fired in another barn in the same billet. I went to the room where the sound came from & saw Edwards on the floor. I asked him where he was hit & he said "In the stomach." I bandaged him up. I asked him how it happened & he said "Its accidental." I sent Corporal Rowell for the Medical Officer. I saw a revolver lying on the floor, I picked it up & found an empty cylinder in one chamber. The other chambers were empty."
Reginald was buried at Fillievres British Cemetery, Pas de Calais, France (grave: A. 13). The cemetery had been begun in June 1918 by the 46th Casualty Clearing station, was used later by 6th Stationary Hospital, and subsequently completed by the inclusion of graves from French cemeteries and German burial grounds in the area. The cemetery was used again during the Second World War.
Reginald is commemorated on the Civic Centre Memorial, Chelmsford and by the Chelmsford Parish Great War Memorial in Chelmsford Cathedral.
The 1918 register of electors listed his father at 16 Compasses Row, Chelmsford. The property was demolished in the late 1950s.
Reginald's father also died following an accident, in 1934. The Essex Chronicle of 1st December that year reported:
"RUNAWAY TRAGEDY CHELMSFORD FOREMAN KNOCKED DOWN BY HORSE
The death occurred in Chelmsford Hospital on Saturday morning Mr. Alfred Edwards aged 60, of Compasses Row, Broomfield Road, Chelmsford, who received serious injuries the previous afternoon while at work at the premises of the Hoffmann Manufacturing Co., Ltd.
Deceased was the yard foreman at Hoffmann's. On Nov. 23 a horse attached to a cart bolted in the yard. Mr. Edwards at once tried stop the animal, a plucky action, but unfortunately in attempting to get hold of its head "he was knocked down, and a wheel the vehicle passed over the lower part of the body, inflicting severe injuries. He received first-aid treatment the works, and was removed the hospital, where death ensued as stated.
Mr. Edwards had been employed at Hoffmann's for 23 years, and was much respected alike by his employers and his fellow workmen. He was a very conscientious workman, and the accident caused much sorrow at the works. Mr. Edwards was an enthusiastic gardener, and cultivated several plots on the Bishop's Hall allotments, besides supervising the gardening at Mill House, part of the Hoffmann undertaking. He leaves a widow and six grown-up children.
THE INQUEST. A verdict of Accidental death was returned at the inquest, which was held at Chelmsford on Monday afternoon. Mr. Coroner C. E. Lewis conducted the inquiry. Mr. Martin Jukes appeared for Hoffmann's, and Mr. E. N. Wingent for the relatives.
Thomas Wm. Bailey, South Primrose Hill, Chelmsford, an electric truck driver at Hoffmann's, said he drove a truck past the horse, which was attached to a sludge cart. Witness saw Edwards standing the horse's head and rubbing its nose. The horse appeared to be quite still. Witness added: "I had gone few yards when glanced round. I saw the horse jump forward, swing round to its left, and then bolt round a corner to the right. Edwards went after it. I ran from my truck and saw Edwards lying in the off side wheel-track of the cart. The cart was overturned and the horse was on its back- I passed the horse with the truck three or four times a day, and it never moved."
George Wm. Hudson, Church Street, a horseman at Hoffmann's, said he was at the rear of the cart. Deceased came and stood the horse's head. It was no part of his duty to do so, but he often took notice of the horse. When the truck was about six yards past, the horse jumped and bolted. Edwards went after it. When the horse turned the right-hand corner witness lost sight of it. As it went round the corner witness heard the cart hit a wall with its near side wheel. Witness ran after the cart and saw deceased lying in the cart track and the horse and cart turned over about 20 yards further on. Witness did not think the truck frightened the horse. The horse was six years old and had been working in that particular cart about two months.
The Coroner: Has this horse ever done this kind of thing before?— Witness ; The previous Tuesday he bolted with me with an empty cart when a strap broke. —Was there anything in the loading of the cart that could have startled him?—No, sir.
P.c. Gill deposed that he found a mark on the wheel-cap of the cart and a corresponding mark on the wall. It was probable that in striking the wall the cart lurched and consequently struck Edwards.
Robert Harvey Currie, Moulsham Lodge, Chelmsford, said be found the horse for the Company, and it was bought with a full guarantee The horse was sent to Hoffmann's on week's trial. If it was not all right it was to go back to Suffolk, where it was purchased. Witness saw the horse working, and it seemed be quite quiet.
Dr. R. H- B. Short, resident house surgeon at Chelmsford Hospita,, said Edwards was admitted on Friday afternoon. He was conscious and very shocked. He was X-rayed, and that showed that the hip girdle was completely shattered in four places. There were also head abrasions, but the skull was not damaged. Edwards died early on Saturday morning, and in witness's opinion death was due to shock following injuries.
Leonard Edwards, Jubilee Cottages, Broomfield Road, gave evidence of identification. His father's sight and hearing were good. Air. Martin Jukes expressed sympathy with the relatives on behalf of Messrs. Hoffmann. Deceased was good and conscientious servant of the firm, and they were very sorry. The Coroner, the jury, and Insp. Feakes on behalf of the police, associated themselves with the expression."
131008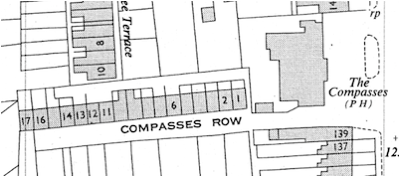 Reginald was born in Writtle in 1898, the son of Alfred Francis Edwards and Annie Edwards (nee Little). His father had been born in 1875; his mother in 1874.
The couple had married on 19th October 1895 at All Saints' Church in Writtle. At that time Reginald's father was aged 20, a labourer of .
Writtle, and the son of Alfred Thomas Edwards, a labourer. His mother was said to be aged 22, also of Writtle, the daughter of William Little, a labourer.
Reginald's five siblings were Alfred Francis Edwards (born in 1896 in Writtle, died 1901), Amy Margery Edwards (born in 1900 in Writtle, died 1994), Dora Annie Edwards (born in 1903 in Writtle, died 1986), Alice Edwards (born in 1906 in Chelmsford, died 2000) and Leonard Edwards (born in 1909 in Chelmsford).
The 1901 census found two year-old Reginald living with his parents and two siblings at Causeway in Writtle. His father was a bricklayer's labourer. A decade later the 1911 census listed 12 year-old Reginald living with his parents and four siblings at 16 Compasses Row, off the western side of Broomfield Road, Chelmsford. His father had progressed to become a journeyman bricklayer.
Reginald enlisted on 9th October 1916, aged 18 as CH/20950 having been employed as an iron moulder. He embarked with the Royal Marines Brigade on 27th August 1917, and joined the 2nd Royal Marine Battalion on 14th July 1917. He was attached to the 188th MG Company on 12th February 1918, served with the 63rd MG Battalion between 1st March 1918 and 20th April 1918. when he went to the Field Ambulance,. He joined Base Depot Calais on 31st May 1918 and joined the 1st Royal Marine Battalion on 8th June 1918.
Reginald died at 6.30 am on 25th June 1918 while serving as Private CH/20950 in the 1st R.M. Battalion R.N. Div. of the Royal Marine Light Infantry in 46th Casualty Clearing Station – having been accidentally shot in the abdomen by PO/19096 Private W.H. Hough R.M.L.I. three days earlier. In a statement Private Hough recalled that:
"I am No.1 of No.13 Section Lewis Gun. I had a service revolver but no holster or ammunition. I cleaned it on the first day I had it, Tuesday 18/6/18 & when I put it away amongst my equipment it was empty. On Saturday 22/6/18 I was playing cards with Privates Kennedy, Edwards & Truman. I got up with the intention of writing a letter & lifted the revolver to get at my writing paper which was underneath & instantly the revolver went off wounding Private Edwards."
In his dying statement Reginald stated:
"Yesterday I was playing cards in my billet & a man in the billet was examining a revolver & all at once it fired, the bullet hitting me in the abdomen & injuring me. (This man is too ill to sign his statement, Major Poland)."
Another man present PLY/1500/S Private S. Truman R.M.L.I. recalled:
"I was playing cards with Privates Crabtree, Kennedy & Edwards on the floor of No.149 Billet, Herissart. Private Hough was crouching down in the corner on Edwards right. I heard a bang & Edwards shouted "Oh". I looked up & saw Hough put the revolver down & run towards Edwards who lay down flat. I had not noticed that he had the revolver in his hand previously."
Another statement by PO/19615 Private W. Crabtree R.M.L.I. reported:
"I was playing cards with Privates Truman, Kennedy & Edwards sitting on the floor of No.149 Billet, Herissart. Private Edwards was leaning back. I heard a shot go off & I saw Edwards lying on the floor. I saw a revolver in Hough's right hand. He was leaning over & looked as though he was picking something off the floor. I pulled my Field Dressing out & bandaged him. Private Hough was in the corner. He was between Edwards & me & a little behind on his right. I had not previously noticed that Hough had the revolver. I had seen him cleaning it on other days. He is No.1 of the Lewis Gun Section."
PLY/2550/S Private P. Kennedy reported:
"I was sitting on the floor of No.149 Billet, Herissart, playing cards with Privates Crabtree, Truman & Edwards. All of a sudden there was a shot & Private Edwards said "Oh, I'm hit." I looked up & saw Hough in the corner in a bending position as though he was looking for something. He had a revolver hanging at his side in his right hand. He had been playing Bridge with us & only just left us."