Walter Percival Edwards was born and bred in Chelmsford. He joined the Royal Air Force in September 1918 and died from pneumonia the following month in Dorset. His home was in St. John's Road. His elder brother also died during the war while serving with the Red Cross.
EDWARDS, WALTER PERCIVAL,
Private 2nd Class, Royal Air Force
The same edition of Essex County Chronicle reported:
"Death of Mr. W. P. Edwards. - We regret to have to record a third bereavement sustained by Mr. Edwards, gardener of St John's Road, Chelmsford, who has just lost his only surviving son, Walter Percival Edwards, R.A.F., who died at Blandford Military Hospital from double septic pneumonia. The deceased, who was 17 years and 9 months old. only joined up on Sept. 23 last. In the early part of the war, Mr. Edwards lost his elder son, Edgar. who died from typhoid fever at Uakub, Serbia, while serving with a British Red Cross section, and subsequently Mrs. Edwards passed away. Walter, before joining up, worked for Messrs, Rosling Ltd., motor engineers, who sent a fine wreath to the funeral which took place on Tuesday at the Borough Cemetery, Writtle Road. The first part of the service was held at St. John's Church, the Rev. W. J. Pressey, vicar, officiating. Miss Edwards, sister; Mrs. Ritson and Mrs. Broome Rogers, aunts; Mr. Richard N. Morgan and Walter Evans."
Meanwhile the Essex Weekly News reported:
"Victim of Influenza. - The funeral of Sec.-Pte. Walter P. Edwards, R.A.F., only surviving son of Mr. E. Edwards, nurseryman, St. John's-rd., took place at the Borough cemetery on Tuesday. Deceased, who was only 17 years of age, joined the R.A.F. a fortnight before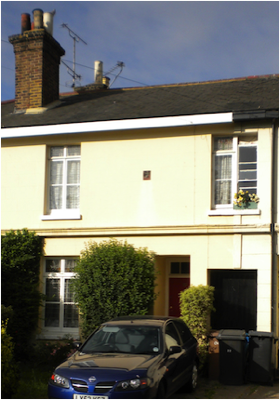 Walter was born in Chelmsford in 1901, the younger son of market gardener and nurseryman Edward Edwards and Phoebe Edwards (nee Quaintance). His father had been born in Knighton, Herefordshire in 1854; his mother at Aylesbeare in Devon, in 1860. Edward and Phoebe had married in 1884 in Somerset and by 1891 they had been resident at 8 Garfield Terrace, Springfield Road, Springfield.
Walter's siblings (both Chelmsford-born) included Edgar Edward Edwards (born in 1893) and Phyllis Phoebe Edwards (born on 11th April 1896).
Shortly after his birth the 1901 census showed Walter (less than one month-old and then unnamed), his parents, widowed paternal grandfather, two elder siblings and servant at 3 St John's Road (today number 8), Chelmsford. Walter's father was a market gardener; his grandfather, an 84 year-old agricultural labourer. also called Edward, who was to die later that year. A decade later the 1911 census found 10 year-old Walter living with his parents and two siblings at 10 St. John's Road (today's number 22). His father was a market nurseryman, assisted by Walter's brother Edgar.
Walter's brother, Edgar Edward Edwards died early in the War while working as an orderly for
the Red Cross in Serbia.
Walter's mother died in 1917, an event reported by the Essex Weekly News of 22nd June 1917:
"Sudden death of Mrs. Edwards. - The death of Mrs. Edwards, wife of Mr. E. Edwards, nurseryman, of St John's-rd, occurred very suddenly on Sunday morning. The deceased actively interested herself in her husband's business and was in her garden on Saturday. She got up to dress on Sunday morning, but complained of a pain at the back of her head. Her daughter went downstairs for a cup of tea, but before any assistance could arrive Mrs, Edwards passed away as the result of a stroke. She leaves one son and a daughter, an elder son having died on service with a Red Cross unit in Serbia. Much sympathy is felt for the widower and his family, Mr. Edwards having not long ago undergone a very serious illness - The funeral took place on Wednesday, the first part of the burial service being said at St. John's Church and the interment following at the Borough Cemetery."
Walter joined the Royal Air Force on 23rd September 1918, but died from pneumonia on 9th October 1918 at Blandford Military Hospital in Dorset while serving as Private 2nd Class 298162. He was aged 17. He is buried at Chelmsford (Writtle Road) Cemetery (grave: B. 2147). The epitaph on his tombstone is inscribed "Thy will be done."
death was the subject of a family announcement in the Essex County Chronicle and Essex Weekly News on 18th October 1918:
"Edwards. - On October 10th, at Blandford Military Hospital, of double septic pneumonia, Walter Percival Edwards (2nd private), Royal Air Force, only surviving son of Mr. and the late Mrs. Edwards, The Nurseries, St. John's Road, Chelmsford, aged 17 years."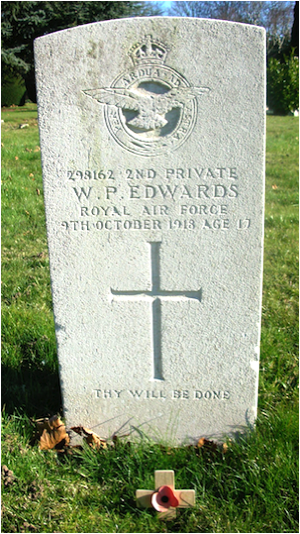 his death. While stationed at Blandford Camp, Dorset, he was attacked with influenza, to which pneumonia supervened, causing death. Deceased was taken ill on Wednesday, the 9th inst., and passed away on the following Sunday, having in the interval been visited by his sister and other relatives. The interment on Tuesday was preceded by a service in St. John's Church, the Vicar, Rev. W. J. Pressey, officiating, and also presiding at the organ during the singing of the hymn, 'On the resurrection morning'. the chief mourners were: - Mr. E. Edwards, father; Miss Edwards, sister; Mrs B. Rogers and Mrs. Batson, aunts; Petty-Officer R. H. Morgan, Mr. Walter Evans, Miss :Leech, and Mrs. Barnard. Those also present included Mr. W. Fulcher jun., employees at Messrs. Rosling's motor works, where deceased was formerly employed, and neighbours and friends of the family. The floral tributes included one from Messrs. Rosling's employyees."
Walter is commemorated on the Civic Centre Memorial, Chelmsford, and the Moulsham Parish Memorial, St John's Church, Moulsham.
The 1918 register of electors listed Walter's father at 10 St John's Road, Chelmsford (today number 22). Walter's father died in 1927, aged 72.
131008