Bertie Richard Fisher came to Chelmsford from his home village of Layer-de-la-Haye via Kelvedon with his family. He was killed in action in March 1918 at the start of Germany's Spring Offensive 'Operation Michael'. His parents lived in Springfield Road.
Bertie was born in Layer-de-la-Haye in 1899, one of ten children of John William (sometimes 'William John') Fisher and Kate Fisher (nee Drain). His father had been born in Birch, his mother in Layer-de-la-Haye, both in 1866. They had married at Layer-de-la-Haye on 12th February 1887 when both were still aged 20. At the time Bertie's father was a labourer living in neighbouring Birch.
Bertie's siblings, all born at Layer-de-la-Haye, included William Fisher (born in 1888), Ella Fisher (born in 1889), Albert Charles Fisher (born in 1891), Ada Fisher (born in 1894), Frederick Fisher (born in 1895), Florence Fisher (born in 1897)., Leonard George Fisher (born in 1903), and Edith Rose Fisher (born 1905).
The 1901 census found Bertie, aged two years old, living with his parents and six siblings at Layer-de-la-Haye. William's father was a builder's labourer; his mother was a tailoress.
In 1911 the census recorded 12 year-old Bertie with his parents and four siblings at Green Leaves Cottage in Kelvedon where his father was a waggoner on a farm. Bertie was then still at school.
FISHER, BERTIE RICHARD,
Private, 34th Battalion, Machine Gun Corps (Infantry)
Bertie was killed in action on 21st March 1918, while serving as Private 128548 in the 34th Battalion of the Machine Gun Corps (Infantry). He was 19. At the time of his death his parents were living close to The Endeavour pub at 112 Springfield Road (later given the number 353, and since redeveloped) and they were recorded there by the 1918 register of electors.
He has no known grave is commemorated on the Arras Memorial in France, the Civic Centre Memorial, Chelmsford, on the Springfield Parish Memorial at All Saints' Church, and on his parents' grave at Springfield Holy Trinity . He was entitled to the British War Medal and Victory Medal.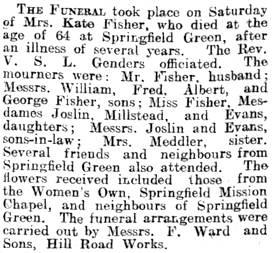 Bertie's father was listed in a 1920 street directory living in the almshouses at Springfield Green, Springfield His mother died on 2nd March 1931; his father on 21st March 1960. Both are buried at Springfield Holy Trinity Church.
131014