Leslie Albert Fisher was born in Norfolk and arrived in Chelmsford by 1911. He worked for Christy Brothers, joined the Territorials, transferred to the Regulars and arrived in France in July 1915. He died from wounds two months later. His family home was in Chelmsford's High Street where his father managed a shop. A cousin was also killed during the war.
FISHER, LESLIE ALBERT,
Sapper, 83rd Field Company, Royal Engineers
The photograph was taken around 1911 in the garden behind 48 High Street, Chelmsford, and it was there that census of 1911 recorded Leslie, his parents and five surviving siblings - the site is today part of 'The Meadows' shopping centre. Leslie worked in electrical engineering for Christy Brothers in Broomfield Road, Chelmsford. His father was a shop manager for a dealer in musical instruments - Messrs. Nelson, Murdoch, and Co. whose shop was at 48 High Street.
Leslie enlisted at Chelmsford in September 1914, and with his electrical engineering background served with the Royal Engineers, He landed in France July 1915 as part of the 20th (Light) Division.
He died from wounds on 14th September 1915 while serving as Sapper 49941 in the 83rd Field Company. He was aged 19. He is buried at Merville Communal Cemetery, twenty kilometres south-west of Armentieres in Nord, France (grave: IV. B. 5).
On 17th September 1915 the Essex County Chronicle carried the following family announcement:
"Died of Wounds. Fisher. - Leslie Albert Fisher, aged 19, the dearly beloved eldest son of George and Annie Fisher, 48 High Street, Chelmsford, died of wounds Monday, Sept. 13th, 1915. He fell faithfully serving his country as a R.E. of the Expeditionary Force."
The same edition of the paper also reported:
"Spr. Leslie Albert Fisher, R.E., died on Monday from wounds from which he never recovered consciousness, was the eldest son of Mr. Geo. Fisher, manager of Messrs. Nelson, Murdoch, and Co.'s establishment at Chelmsford. The deceased, who was only 19 years of age, was employed at Messrs. Christy Bros., electrical engineers, Chelmsford, and joined the Royal Engineers last September. He had been on the Western Front in France for about two months in the 83rd Field Co., 20th Division. The deceased was a very reliable and much-liked young fellow, He had been through the Primitive Methodist Sunday School, and was a regular attendant at the Hall Street Church, of which his father is a local preacher and steward. Deceased was friendly with the Rev. W. J. Everingham's son, now in the Essex (Fortress) R.E., and they tried to enlist together, but Mr. Everingham's son was not accepted until he had made seven applications."
The same day's Essex Weekly News carried the following report:
"Sapper Leslie Albert Fisher, Royal Engineers, died of wounds in France on Monday. Deceased, who was 19 years of age, was the son of Mr. and Mrs. G. Fisher, of 48, High-street, Chelmsford. He was formerly employed by Messrs. Christy Bros., engineers and joined the R.E. in September of last year. He had been at the Front about two months, being attached to the 83rd Field Co., 20th Division. His parents have not received details as to when he was wounded or the extent of the injuries, but a letter from deceased's officer stated that he died without regaining consciousness, Sapper Fisher, who was a capable young man and very much esteemed by his friends, was a regular attendant at the Hall-street Primitive Methodist Church, having passed through the Sunday School. He was a close friend of Sapper Everingham, of the Essex Fortress Engineers, son of the Rev, J, W, Everingham, pastor at Hall-street."
A week later the Essex County Chronicle reported:
"In Memoriam. - The Sunday evening service at the Primitive Methodist Church was of a memorial nature for Sapper Leslie A. Fisher, R.E., killed at the Dardanelles (sic). The Rev. W. J. Everingham, speaking from the text, 'I am the Resurrection and the Life'. referred to the young soldier's good life and his noble sacrifice at his country's call, and expressed the sympathy of the congregation with the relatives. At the close Mr. H. Mundy, the organised. played 'O rest in the Lord.'"
Leslie is commemorated on the Civic Centre Memorial, Chelmsford. He was entitled to the 1914-15 Star, British War Medal, and Victory Medal.
On 15th September 1916 the Essex County Chronicle included the following in memoriam notice:
"Fisher. - In ever loving memory of our dear boy, Leslie A. Fisher, aged 19 years, who died of wounds in France on Sept. 13th, 1915, while serving with the Royal Engineers. Gone from our home, but not from memory."
Leslie's cousin, Thomas Donald Fisher, also lost his life during the war, killed in action in 1917.
His parents continued to live at 48 High Street after the war and a 1920 street directory listed Leslie's father there and manager of Nelson Murdoch and Company. He was still managing the shop at the outbreak of the Second World War, evidenced by the fact that in October 1939 he was fined five shillings for a breach of the blackout regulations.
Leslie's sister, Florence Annie, became an opera singer and married Edward Claude Cousens. He saw service in the First World War in the Royal Naval Reserve and Royal Flying Corps and Royal Air Force. During the Second World War he joined the army as an intelligence officer and worked at the Government Code and Cipher School, Bletchley Park where he was Head of Hut 3 Liaison Party for Hut 6 Intercept Control Section.
Photographs courtesy of Mike Fisher.
141102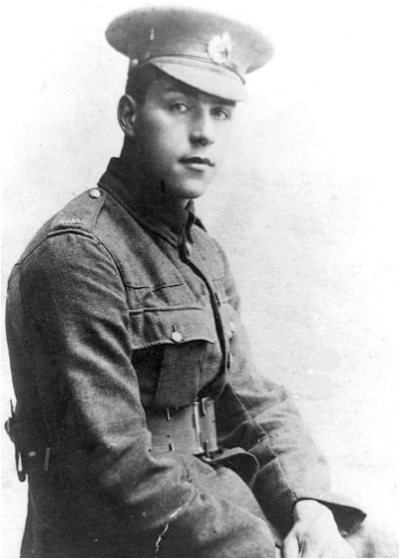 Leslie was born at Foulsham, Norfolk in 1896, the eldest child of George Fisher and Annie Matilda Fisher (nee Skidmore).
Leslie's father has been born in 1869 in Mattishall, Norfolk; his mother c1869 in Eastleach, Gloucestershire. They had married on 3rd June 1895 in Oxfordshire.
His seven siblings included Millicent Mary Fisher (born in 1897 at Foulsham, died 1969), Florence Annie Fisher (born in 1898 in Foulsham, died in 1994), Harold George Fisher (born in 1899 in Foulsham, died 1901), Ivy Helen Fisher (born in 1902 in Norwich, Norfolk), Thomas George Fisher (born in Peterborough, in 1905, died 1999) and Bertram Jack Fisher (born 1906 in Hertford, Hertfordshire, died 1972). Harold and one other sibling were to die by 1911.
The 1901 census recorded Leslie, aged five living with his parents and three younger siblings at 57 Onley Street in
Norwich. Norfolk. Leslie's father was a furnishes and drapery salesman.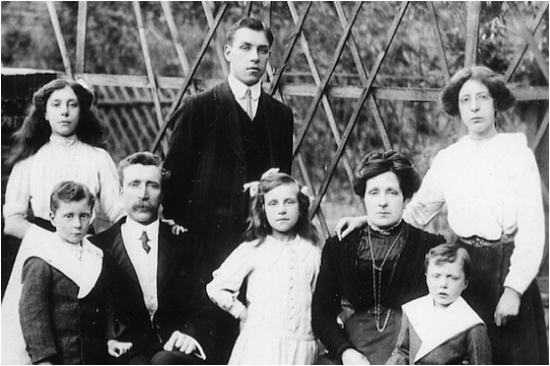 The photograph above shows Leslie, his parents and siblings. Leslie is stood in the centre flanked by his sisters Florence Annie (stood on his right) and Millicent Mary (stood on his left). In the front, left to right are, his brother Thomas George ('Tom'), his father George, his sister Ivy Helen, his mother Annie Matilda and brother Bertram Jack ('Pickles').