Frederick George Fletcher came to Chelmsford from Woodford via Chingford as a child. He worked as a clerk in the County Court before being called up into the army.He died on wounds in May 1918. His home was in The Vineyards, off Park Road.
FLETCHER, FREDERICK GEORGE,
Corporal, 10th (Service) Battalion, Royal Fusiliers
At the end of March 1918 the battalion move down from the Ypres area in Belgium to the Gommecourt area on the Somme battlefield.
Frederick died from wounds on 17th April 1918. He was aged 21. He is buried at St. Amand British Cemetery, between Arras and Doullens in Pas de Calais, France (grave: II. A. 1). The cemetery was begun in April 1916, and used by fighting units and Field Ambulances until August, 1918,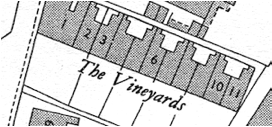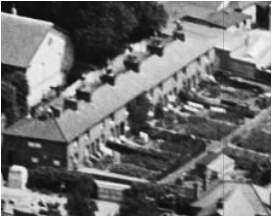 Frederick was born at South Woodford in 1896, the only child of the laundry man James Fletcher and Alice Fletcher. His father had been born in 1867 in Epping; his mother in 1868 in Norton Heath.
They had married on 23rd September 1893 at St. Mary the Virgin's Church in Woodford - at that time Frederick's father was a 26 year-old bricklayer, while his mother was two years his junior. Both lived in Woodford.
At the time of the 1901 census four year-old Frederick was living with his parents at Salisbury Road in Chingford. His father was a brickmaker. Soon afterwards Frederick's father came to Chelmsford to run a laundry.
A decade later the 1911 census listed 14 year-old Frederick living with his parents a 3 Vineyards, Park Road in Chelmsford (pictured). His father was a laundry proprietor, assisted by his wife, while Frederick was a law clerk.
Frederick lived in Chelmsford and enlisted at St Paul's Churchyard, London and served as as Corporal 1625 in the 10th (Service) Battalion of the Royal Fusiliers. The battalion had been .
formed in the City of London in August 1914 and had the unofficial title of 'the Stockbrokers'. From March 1915 it was attached to 111th Brigade in the 37th Division, and landed in Boulogne, France in July 1915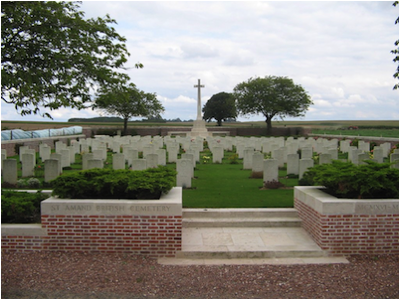 particularly by the 37th and the 56th (London) Divisions.
On 24th May 1918 the Essex County Chronicle reported:
"Cpl. F. G. Fletcher, Royal Fusiliers, died of wounds, was the only son of Mr. and Mrs. J. Fletcher, of the Vineyards, Park Road, Chelmsford, and until he joined up was in the County Court office. He was a keen worker in connection with St. Peter's Church."
Frederick is commemorated on the Civic Centre Memorial, Chelmsford and by the Chelmsford Parish Great War Memorial in Chelmsford Cathedral. He was entitled to the Victory and British War medals.
The 1918 register of electors listed his parents at 3 The Vineyards, Park Road, Chelmsford. The Vineyards were a terrace of properties off the eastern side of Park Road, just behind the Railway Tavern and Friends' Meeting House.
His mother died in 1936; his father three years later.
131016