Ernest John Forrest was born in Kent and came to Chelmsford around 1904. He worked as an insurance clerk before joining the army in December 1915. He went missing in May 1917. His home was in Upper Bridge Road.
FORREST, ERNEST JOHN,
Lance Corporal, 2nd Battalion, Honourable Artillery Company
He went missing on 15th May 1917. He was aged 24.
On 15th June 1917 the Essex County Chronicle reported:
"Lc.-Cpl. Ernest Forrest, elder son of Mr. and Mrs. G. T. Forrest, Upper Bridge Road, Chelmsford, is reported 'missing, believed killed'. He was in the H.A.C., and an officer of his company has written to the parents as follows: 'I deeply regret to inform you that your son is reported missing, believed killed. Up to the time of writing I have been unable to gain any information of him since the battalion went into action. He was an excellent fellow, keen and conscientious, and a splendid bomber, and he is a great loss to our company. I offer my deepest sympathy in your great bereavement."
On 17th August 1917 the following report appeared in the Essex Weekly News:
"Mr. and Mrs. Forrest, 99, Upper Bridge-rd, Chelmsford, would be glad to obtain any news of their son, Lance-Corpl E. J. Forrest, No. 6855, H.A.C., who was reported missing on May 14, 1917."
The War Office did not presume him dead until 23rd February 1918. In June 1918 the War Office wrote to the Honourable Artillery Company advising the latter to send all surviving articles of personal property to Ernest's father at 99 Upper Bridge Road. His parents were listed at that address in the 1918 register of electors.
Ernest was born in Dartford, Kent in 1893, the son of George Thomas Forrest and Clara Adelaide Forrest (nee Randall). Ernest's father had been born in 1860 in Brompton, Kent; his mother in 1865 in Stratford.
They had married in St. Stephen's Church, Walworth, London on Christmas Day 1890. At the time his parents were living at 98 Cater Street and his father was an engineer.
Ernest's seven siblings included Grace Clara Forrest (born in 1898 in Clapton Park, Hackney, London, died 1987), twins Lilian Elsie Forrest, Eileen Winifred Forrest (born in Erith, Kent in 1900) and Leslie Forrest (born in 1905 in Chelmsford). However, by 1911 only Ernest, Grace and Leslie would still be alive.
Seven year-old Ernest was recorded in the 1901 census living with his parents, three sisters, maternal grandmother and three boarders at 76 Riverside Road in Erith. His father was a gun fitter, presumably at the nearby Nordenfelt Maxim Gun Factory.
A decade later Ernest's parents, two surviving siblings and a cousin were
recorded by the 1911 census at 82 Lower Anchor Street, Chelmsford, having come to Chelmsford around 1904. Ernest's father worked for the Chelmsford electrical engineers Crompton & Co. Meanwhile Ernest was recorded by the census staying with his uncle and aunt, Henry James Tyler and Florence Tyler and their son Henry at 13 Rokeby Street in Stratford. Ernest was an insurance clerk as was Henry.
Twenty-two year-old Ernest attested to join the Honourable Artillery Company for the duration of the war on 11th December 1915 at East Ham. At the time he was unmarried, employed as an insurance clerk, had no previous military service, and was living at 13 Rokeby Street in Stratford. He was five feet, nine inches tall, weighed 142 pounds, had good physical development, had a 36 inch expanded chest and a large scar on his chin. His next of kin was his father of 99 Upper Bridge Road in Chelmsford. He belonged to the Church of England.
Ernest was given the service number 6855 and placed in the army reserve until 27th January 1916. He was then mobilized served 'at home' from 28th January 1916 to 1st October 1916, during which time he was transferred to the 2nd Battalion on 29th May 1916. Ernest landed in France on 2nd October 1916 when his battalion joined the Army's 22nd Brigade, 7th Division. He was appointed unpaid Lance-Corporal in 19th April 1917.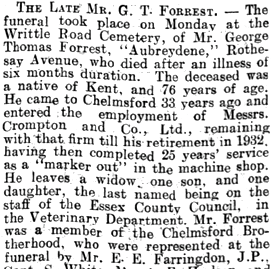 Ernest is commemorated on the Arras Memorial, Arras, France, on the Civic Centre Memorial, Chelmsford, and the Moulsham Parish Memorial, St John's Church, Moulsham. Ernest was entitled to the Victory and British War medals and his father signed for their receipt on 1st December 1921.
His parents later lived at Aubreydene, Rothesay Avenue, Chelmsford. Ernest's father died in 1937; his mother died in 1950, aged 86. His brother Leslie lived to be 101.
131016