Claude Ernest Gardiner was born in Chelmsford and worked as an errands boy and then for a builder prior to joining the army. He was killed in action in June 1918. His home was in Upper Bridge Road.
GARDINER, CLAUDE ERNEST,
Private, 18th (Service) Battalion, Lancashire Fusiliers (2nd South East Lancashire)
On 8th November 1918 the Essex County Chronicle reported:
"Mrs. Gardiner, of Upper Bridge Road, Chelmsford, has received information that her son, Claude Ernest Gardiner. Lancashire Fusiliers, is now presumed killed in action or died of wounds on or before June 1st, 1918. He was 19 years of age, and before joining up worked with Mr Eaton, builder, Chelmsford."
Claude is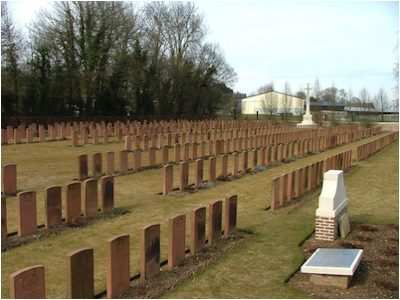 commemorated on the Civic Centre Memorial, Chelmsford, and the Moulsham Parish Memorial, St John's Church, Moulsham. He was entitled to the British War Medal and Victory Medal.
The 1918 register of electors listed Claude's parents at 110 Upper Bridge Road, Chelmsford; a property that was later destroyed in a German air raid in 1943. Claude's mother died in 1921. His father remarried, to Rebecca Poole, in 1924 and died in 1953.
171113
Claude was born in Chelmsford in 1899, the second son of Sidney John Gardiner and Lily Sophia Gardiner (nee Hales). His father had been born in 1876 in Chelmsford; his mother in 1877 in Great Leighs. the couple had married in 1897.
Claude's four sibling by 1911 were Sidney Percy Gardiner (born in 1897 in Chelmsford), Lilian May Gardiner (born in 1902 in Chelmsford, died in 1983), Leonard Gardiner (born in 1907 in Chelmsford, died in 1991) and Ivy Maud Gardiner (born in 1910 in Chelmsford, died in 2000).
The 1901 census found one year-old Claude living with his parents and elder brother at Arc View Cottages (now 31 Crompton Street), then in the parish of Writtle, but since 1907 part of Chelmsford. Claude's father was an electrical engineer, presumably at nearby Crompton's.
A decade later the 1911 census listed 11 year-old Claude living with his parents and four siblings at 76 Lower Anchor Street in Chelmsford. His father was employed as a fitter at an electrical engineer's. Claude and his elder brother worked part-time as errand boys for a chemist.
Claude worked for the Chelmsford builder James Eaton prior to enlistment at Witham. He served as Private 56541 in the 18th Battalion of the Lancashire Fusiliers (2nd South East Lancashire). The battalion was originally a 'bantam' unit, which consisted of men who were under regulation size but otherwise fit for service. It went to France early in 1916 and formed part of the 104th Brigade of the 35th Division.
Claude's uncle Frederick Gardiner, only two years his elder, died of wounds in May 1917.
Claude was killed in action on 1st June 1918, though confirmation of his death would only come shortly before the Armistice. On that day his battalion took part in an attack on Aveluy Wood. His body was eventually recovered and lies today at Martinsart British Cemetery, four kilometres north of Albert in the Somme region, France (grave: I. B. 43). The cemetery, which was began at the end of June 1914 is situated close to the Allied front line between March 1918 and August 1918. It contains many graves that were brought in after the Armistice.