Frederick Gardiner was born and raised in Chelmsford, part of a large family. He worked as a carpenter before enlisting into the army in November 1915. He landed in France a year later and died from wounds in May 1917. His home was in Lower Anchor Street.
GARDINER, FREDERICK,
Private, 17th (Service) Battalion (1st Football), Middlesex Regiment (formerly of the Essex Regiment)
some 27 kilometres south of Boulogne. Etaples was a major hospital centre for the Allied armies and the majority of the ten thousand Allied burials in the cemetery are men, like Frederick, who died in those hospitals having been brought there from the Front.
The Essex County Chronicle of 1st June 1917 reported:
"Mr. J Gardiner, of Brickfield House, Lower Anchor Street, Chelmsford, has received information that his son, Pt. F. Gardiner, Middlesex Regt., who was seriously wounded in the thigh on April 22nd, died of his wounds on May 6th. He was 20 years of age. Mr. J. Gardiner has still four sons serving."
The same edition carried a message of thanks from Frank's family.
"Mr. and Mrs Gardiner and family wish to thank their many friends for the letters of condolences and sympathy received during their sad bereavement, Brickfield House, Lower Anchor Street, Chelmsford."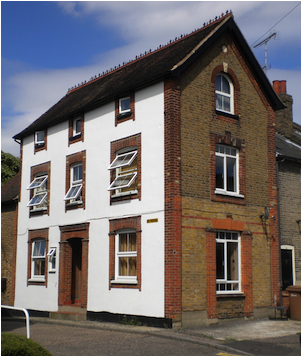 Frederick was born in Chelmsford on 16th January 1897, the penultimate son of John Gardiner and Emily Gardiner (nee Harris), one of thirteen children. His father had been born c1857; his mother in 1856. The couple had married in 1876. In 1881 and 1891 they and their children were living at 9 Bridge Road, Chelmsford (later known as 41 Upper Bridge Road) and Frederick's father was employed as a bricklayer's labourer.
Frederick's siblings included Sidney John Gardiner (1876-1953), Charles Frank Gardiner (1878-1951), Albert Edward Gardiner (1880-1948), Minnie Caroline Gardiner (1882-1947), Louisa Gardiner (born 1883), Clara Gardiner (1885-1955), Rose Gardiner (1888-1942), Percy William Gardiner (1889-1930), Ebenezer Gardiner (1891-1968), Herbert Gardiner (1893-1957), Ruth Gardiner (1895-1965), and Bertie Gardiner (1899-1974). The entire family was Chelmsford-born.
The 1901 census recorded four year-old Frederick living with his parents and nine siblings at 9d Lower Anchor Street, Chelmsford (also known as Brickfield House and subsequently renumbered as 13). His father was a carman and coal dealer. and his brother Albert, a general labourer and carman.
Frederick was educated at Moulsham Infants School in Moulsham Street from 27th May 1902 to 8th May 1905.
His mother died in 1906. aged 50, and the following year his father married Susannah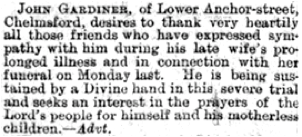 Cowper who had been born in Chelmsford c1851. In 1911 the census recorded 14 year-old Frederick living with his father, step-mother and six siblings at 13 Lower Anchor Street. Frederick's father was a carter and coal dealer; brother Percy was a journeyman carpenter; while brothers Ebenezer and Herbert were carmen for a coal dealer (presumably their father).

In November 1915, when aged 18 years and ten months Frederick attested at Chelmsford to join the 6th Battalion of the Essex Regiment. At the time his home was still 13 Lower Anchor Street and he was employed as a carpenter. He was five feet four inches tall. weighted 107 pounds with a chest of 33 inches and had good physical development. He was a member of the Church of England and his father was his next of kin. He was placed on the army reserve and later mobilised on 29th March 1916.
In October 1916 he transferred to the Middlesex Regiment and landed in France on 2nd November 1916. On 19th November 1916 he was posted to the regiment's 17th (Service) Battalion (1st Football) as Private G/34412. The battalion had been formed in London in December 1914, and had landed in France in November 1915. As its name suggests it included many professional footballers. By 1916 it was attached to the 6th Brigade in the army's 2nd Division.
Frederick suffered a gun shot wound in the thigh on 22nd April 1917 and died as a result in the 26th General Hospital at Etaples on 6th May 1917. He was aged 20. He is thought to have been serving near Arras. He is buried at Etaples Military Cemetery, Pas de Calais, France (grave: XVIII. K. 17),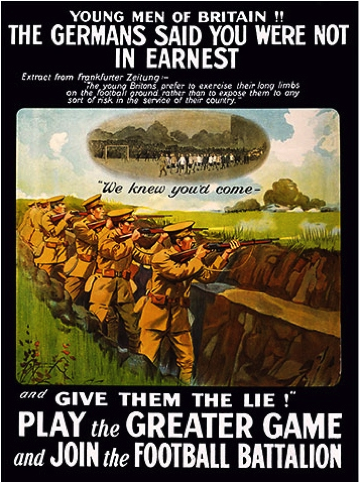 On 5th October 1917 the War Office wrote to the officer in charge of the battalion's records at Hounslow instructing him to despatch any articles of Frederick's personal property to Frederick's father. Five day's later those articles were returned. They comprised of a wristwatch, strap and protector (broken), diary, pocket knife, belt, devotional book, cotton bag, letters and pencil. Frederick's father acknowledged them on 17th October 1917.
Frederick is commemorated on the Civic Centre Memorial, Chelmsford and the Moulsham Parish Memorial, St John's Church, Moulsham He was entitled to the British War Medal and Victory Medal - on 24th November 1920 his father signed to acknowledge receipt of the former.
His brothers Ebenezer and Herbert served as soldiers in the war, while his nephew Claude Ernest Gardiner (son of his eldest brother) was killed in the Somme in 1918.
The 1918 register of electors listed Frederick's father and step mother remaining at 13 Lower Anchor Street. In 1919 the household also included Frederick's siblings Ebenezer, Herbert, Bertie and Ruth. By then his other siblings were living elsewhere in Chelmsford: Sidney was at Upper Bridge Road, Albert at 4 Elm Road, Frank at 4 Baker Street, Percy at 154 Upper Bridge Road, Minnie White at 9 Critchett Terrace, Louise Whybrow at 24 Bradford Street, Clara Warren at 3 Marconi Road and Rose Hornsby at 133 Upper Bridge Road.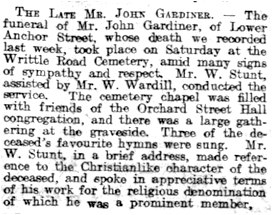 Frederick's father died in 1929. His brother Percy William Gardiner died in 1930, aged just 40; after ill-health arising from his hardships hile serving in the army during the First World War.
171113