George Frederick Garwood was born and brought up in Oxney Green where he worked on a farm. He married in 1914 and later joined the army. He was killed in action at the Battle of the St. Quentin Canal in September 1918. His home was in Nelson Road.
GARWOOD, GEORGE FREDERICK,
Private, 1st Battalion, Middlesex Regiment
During the night of the 30th patrols observed that "the Bosche had gone back," and the line was therefore pushed forward to the Green Line, which ran on the Middlesex front from northwest to south-east just west of Honnecourt Wood, and from these positions patrols were sent out to the St. Quentin Canal to hold the crossings.
In the operations on the 29th of September the 1st Middlesex lost 4 officers (Lieuts. J. N. Beeman, D. W. Hay, J. C. B. Brown and E. S. Matthews) and 71 other ranks killed, 2 officers and 143 other ranks wounded, 1 officer and 16 other ranks "gassed" and 10 other ranks missing."
Those killed in action included George who was aged 31. Today he lies at Villers Hill British Cemetery, (grave: I. C. 17), some 16 kilometres south-south-west of Cambrai.
The village was finally abandoned by the Germans after heavy fighting the day after George's death. The cemetery was begun (as the Middlesex Cemetery, Gloucester Road) by the 33rd Division Burial Officer on 3rd October 1918, and used until the middle of October. The original cemetery (now Plot I) contained 100 graves, of which 50 belonged to the 1st Middlesex, including George's and 35 to the Argyll and Sutherland Highlanders.
On 25th October 1918 the Essex County Chronicle reported:
"Pt. George Fredk. Garwood, Middlesex R., of 33 Nelson Road, Chelmsford, has been killed in action in France. Pt. Garwood. who had been on active service for about two years, was 31 years of age. He was the eldest son of Mr. and Mrs. George Garwood, of Oxney Green, Writtle, who have two other sons on active service, while another is a prisoner of war in Germany. An officer of the Middlesex Regt. writes to the deceased's widow that her husband died without pain, and was buried in a small graveyard with others who died the same day. He describes Pt. Garwood as a very gallant soldier, who faced death unflinching. His devotion to duty and bravery under fire undoubtedly assisted the operations, and his loss is felt keenly by both officers and men.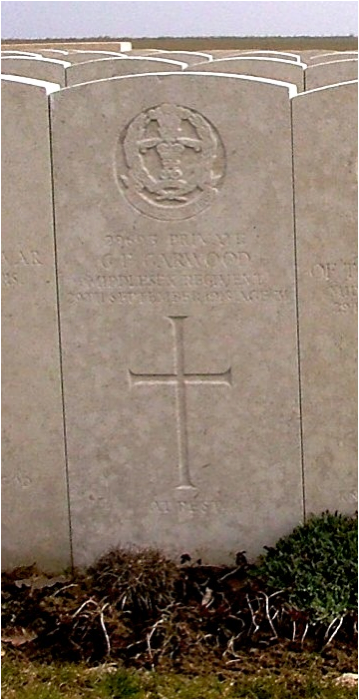 George was born in Writtle on 21st June 1887, the eldest son of George Garwood and Catherine Garwood (nee Howard). He was baptised at Writtle on 31st July 1887. At the time his father was a labourer living in Writtle.
His father had been born in 1860 in Writtle; his mother in 1859 in Chelmsford. The couple had married on 19th April 1884 at All Saints' Church in Writtle, the village where both were resident.
George had six siblings, all born in Writtle, one of whom died before 1911. The were: Ada Ellen Garwood (1885-1963), Arthur Garwood (born in 1889), Bertie William Garwood (1891-1972), Caroline Garwood (1894-1899) Ernest Sidney 'Tim' Garwood (1897-1976), and Elizabeth Garwood (1900-1969).
The 1891 census recorded three year-old George living with his parents and younger brother at Nine Rods in Oxney Green, Writtle. His father was an agricultural labourer.
A decade later the next census found 13 year-old George living with his parents and two brothers, still at Oxney Green. His father remained employed in agriculture.
In 1911 the census found 23 year-old George living with his parents and two siblings at Oxney Green. George was a stockman on a farm; his father was a horseman on a farm; while his brother Ernest was a grocer's errand boy.
George married Lilian Garwood in 1914.
George lived at Chelmsford, and enlisted at Warley, serving as Private 29693 in the 1st Battalion of the Middlesex Regiment.
The battalion was part of the regular army and had been based at Woolwich at the outbreak of the war, landing in France soon afterwards.
After an intense artillery barrage in the early morning of 29th September 1918 George's battalion, then part of the 98th Brigade in the 33rd Division, went into action at Villers Hill, Villers-Guislain, Nord, France at the start of the Battle of the St. Quentin Canal. The battalion's objectives were from Derby Post to the eastern end of Villers Hill: 'A' Company was on the right, 'D' Company in the centre, and 'C' Company on the left. while 'B' Company was allocated to mop up enemy positions. A post war history of the regiment reported:
"The attack was launched at 3.30 a.m. under an intense artillery barrage. At first all three of the attacking battalions of the 98th Brigade (1st Middlesex, 4th King's and 2nd Argyll and Sutherland Highlanders) reported progress. But later a check occurred. Villers-Guislain had been stormed and partially cleared of the enemy, but the latter began to filter back again into the village. The centre company of the Middlesex met with strong opposition at Gloster Road and "B" Company, after capturing 200 Germans, found itself surrounded and cut off. The C.O. of the Battalion reported the situation at 1 p.m. which showed but little progress and concluded with the statement that 'remaining dispositions of "C" and "B" not known, "C" believed to have gone forward to X.10.C.8.0. (Villers Ridge), "B" Company (three platoons) believed gone forward east along High Street, position obscure.'
How the missing companies extricated themselves is unknown but they must have done so for the casualty list shows only 20 other ranks "missing."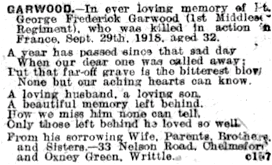 "
The day's Essex Weekly News carried a similar report:
"Mrs. George Garwood, Nelson-rd, Chelmsford, has received news that her husband, Pte. George Frederick Garwood, Middlesex Regt., was killed in France on Sept. 29. Deceased, who was 31 years of age, was the eldest son of Mr. and Mrs. George Garwood, of Oxney Green, Writtle. Two of his brothers are serving in France and one is a prisoner of war in Germany,"
George is commemorated on the Civic Centre Memorial, Chelmsford, by the Chelmsford Parish Great War Memorial in Chelmsford Cathedral, and by the Writtle War Memorial at The Green in Writtle. He was entitled to the British War Medal and Victory Medal.
The 1918 register of electors listed an absent George and his wife at 33 Nelson Road, Chelmsford.
George's brother, Ernest, served in the East Surrey Regiment during the First World War in France. He was captured there and taken to a prisoner of war camp in Poland. Upon release he returned to Writtle, and eventually died at Oxney Green in 1976.
George's mother died in 1939. His father died in 1947.
George's nephew Louis John Garwood was killed during the Second World War in Egypt.
160118