Louis John Garwood was the son of a First World War veteran and worked at Hoffmann's bearings factory in Chelmsford before joining the R.A.F. in September 1941. He was sent to north Africa and died in Egypt in July 1943. His home was in Pentland Avenue, Chelmsford.
Louis John GARWOOD, Leading Aircraftman, Royal Air Force Volunteer Reserve

Died in Egypt. Aged 20
Louis' uncle George Frederick Garwood was killed in the First World War and is commemorated on Chelmsford's War Memorial.
Louis' father was discharged from the army in 1919, having received 20% disability through injuries including a gunshot wound to his right foot. Upon discharge he intended to move to 28 Nelson Road in Chelmsford.
In 1928 a street directory listed Louis' father at 92 Mildmay Road in Chelmsford.
In 1939 Louis' brother was married at Chelmsford to Cathedral Winifred Emily Francis, sister of Douglas John Francis who was to lose his life serving with the Royal Air Force in 1944. At the time of the 1939 wedding Louis' father was a chauffeur. Louis' brother joined the Territorial Army in April 1939 and later joined the Royal Army Service Corps.
Louis worked for the Chelmsford ball-bearings manufacturer Hoffmann's until volunteering for the Royal Air Force in September 1941. He served as Leading Aircraftman 1458172 and was a dispatch rider.
In 1942 Louis met up with his brother in Egypt, an event commemorated with the photo, left.
Louis died, aged 20, on 3rd July 1943 in Egypt. At the time of his death Louis' parents were living at 41 Pentland Avenue in Chelmsford.
Today Louis lies in Halfaya Sollum War Cemetery in Egypt (grave 3. E. 1.) approximately five miles from the Egypt/Libya border.
Louis is commemorated by the Broomfield British Legion War Memorial and on a stained glass window at St. Mary's Church in Broomfield.
140705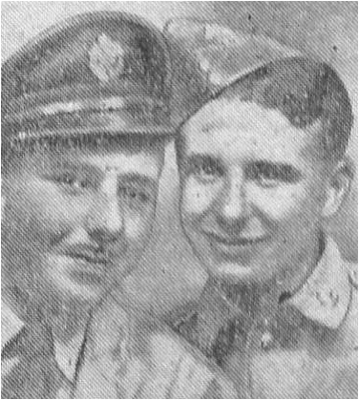 Louis was born on 13th January 1923 in the Chelmsford district (probably in Broomfield), the son of the chauffeur Bertie William Garwood (1891-1972) and Alice Mary Garwood (nee Ellis) (1891-1965).
He was baptised at St. Mary's Church in Broomfield on 11th February 1923. At the time his father was working as a chauffeur and lived at Scravells Cottages in Broomfield.
Louis' parents, both born in Writtle, had married on 16th July 1915 in Hornsey Rise, Islington, London. At the time Louis' father was aged 23 and a Corporal in Mechanised Transport (Army Service Corps) - he had enlisted into the army at Chelmsford in the first week of the war. Both lived at 164 Elthorne Road in Islington. The following year they had their first child Bertram Charles Garwood (1916-1970), born in Aldershot, Hampshire.