Henry William Gibson married in London in 1923 and came to Chelmsford around the same time, having spent his early years in Greenwich. He had at least seven children and worked at Crompton's electrical engineering factory in Chelmsford for 14 years, plus another two at Marconi's works in the town. He was called up to the army three days before the outbreak of war to serve in the Royal Engineers. He was killed at Chelmsford railway station five days before Christmas in 1939 when trying to leave a passing train which was not due to call at the station. His home was in Widford Chase.
Henry William GIBSON, Lance-Corporal, Royal Engineers
Accidentally killed at Chelmsford Railway Station. Aged 39
Around 1922 Henry moved to Chelmsford, and for fourteen years he worked at Crompton's works in the town and then for a further two for Marconi's. In 1923 Henry and his wife were living at 64 Upper Bridge Road, Chelmsford and he was working as a machinist. In 1927, 1929, 1931 and 1935 Henry was employed as an engine driver and lived at 35 Upper Bridge Road.
Later the family moved to 2 Widford Chase in Chelmsford.
Henry was called up just three days before the outbreak of the war and served as Lance-Corporal 6077946 in the Royal Engineers.
On 20th December 1939 Henry was killed at Chelmsford railway station in somewhat bizarre circumstances. The 39 year-old had joined the Cromer to Liverpool Street express at Colchester to bring him home to his family in Chelmsford for Christmas leave. Unfortunately for him the train was scheduled to travel to London without stopping at Chelmsford. Upon realising this he decided to jump off the train as it slowed to pass though Chelmsford railway station in order to save the return journey. As the train approached Chelmsford at around 30 m.p.h. Henry opened the carriage door and lowered himself down. However, his hand slipped on the brass handle and he fell between the running board and the platform and was struck by the train. He suffered severe head injuries and died shortly afterwards. Henry left a widow and six surviving children living at 2 Widford Chase.
Henry's funeral, conducted by the Curate of Moulsham, was held on 23rd December 1939 at the Borough Cemetery where he was buried with full military honours. His epitaph, inscribed on his headstone reads 'Always together in life and death, no grave can separate'.
A Chelmsford newspaper reported:
"Buried With Honours. Full military honours were paid at the funeral on Saturday of L/Cpl. H. W. Gibson, of Widford Chase, whose tragic death when coming home to spend Christmas with his wife and children was reported ir last week's Essex Chronicle.
A contingent of the deceased's comrades of the R.E.'s formed up behind the Cathedral, and preceded the cortege from the private chapel of Messrs. A. J. Andrews and Son, through the town to the Cemetery, where guard of honour was lined up of N.C.O.'s belonging to the deceased's unit, which also provided the beaier party. The Rev. Vincent C. Castle, curate of Moulsham, officiated.
Three volleys were fired over the open grave by a firing P art ,y' an d buglers sounded the Last Post and " Reveille."
The mourners were ; Mrs. H. W. Gibson, widow; Boy H. Gibson (who had been granted special leave by the Admiralty), Masters Jack. Percy and Reginald Gibson sons; Mrs. H. Gibson, mother; Mrs. G. Miller, motherin-law ; Leading-Seaman Gun-Layer P. Gibson and Mr. W. Gibson brothers; Mrs. W. Smith and Mrs. R. Hood, sisters; Messrs. Geo. Miller and H. Miller, brothers-in-law; Mrs. H. Larkin, sister-in-law; Mr. F. Miller, uncle; and Mr E. Prewer.
The beautiful wreaths included those from officers and all ranks of the deceased's unit; old comrades; the management and colleagues the Marconi Telegraph Co., Ltd.. where the deceased was formerly employed; W.O.'s and Sergeants' Mess; civilian cooks; office cleaners; Superintendent and teachers, Orchard Street Sunday School; friends of the Rising Sun; friends of the Sir Evelyn Wood; and friends and neighbours of Widford.—The undertakers were Me«srs. A. J. Andrews and Son, 20 Duke St., Chelmsford."
Henry is also commemorated on the war memorial at St. Mary's Church, Widford.
Henry's widow remarried after the war and died just before Christmas 1962.
140705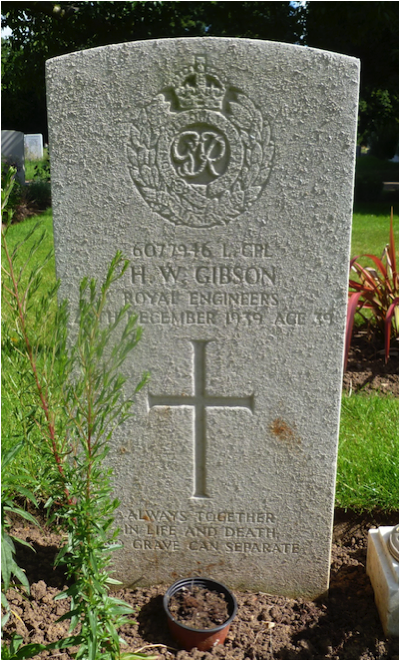 Henry was born in Greenwich in 1900, the son of Henry Thomas Wellesley Gibson and Elizabeth Gibson (nee Shaw). His siblings, all born in Greenwich, were: Alice Mary Gibson (1898-1969), Maud Elizabeth Gibson (born c1904), Ellen Mary Gibson (born c1907), and Percival George Gibson (born in 1910).
In 1901 the census found six month-old Henry living with his parents and sister at 45 Marlborough Street in Greenwich. A decade later the following census listed ten year-old Henry living with his parents and four siblings at 8 Collingwood Street in Greenwich
In 1923 Henry married Daisy May Miller in London. The couple's children included Percy Victor Gibson (1926-1980), Winifred Doris Gibson (1928-1929).