Frank Grigg was born in Plymouth, came to Chelmsford where his father worked for the Post Office. He was educated at the Grammar School and then went to work for Essex County Council and lived in Mildmay Road. He was a pre-war Territorial who joined the regular army in February 1915 and married in December that year. He was wounded in May 1918 and died from influenza in October 1918.
GRIGG, FRANK, Staff Sergeant,
260th MT Company, Royal Army Service Corps (formerly of 1st Mounted Division Supply Column)
there until 30th July 1918.
He contracted pneumonia and was admitted to the Royal Herbert Hospital, Woolwich, London on 18th October 1918. Frank died there at 6.45 am on 23rd October 1918 from influenzal pneumonia while serving as Serjeant M2/035279 in the 260th M.T. Company of the Army Service Corps, based at Sydenham in London. He was aged 26. He is buried at Ilford Cemetery in London (grave: 1911, pictured).
Frank is commemorated on the Civic Centre Memorial, Chelmsford and on the Essex County Council War Memorial at County Hall. He was entitled to the British War Medal and Victory Medal.
With effect from 28th April 1919 Frank's widow and daughter were awarded a pension of 22s/11d per week.
Frank's widow later lived at Barrow, Bury St. Edmunds, Suffolk and died in 1976, His father died in 1937, aged 77.
140323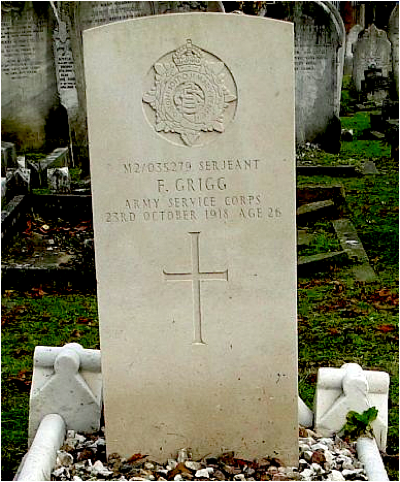 Frank was born in Stonehouse near Plymouth, Devon on 23rd August 1892, the son of Francis Edmund Grigg and Thirza Emmeline Grigg (nee Cuming). His father had been born in 1860 in Portsmouth, Hampshire; his mother in 1857 in Stonehouse, Devon. The couple had married in 1886 and by 1891 were living at 72 North Road in Plymouth, Devon, where Frank's father was a telegraph clerk.
Frank's four siblings were Frances Emmeline Grigg (born in 1888 in Plymouth), William Henry Grigg (born in 1890 in Plymouth), Arthur Grigg (born in 1895 in Plymouth) and Kathleen Margaret Grigg (born in 1899 in Esher, Surrey).
Eight year-old Frank was listed by the 1901 census living with his parents, four siblings and an aunt in Church Street, Sidmouth, Devon. His father was a postman.
Frank was educated at Norwich Municipal Secondary School, prior to joining Form V of King Edward VI's Grammar School as a day scholar in Chelmsford on 18th May 1908. At that time his father was an overseer at the General Post Office of 74 Baddow Road, Chelmsford (later renumbered as 236), and later of 14 Jersey Road in Ilford. Frank left the school on 7th April 1909, when aged 16, and subsequently went on to work as a clerk with Essex County Council's Finance Department.
In early April 1911 the census recorded 18 year-old Frank with his widowed father, his sister Kathleen, a housekeeper and the housekeeper's daughter at 40 Jersey Road in Ilford. Frank was a clerk with Essex County Council. His father was a telegraph clerk for the General Post Office.
Frank joined the Eastern Mounted Brigade Transport Column of the Army Service Corps as a Territorial a few days later on 5th April 1911 at Chelmsford. His attestation papers described him as 18 years and eight months old, employed as a junior clerk by Essex County Council and resident at 21 Mildmay Road, Chelmsford (today's number 55, pictured). He was five feet ten inches tall, had a 37 inch chest, good vision and good physical development. His next of kin was his father of 19 Courtland Avenue in Ilford. He started as a driver, and had risen to the rank of Corporal before discharge on 19th February 1915 when he left to join the regular army.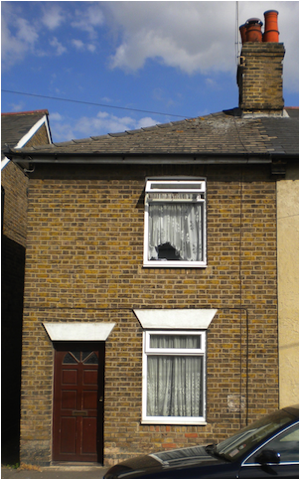 On 20th February 1915 Frank enlisted at Bury St. Edmund's, Suffolk for the duration of the war into the Army Service Corps (Motor Transport). His attestation papers gave his address as 19 Courtland Avenue, Ilford, and described him as an unmarried clerk, aged 22 years and five months with almost four year's previous military experience as a Territorial latterly with the 1st Mounted Division Supply Column. His next of kin was his father of 40 Jersey Road in Ilford. He was given the rank of acting corporal and was promoted to acting sergeant at Bury St. Edmunds in April 1915.
By July 1915 he was in Wells, Somerset and it was there that Frank married Ella Louisa Merrifield on 9th December 1915. She had been born in Glastonbury in Somerset on 3rd January 1889.
He was appointed acting staff sergeant later that month. He embarked from Southampton on 10th March 1916, arriving in Rouen, France the next day. The following month he was made sergeant.
Later that year, on 16th October 1916 his wife gave birth to a daughter, Emmeline Margaret Grigg, who was born in Plymouth.
Frank was wounded in France in May 1918 with shrapnel in the back and buttock and brought back to England and admitted to Sunderland War Hospital on the 13th of that month. He transferred to Cedars Hospital in Wiltshire on 21st June 1918 and remained