Cecil Arthur Groom was born in Great Baddow to Shropshire parents and latterly worked at Hoffmann's bearings factory. He was a Territorial before the war and then joined the regular army seeing service in Gallipoli. He was killed in action in the Third Battle of Ypres in September 1917. His family lived at Barrack Square.
GROOM, CECIL ARTHUR,
Private, 2/5th Battalion, Lincolnshire Regiment (formerly of the Army Service Corps)
Cecil enlisted at Chelmsford prior to the war as a Territorial and served as Private 183 in the Army Service Corps. He landed in the Balkans on 8th October 1915. He survived that campaign but was killed in action on 26th September 1917 while serving as Private 41389 in the 2/5th Battalion of the Lincolnshire Regiment. He was aged 24.
On 2nd November 1917 the Essex County Chronicle reported:
"Pt. Cecil A. Groom. son of Mr. W. Groom, of Barrack Square, Chelmsford, is reported missing as from Sept. 24th. He was in the A.S.C., T.F., at the outbreak of war, and after service at the Dardanelles was transferred to the infantry and attached to the Lincoln Regt. He is a well-known amateur boxer and athlete."
A week later the paper revealed:
"No further official news has been received of Pt. Cecil Groom, Chelmsford, who had been reported as missing."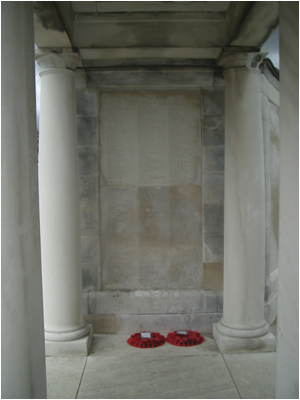 Cecil was born in Great Baddow in 1893, the son of William Groom and Hannah Groom (nee Lloyd). Cecil's father had been born in 1849 in Clive, Shropshire; his mother in 1857 in Ellesmere, Shropshire. The couple had married in Broughton, Shropshire late in 1879 and two years later had been living in Clive.
Cecil's eight siblings included Samuel James Groom (born in 1881 in Clive, died in 1940), William Henry Groom (born in 1883 in Kingston, Surrey, died in 1961), Mary Ellen Groom (born 1885 in Surbiton, Surrey), Lilian Maud Groom (born in 1887 in Epsom, Surrey, died 1970), George Albert Groom (born in 1889, died 1980), Ernest Charles Groom (born in 1891, died 1928), and Edith May Groom (born in 1897) - the last three all being Great Baddow-born.
The family had moved to Provident Cottages in Baddow Road, Great Baddow by 1891.
Cecil was christened at Great Baddow on 30th April 1893. At the time his father was described as a coachman of Baddow Road, Great Baddow.
The 1901 census recorded Arthur, aged seven, living with his parents and six siblings at 26 Baddow Road, Chelmsford (later .
renumbered as 62). His father was an ostler at a public house (he looked after horses there), while his brother Samuel was a brewer's labourer and his sister Lilian was a domestic nurse.
A decade later the 1911 census listed 17 year-old Cecil living with his parents and seven surviving siblings at 3 Barrack Square in Chelmsford. Cecil was a machinist in the packing department of Hoffmann's ball-bearings factory in Chelmsford. His brothers George and Ernest were both machinists in the ball department at Hoffmann's, while his sister Lilian was a packer and tester in the packing and testing department at Hoffmann's. His brother William was the fifth sibling working at Hoffmann's, as a grinder in the grinding department. Cecil's brother Samuel was an insurance collector and his father was a coachman for a jobmaster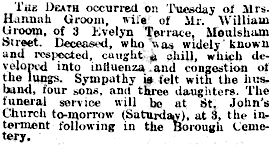 Cecil has no know grave and is commemorated on the Tyne Cot Memorial, Zonnebeke, West-Vlaanderen in Belgium, on the Civic Centre Memorial, Chelmsford, and the Moulsham Parish Memorial, St John's Church, Moulsham. The Tyne Cot Memorial it commemorates almost 35,000 servicemen from the UK and New Zealand who fought in the Ypres Salient after 16th August 1917, and whose graves are not known.
Cecil was entitled to the 1914-15 Star, British War Medal, and Victory Medal.
The 1918 register of electors listed Cecil's parents at 3 Evelyn Terrace, Barrack Square, Chelmsford, a property now replaced by a night club. Two near neighbours in Evelyn Terrace also lost their lives during the war: Archibald Alexander Ely and George Fisk
His mother died in 1927, aged 69; his father followed suit in 1931, aged 82.
In between those deaths Cecil's 37 year-old brother Ernest Charles Groom died in an accident in September 1928. He was employed as a master window cleaner and was cleaning the upstair window of a house in Park Avenue, Chelmsford, from a sixteen-rung ladder fourteen feet from the ground, when leaning over to the right the ladder slipped to the left, and he fell on to the iron railings below. was seen by Dr. Harris, and removed to the Chelmsford Hospital, where was found that had fractured the base his skull. In spite of everything that could done for him died the same evening.
131024