Owen Thomas Hall was a twin, born and raised in Chelmsford. He worked in a warehouse before joining the army in September 1914. He landed in France in February 1916 and suffered shell-shock in the Battle of the Somme that July. He was invalided home and discharged in May 1917, his health broken. He died in a Middlesex Hospital four months later. His home was in Roman Road.
HALL, OWEN THOMAS,
Corporal, Royal Army Medical Corps
Lungs, liver and [illegible] normal. Caused by active service. Permanent." His discharge record showed his trade as salesman, and gave his mother's address as his home address.
Owen never recovered from his ill-health and died in Shepperton, Middlesex on 28th September 1917. Today he lies at London Road Cemetery in Chelmsford (grave: 3599).
On 5th October 1917 the Essex County Chronicle reported:
"The death occurred at Shepperton on the 28th ult. of Mr. Owen Thomas Hall, aged 29, son of the late Mr. Arthur Hall, of Chelmsford, and of Mrs. Hall of Roman Road. Deceased was until recently a corporal in the R.A.M.C., having joined in Sept. 1914. He served in France until after the Somme offensive, being invalided home in July, 1916, suffering from shell-shock. He was ultimately given his discharge.
The cause of death was haemorrhage and syncope [loss of consciousness]. Much sympathy is felt for his mother and other members of the family. The funeral took place on Wednesday at the London Road Cemetery, the Rev. T. G. Ogilvie officiating."
Owen is commemorated on the Civic Centre Memorial, Chelmsford, and was commemorated at the London Road Congregational Church, Chelmsford before its demolition. He is not commemorated by the war memorial at St. John's Church, Moulsham.
Owen's mother died on 5th October 1921.
131027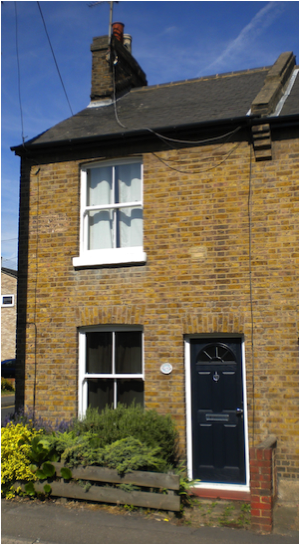 Owen was born in Chelmsford in 1889, the son of Arthur Hall and Martha Kate Hall (nee Emberson). Owen's father had been born on 10th July 1860 in Chelmsford; his mother on 5th March 1860 also in Chelmsford. The couple had married in 1885.
Owen's siblings included Sydney Arthur Hall (born in 1886 in Croydon, Surrey), his twin Kate Mary Hall (who died in 1945), and Wilfred Edward Hall (born in 1901 in Chelmsford).
At the time of the 1891 census Owen was aged two and living with his parents, two siblings and a servant at 54 High Street, Chelmsford where his father was a manager of H. & T. C. Godfrey's rope making works off Moulsham Street, Chelmsford.
A decade later the 1901 census found Owen aged 12 living at 3 The Hollies, Gaol Lane, Springfield (today 41 Sandford Road) with his parents and three siblings. Owen's father remained a rope makers manager, while his brother Sydney was a clerk.
Owen's father died on 5th December 1909 from consumption and was buried in London Road Cemetery, Chelmsford six days later.
The 1911 census found Owen, aged 22, working as a warehouseman's assistant at a wholesale hosiery at 5 Brackley Street in the City of London.
On 5th September 1914 Owen attested in Chelsea, London to join the 3rd City of London Field Ambulance (Territorials), Royal Army Medical Corps, for four years' service. He was given an initial service number of 268, later changed to 512205. At the time Owen was living at 18 Wood Street in the City of London. His next of kin was his mother of 19 Roman Road in Chelmsford (pictured). He was 25 years and six months old, five feet eight inches tall, had a 38 inch chest, good vision and good physical development.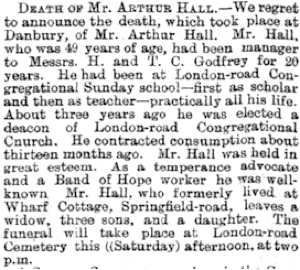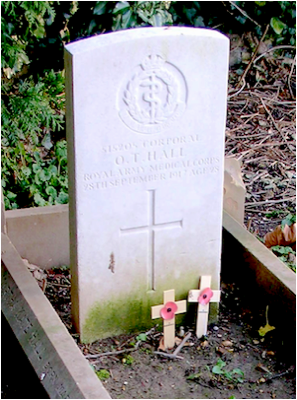 He was transferred to the 1st Reserve 3rd Field Ambulance on Christmas Day 1914, promoted to Lance-Corporal on 20th January 1915, further promoted to Corporal on 1st January 1916.
On 14th October 1915 he gave his sister away at her marriage to Stanley E. Collis at the London Road Congregational Church in Chelmsford.
Owen landed in France on 21st February 1916. On 21st July 1916 he was wounded, suffering from shell-shock after the Somme offensive, and landed back in England on 4th August 1916. At that point Owen was transferred to the Depot R.A.M.C. and attached to the London Command Depot on 22nd October 1916. Five days later he returned to the London Field Ambulance but was discharged as medically unfit to the reserve on 18th May 1917, having served one year and 283 days in the army.
The medical board that declared Owen medically unfit reported that his condition "Originated 21st July 1916 in France. Distinct initial regurgitant murmur. Heart rapid and irregular. Patient neurotic and weak. Shortness of breath on exertion, stabbing precordial pains and choking sensations.