Frank James Harrington came to Chelmsford from rural northern Essex and worked as a plumber. He joined the army in December 1914, and became ill in Great Yarmouth, and died in Kent from measles in February 1915. His home was in Baddow Road.
HARRINGTON, FRANK JAMES*,
Gunner, 19th Company, Royal Garrison Artillery
While stationed at Great Yarmouth Frank contracted a severe cold, which developed into pneumonia. On 10th February 1915 Frank was admitted to hospital in Sheerness suffering from enteric fever. He failed to recover and died eleven days later from measles, aged 19. At the time of his death the army records showed his next of kin as his father of Melrose, Baddow Road in Chelmsford.
Frank's body was brought to Chelmsford and he was buried with full military honours in grave 2065 at Chelmsford Borough Cemetery on 27th February 1915. The Warwickshire Artillery supplied the gun and horses and the 4th Royal Berkshires the band, bearers, firing party and escort, while their buglers sounded the 'Last Post' at the close of the service, which was conducted by the Rev. L. W. Wright. The mourners included Frank's parents, brother and two sisters, as well as his fiancé Eva Ridgwell.
140316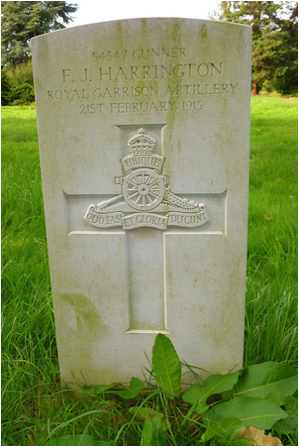 Frank was born in Bures Hamlet in 1895, the son of John Harrington and Jessie Eliza Harrington (nee French).
In 1901 Frank was recorded by the census, aged six, with his parers, three siblings and his grandmother at Peyton Hall in Bures Hamlet where his father was a horseman on a farm.
A decade later 16 year-old Frank was listed by the next census at Fish Pitts, Bures Hamlet working as a farm labourer. He was accompanied by his parents and three siblings.
Frank then moved to Chelmsford where for several years he worked as a plumber. living with his sister at Melrose (later numbered '88') in Baddow Road, Chelmsford.
On 2nd December 1914 Frank enlisted into the army's Royal Garrison Artillery for the duration of the war at Chelmsford. He was given the service number 54347 and posted to the 19th Company as a gunner. At the time he was 19 years and three months old and worked as a plumber.
His medical took place on 26th January 1915 at which point he was five feet eight and a half inches, weighed 131 pounds with a 36 inch chest expandable by two inches. He had poor physical development and his examiner reported: "This man has marked flat feet and would never have been enlisted at Sheerness."