Alfred Harris was born in Chelmsford into a family of 17 children. He worked as a brickmaker's labourer before joining the army prior to the war. He landed in France within three weeks of the outbreak of the war and in 1915 was sent to Gallipoli as a reinforcement. There he was wounded and was evacuated to Egypt where he died from his wounds in December 1915. A brother was also killed during the war.
HARRIS, ALFRED,
Acting Corporal, 1st Battalion, Essex Regiment (formerly of the 2nd Battalion Essex Regiment)
The 1901 census found Alfred aged 16, living with his parents, seven siblings and an infant boarder at 26 South Primrose Hill, (the same property as in 1891 and today's number 73). Alfred was a brick-maker's labourer, probably for Beach & Co. who had brick-making works nearby. Alfred's father was a leather dresser. Of his siblings, John was an electrical machine minder, Charles was also a bricklayer's labourer, and George was a coach merchant's labourer.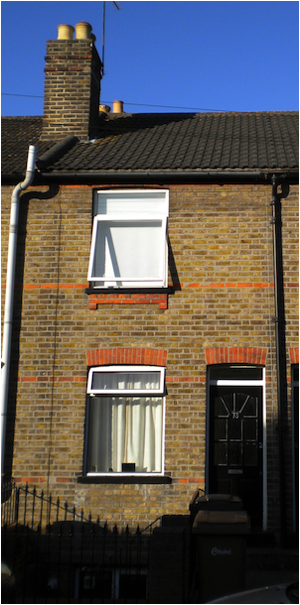 Alfred was born in Chelmsford in 1884, the son of the leather dreser James Harris and Mary Elizabeth Harris (nee Adkins).
He was baptised at St Mary's Church (today's Cathedral), Chelmsford on 11th July 1884. At the time his father was a leather dresser of Primrose Terrace.
His father had been born in 1851; his mother, in 1852, both in Birmingham, Warwickshire. They had married on 9th April 1871 at Holy Trinity Church, Bordesley, in Warwickshire. At the time his father was 20 years old, worked as a leather dresser and lived in Darwin Street. His mother was a year younger and also lived in Darwin Street.
Alfred's eldest siblings, born before the family arrived in Chelmsford around 1880 included Joseph Harris (born in 1872 in Birmingham, died in 1851), John Thomas Harris (born in 1875 in Chesterfield, Derbyshire, died in 1906), Charles Harris (born in 1877 in Chesterfield, died in 1933), and Betsy Harris (born in 1880 in Birmingham, died in 1882).
His siblings born in Chelmsford included Eliza Harris (born in 1882), George Harris (1883-1936), Amelia Harris (1886-1965), Albert Harris (1877-1899), Eva Harris (1888-1890), Walter Harris (1890-1891), William Harris (1891-1927), Harriet Harris (born in 1892), and Thomas Harris (1894-1918). In all James and Mary had 17 children, of whom nine were to die by 1911.
The 1881 census had listed the family at 18 Primrose Terrace, South Primrose Hill, Chelmsford.
In 1891 the census recorded six year-old Alfred with his parents and seven siblings still at 19 Primrose Terrace. At the time his father was a jobbing labourer. His brothers, Joseph, John and Charles were employed as a canvas sack maker, an errand boy and a canvas sack maker, respectively.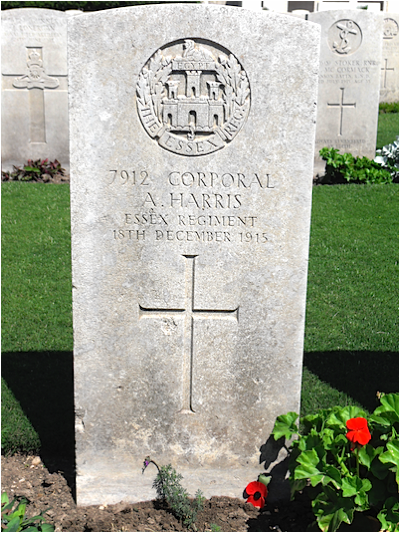 Alfred is believed to have been a regular soldier before the outbreak of the war, He had been living in his parents' home city of Birmingham when he enlisted in Chelmsford prior to the war.
He landed in France on 24th August 1914, probably with the 2nd Battalion of the Essex Regiment. A year later he joined the 1st Battalion of the same regiment at Suvla Bay, where he served as Corporal 7912, landing in Gallipoli as a reinforcement. Alfred was wounded there and evacuated to Alexandria in Egypt where he succumbed to his wounds on 18th December 1915.
Today he lies at Alexandria (Chatby) Military and War Memorial Cemetery (grave: E. 170) in Egypt, one of two Chelmsford men there. Alfred was entitled to the 1914-15 Star, British War Medal, and Victory Medal.
Alfred is commemorated on the Civic Centre Memorial, Chelmsford.
His brother Thomas Harris
was killed in action in October 1918. Both were 'South Primrose Hill Boys.' Their brother William Harris served in the Royal Field Artillery during the war in India. Another brother, George Harris, was taken prisoner during the war and suffered 'terrible hardships' that led to his early death after much suffering in 1936. Their nephew, Joseph Charles O'Shea died during the Second World War.