Charles William Harris was born in Kent, moved to London's East End by 1901, and married there in 1902 and had two children. Originally a plumber he moved to Chelmsford in 1914 to work as chauffeur to the first Bishop of Chelmsford. He joined the Royal Navy in 1916 and was involved in experimental explosive work in Kent when killed by an accidental explosion there in May 1917. His home was in Springfield Road.
HARRIS, CHARLES WILLIAM,
Leading Mechanic, HMS President II, Kingsnorth, Royal Naval Air Service, Royal Navy
In 1916 Charles joined the Royal Naval Air Service, Royal Navy, where he was Leading Mechanic, F/16561.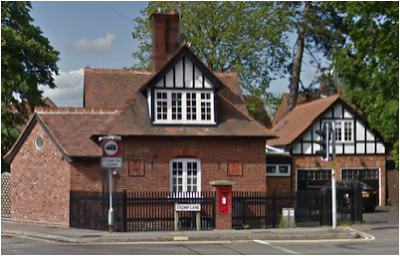 Charles was born in Wingham, Kent on 19th July 1879, the son of the master carpenter Charles Harris and Kate Frances Harris (nee Bushell).
In 1881 one year-old Charles was recorded by the census with his parents, four siblings, a grandmother and servant in Wingham where his father was a master carpenter. A decade later the 1891 census found eleven year-old Charles still in Wingham with his family. His father was a
carpenter and builder.
By 1901 Charles had moved to London where the census of that year listed him as a boarder in Bethnal Green. Aged 21, he was working as a house painter.
On 11th June the following year 23 year-old Charles, then working as a plumber and living at 18 Cephas Street married 27 year-old Esther Jemima Danton of 27 Argyle Road at St. Peter's Church in Stepney. The couple went on to have two children; Lilian Francis Harris (1905-1919) and George Charles Harris (born 1908).

The 1911 census found the family of four at 5 Leatherdale Street in Mile End, London. 31 year-old Charles was still working as a plumber.
In 1914 Charles became chauffeur to the first Bishop of Chelmsford, John Watts Ditchfield, at his appointment, and lived at The Lodge, Bishopscourt, Springfield Road, Chelmsford (today's number 319). He was member of the Springfield branch of the Church of England Men's Society (C.E.M.S.), and a regular communicant All Saints' Church in the village.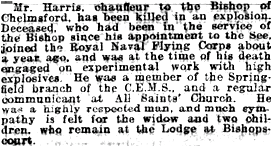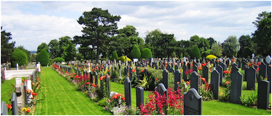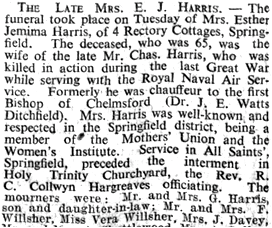 He died in an explosion on 26th May 1917 on the Hoo Peninsular in Kent where he was engaged experimental work with high explosives
Today Charles lies in Gillingham (Woodlands) Cemetery in Kent (grave: Naval. 26. 1363. He is commemorated on the Civic Centre War Memorial in Chelmsford and the war memorial inside All Saints' Church in Springfield.
Charles' widow was to suffer another tragedy in 1919, when their 14 year-old daughter, Lilian, who had just started work in the electrical department of Hoffmann's bearings factory, died. Her funeral at Holy Trinity Church, Springfield was conducted by the Bishop of Chelmsford.
Charles' widow died on 14th June 1940 having never remarried.
131030