George Alfred James Harris was born and raised in the Moulsham area of Chelmsford. He joined the army and landed in France in mid 1915. He was killed in action in July 1917. His home was in Manor Road. A brother also lost his life in the war.
HARRIS, GEORGE ALFRED JAMES,
Corporal, 9th (Service) Battalion, Essex Regiment
front line east of Monchy-le-Preux. Four days later German forces attacked - they managed to occupy Long Trench, but were driven from Hook Trench where the northern end had been captured, sustaining heavy casualties. That evening the George's battalion were relieved by comrades from the 5th Battalion of the Royal Berkshire Regiment and moved to the Feuchy-Wancourt Line.
On 14th July 1917 George's battalion returned the compliment in preparation for an anticipated attack to retake Long Trench. The attack was postponed and George's battalion returned to its former position in the Feuchy-Wancourt Line, while the 5th Royal Berkshire's took their place. After dark on 16th July 1917 George's battalion relieved 5th Royal Berkshire's once again, taking up assembly positions ready for the 48 hours delayed assault to retake Long Trench.
That attack was carried out on 17th July 1917 by George's battalion, together with the 6th Battalion of the Royal West Kent Regiment and the 6th Queen's, and the German forces were successfully ejected from Long Trench. A post war history of George's battalion included the following for 17th July 1917:
"On the morning of the 17th, with the 6th Queen's and 6th Royal West Kents, on their right, the Essex men delivered the counter-attack. The South Country battalions entered their objective in Long Trench and held on with varying fortune until the arrival of reinforcements at night enabled the enterprise to be completely accomplished. The 9th Essex secured their line of posts, but were enfiladed from a point in Long Trench, which had not been taken and they had to retire. A party, under 2nd Lieut. Peters, M.C., in particular, fought magnificently, but the enemy were in too great a strength. The Battalion held on to a series of positions which connected Long Trench with the front line. The 5th Royal Berkshires renewed he effort from the Essex front, but without material success, and the opposing lines became stabilised."
George was among those killed in action that day.
On 24th August 1917 the Essex County Chronicle reported:
"Mr. and Mrs. Harris, of 39 Manor Road, Chelmsford, are informed that their eldest son. Cpl. G. Harris, Essex Regt., is missing since July 17th."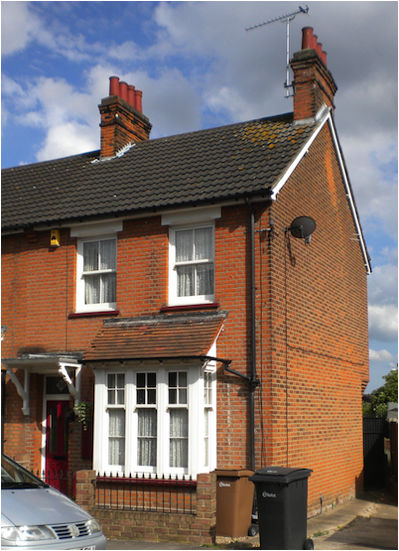 George was the eldest son of George Fenn Harris and Ellen Harris (nee Clark) and was born in Chelmsford on 27th June 1896.
He was baptised at St John's Church, Moulsham on 27th September 1896. At that time his father was a sawyer living in Lady Lane.
George's father had been born in 1872 in Black Notley; his mother c1872 in Chatham Green. They had married on 14th September 1895 at St. John's Church, Moulsham. At that time George's father was aged 23, a machinist of Prospect Terrace, Chelmsford, and the son of James Harris, a gardener. His mother was aged 24, also of Prospect Terrace, Chelmsford, and the daughter of Alfred Clark, farm bailiff.
George's five Chelmsford-born siblings were Christopher Jack Harris (1899-1918), Leslie Frank Harris (1903-1912), Cecil Herbert Harris (1905-1966), Tassie Harris (1907-1995) and Percy William Harris
(1909-1909).
George was educated at Moulsham Infants School in Moulsham Street from 23rd April 1900 to 8th December 1902.
The 1901 census found him aged four, resident at 14 Lady Lane. Chelmsford with his parents and younger brother Christopher. His father was an engineer's machinist. A decade later the 1911 census found 14 year-old George living with his parents, four siblings, and aunt. His father was a carpenter's machinist (building trade), while George was a butcher's assistant.
George lived and enlisted at Chelmsford, serving as Corporal 12542 in the 9th (Service) Battalion of the Essex Regiment. His battalion was part of the 35th Brigade in the 12th (Eastern) Division, one of six Divisions which together formed the first part of 'Kitchener's Army' from August 1914. The battalion, including George, landed in France at the end of May/start of June 1915, entering the front line in July 1915 near Ploegsteert Wood, Belgium, close to the French border, a comparatively quiet sector.
At the start of July 1917 the 9th (Service) Battalion of the Essex Regiment was in billets at Arras in France. On the night of 7th July 1917 it relieved the 7th Battalion of the Royal Sussex Regiment in the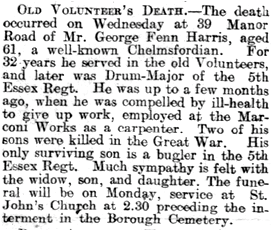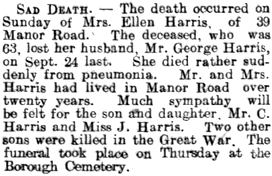 George has no known grave and is commemorated on the Arras Memorial, Arras, France, on the Civic Centre Memorial, Chelmsford, and the Moulsham Parish Memorial, St John's Church, Moulsham. He was entitled to the 1914-15 Star, British War Medal, and Victory Medal.
George's younger brother Christopher Jack Harris was killed in 1918.
The 1918 register of electors listed George's parents at 39 Manor Road, Chelmsford.
On 19th July 1918 the Essex County Chronicle carried an in memoriam notice for George:
"Harris, - In ever-loving memory of a dear son, Cpl. G. Harris, 9th Essex Regt., who was missing, now presumed killed on the 17th July, 1917, aged 22 years, eldest and dearly-loved son of Mr. and Mrs. G. Harris, 39 Manor Road, Chelmsford.
'Until the day breaks, and the shadows go away.'
From Mother, Father, Brother, and Sister."
Chris's father died on 24th September 1934, aged 61. His mother died a few weeks later, on 11th November 1934.
131030