Walter Henry Hart was born and brought up in Chelmsford. He joined the Royal Navy around 1910 and was killed when his ship, H.M.S. Russell, was sunk by a mine in the Mediterranean Sea in April 1916. His home was in Duke Street.
William was the only child of Walter Hart and Harriet Hart (formerly Smith) and was born in Chelmsford on 23rd July 1894.
Walter's father has been born in Ramsden Bellhouse in 1865; his mother c1862 in Rettendon. The couple had married at St. Mary's Church, Ramsden Bellhouse on 4th October 1890 and a year later had been resident at Ramsden Bellhouse with Walter's three year-old step-brother Charles Smith.
The 1901 census found Walter aged six, living at 10 Glebe Road, Chelmsford with his parents and a lodger. His parents are thought to have subsequently lived at 5 Mill Road (1910) and 8 Chapel Place (1913), both in Chelmsford. In 1911 the census listed 16 year-old Walter training at the Royal Navy's training establishment at Shotley in Suffolk. He had joined the navy the year before.
HART, WALTER HENRY,
Signaller, H.M.S. Russell, Royal Navy
The Essex County Chronicle of 5th May 1916 reported:
"Mr Walter Hart, caretaker of the Friends' Meeting House, Chelmsford, yesterday received intimation from the Admiralty that his only child, Walter Henry Hart, a signalman on board H.M.S. Russell, sunk by a mine in the Mediterranean, was missing and it was feared no hope of his escape could be entertained. The young fellow, who was 21 years of age, had been in the Navy for six years. He had only been on the Russell about a month, He was on the Hibernia in the attack which resulted in the sinking of the German cruiser Bulcher."
A week later the Essex Weekly News reported:
"Walter Henry Hart, signalman on H.M.S. Russell. Who was among those missing and believed to be drowned, was the son of Walter Hart, caretaker at the Chelmsford Friends' Meeting House."
Walter is commemorated on the Civic Centre Memorial, Chelmsford and the Chatham Naval Memorial in Kent - one of 8,514 sailors of the First World War named on the latter memorial.
Walter's parents were recorded in the 1918 register of electors at 64 Duke Street, Chelmsford, and were still there in 1920.
H.M.S. Russell lies upside down on the sea bed at a depth of between 113 and 115 metres with the stern section missing. She was dived upon for the first time in July 2003.
Walter's mother died in 1940. Hos father is thought to have died nine years later.
131101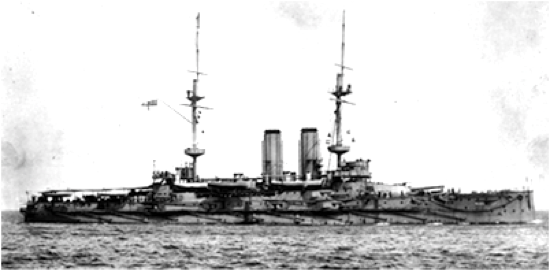 Walter served as Signalman J/8212 Royal Navy on H.M.S. Russell. He lost his life, aged 21, on 27th April 1916 when the vessel, a Duncan class pre-dreadnought battleship, which took part in the final evacuation from Gallipoli, was sunk by a mine just over four miles from St Elmo breakwater lighthouse, Malta as she manoeuvred outside Grand Harbour. Walter was one of 126 men who were killed in the incident. 625 others were saved.