Edward George Harvey was born and raised in Springfield where he was a farm labourer. He married in 1914 and had a son. During the war Edward served in the army and was killed in action in May 1917. His parents' home was at Woolpit's Farm in Springfield. A brother-in-law was also killed during the war.
HARVEY, EDWARD GEORGE,
Private, 10th (Service) Battalion, Essex Regiment
On 2nd May 1917 the battalion moved forward to the valley between Neuville Vitasse and Wancourt, a couple of miles south-east of Arras, Pas de Calais, France, where it participated in the British offensive at the Battle of Arras. The following day, one that was gloriously hot, comrades from the 18th (Eastern) Division attacked in the neighbourhood of Chérisy, while Edward's battalion waited in reserve. Chérisy was captured but was lost in a counter-attack, a scene repeated along the front. In the evening of 4th May 1917 the battalion took up a position south of Arras in support between Heninel and the front line. A post-war account of the battalion recalled:
"These positions consisted chiefly of trenches scarcely begun, German gun positions and a system of German practice trenches which went by the name of 'The Rookery', and we therefore had to put our backs into the matter of completing them as a last line of defence east of the Conjeul River.
A large number of British dead who had been lying where they fell in the capture of this (Wancourt) ridge the week before were buried by us. On the whole we had four days of comparative quiet whilst in support.
There were no communication trenches, and some movement over the top by day was therefore imperative. This usually drew a small ration of enemy artillery fire.
C. Q. M. S. Mann, of D Company, fell victim [on 7th May 1917) to one such sharp salvo. He had come up from the transport lines to pay his daily visit to his company commander, and was just starting out on the return journey to his relatively safe billet when he was killed. The padre buried him that night in the light of the struggling moonbeams during the eerie pauses of shell-fire, while a small knot of comrades, officers and men, paid a last tribute to a faithful soul who answered the first call to arms in 1914."
During this relatively quite period Edward was another soldier from the 10th (Service) Battalion of the Essex Regiment to be killed in action - on 5th May 1917 - the battalion's only fatality that day. He has no known grave and is commemorated at Wancourt British Cemetery, about five miles south-west of Arras in France (Special Memorial 52). The cemetery also contains the graves of two other Chelmsford men, Henry James Twinn (a comrade in the 10th (Service) Battalion of the Essex Regiment) and Arthur William Hitchen.
Edward is also commemorated on the Civic Centre Memorial, Chelmsford and on the Springfield Parish Memorial at All Saints' Church. He was entitled to the British War Medal and Victory Medal.
Another Springfield man serving in the 10th (Service) Battalion of the Essex Regiment, John Mitson Westrip died from wounds just two days after Edward's death.
Edward's brother-in-law (wife of his sister Isabella Amelia), Ernest Henry Linge, had been killed on 29th January 1915 while serving with the Essex Regiment. Ernest's brother Arthur James Linge also died during the war.
The 1918 register of electors listed Edward's parents still at Woolpits Cottages. Edward's mother died in 1923; his father died in 1944 and his son died in 1982. His widow married Stephen Flack in 1921 and died in 1978.
140402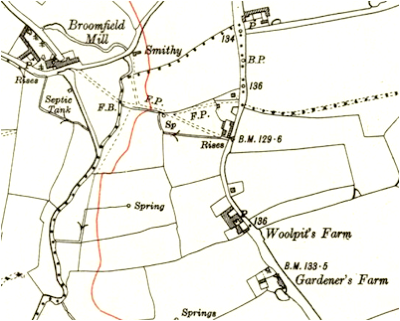 Edward was born in Springfield on 8th October 1895, the son of John Harvey and Elizabeth Caroline Harvey (formerly Jiggins). His father had been born in 1864; his mother c1851, both in Terling. The couple had married in 1883 and in 1891 had been resident at 3 Woolpits in Springfield, where Edward's father was an agricultural labourer. Edward was baptised at All Saints' Church in Springfield on 1st December 1895. At the time his father was a labourer living in Springfield.
Edward's siblings included Anne Harvey
(born in 1888), Isabella Amelia Harvey (1890-1983), Herbert William Harvey (1898-1961), Lily Violet Victoria Harvey (1901-1955) and David Frederick Harvey (1903-1987). Anne was born in Terling, the remainder in Springfield.
The 1901 census found five year-old Edward with his parents and four siblings (including a step-brother, Ernest Jiggins) at 2 Woolpits, Springfield. His father was a farm labourer. A decade later the 1911 census recorded Edward, then fifteen, living with his parents and three siblings at Woolpits Farm, Springfield. Edward, like his 46 year-old father was a farm labourer.
Edward married Britannia Webb in 1914. She had been born in Hockley Green on 17th February 1893. They had a son, Patrick Charles Harvey, born on 11th October 1915.

Edward later lived in Broomfield and enlisted into the army at Chelmsford and served as Private 31813 in the 10th (Service) Battalion of the Essex Regiment, a 'New Army' battalion that was attached to the 53rd Brigade in the 18th (Eastern) Division. It went to France in July 1915 and into .
the line for the first time a month later. The battalion saw much action in the summer of 1916 in the Battle of the Somme, most noteworthy perhaps being the capture of Thiepval on 26th September 1916. In early 1917 the battalion was in the Ancre valley, captured Folly Trench on 8th February 1917 and helped capture Irles on 10th March 1917.