Henry James Twinn came to Springfield before he was three and lost his father before he was four. His mother remarried in 1897. He worked at Hoffmann's bearings factory in Chelmsford before joining the army early in the war. He landed in France in May 1915, and was wounded there in October 1915. He was killed near Arras in May 1917, his battalion's only casualty on his day of death. His home was in Redcliffe Road. His only brother was also killed during the war.
TWINN, HENRY JAMES,
Lance Corporal, 10th (Service) Battalion, Essex Regiment
(formerly of the 9th (Service) Battalion, Essex Regiment
In early May 1917 the battalion participated in the British offensive at the Battle of Arras, initially spending a relatively quiet time in support near Heninel, south of Arras, then moving to take over the front line from the 6th Battalion of the Royal Berkshire Regiment. After two days there Henry's battalion moved to support positions a mile to the south to the former German defensive line, the Hindenberg Line, between Héninel and Fontaine-lès-Croisilles.
A post-war account of the battalion reported:
"Here we found the wonderful tunnel still existing and quite habitable. There was a non-stop run along this tunnel of over a mile. When it did stop, it stopped, so far as we were concerned, because the Boche held the further portion of it, and rival sentry posts fronted each other dramatically in the darkness underground. It was curious to share dug-outs thus with the enemy, and later our insular dislike for such close neighbourship got the upper hand, and the tunnel was blown in between the rival tenants. Exists were numerous , and ventilation quite good....
Two days in support were followed by two days in the line. We now looked down on Fontaine, but the enemy's front line was some little distance away. About this time higher authority informed us that there were signs of a further enemy withdrawal, and a plan of action in case such a retirement was elaborated. Patrols had to be more active, and these were out by day and night. Some of A Company's patrol's under Lieut. R. H. Binney, Corporal Meager and Corporal Goy [subsequently killed the following day], did excellent work. [On 17th May 1917] they went daringly into the midst of supposed enemy advanced posts in Pug Lane by day and found various Huns asleep in 'cubby-holes' under a bank. These cubby-holes were screened in at their entrance, just as ours were, with waterproof sheets. The sheets were lifted, and the poor surprised Huns dealt with effectively on the principle of the periwinkle."
The 17th May 1917 saw the 10th (Service) Battalion of the Essex Regiment suffer only one fatality - that of Henry, who was killed in action while serving as Lance Corporal 10648.
He is buried at Wancourt British Cemetery, some five miles south-east of Arras, Pas de Calais in France (grave: VII. C. 32). The cemetery also contains the graves of two other Chelmsford men, Edward Harvey (a comrade in the 10th (Service) Battalion of the Essex Regiment) and Arthur William Hitchen.
On 25th May 1917 the Essex Weekly News reported:
"Lance-Corpl. H. J. Twinn, Essex Regt., son of Mrs. Poulton, of 9, Redcliffe-rd, Chelmsford, had been killed in action. Deceased was 25 years of age, and was formerly employed at the Hoffmann Works."
The Essex County Chronicle carried news of Henry's death on 1st June 1917:
"Lc.-Cpl. H. J. Twinn, Essex Regt., reported killed in action on the 17th of May, was the son of Mrs. Poulton, 9 Redcliffe Road, Moulsham, Chelmsford. Writing to Mrs. Poulton, deceased's platoon commander says: "I am writing to tell you what great sympathy all the officers and men in this Batt. Feel for you. He proved himself to be a very fine soldier, doing his duty bravely and cheerfully. He was an ideal non-commissioned officer, trusted by his officers and popular with men."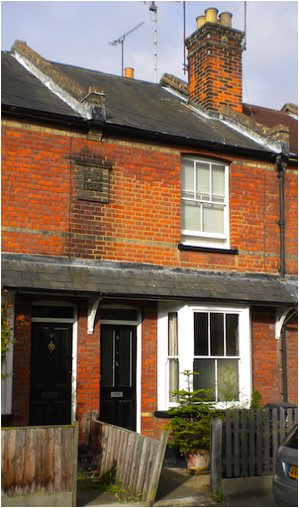 Henry was born at Runwell in 1892, the son of Charles Twinn and Harriet Twinn (nee Prentice).
Henry's father had been born in 1869 in Springfield; his mother in 1871 in High Easter. They had married at All Saints' Church in Springfield on 22nd March 1890. At the time Henry's father was aged 21 and employed as a labourer. His bride was aged 19 and the couple both lived in Springfield.
Henry had an elder brother, William Charles Twinn, born in 1891 in Boreham, and a younger sister, Lily Clara Twinn, born in Springfield in 1894.
At the time of the 1891 census Henry's parents and brother were living at Boreham Hall Cottages in Boreham. His father was employed as an agricultural labourer. Three years later Henry's father died, aged just 25.
On 7th June 1897 Henry's mother, then aged 22, married 26 year-old William Poulton at All Saints' Church in Springfield. Both had been widowed. William Poulton had been born in Great Waltham in 1875.
The 1901 census found Henry, aged eight, living with his elder brother, mother and step-father (a bricklayer) at Cuton Lane in Springfield.
Over the coming decade Henry gained four half siblings, all born in Springfield; Percy Arthur Poulton (born in 1901), Bertie Reginald Poulton (born in 1903), Mabel Poulton (born in 1905) and Edward Poulton (born in 1907).
The 1911 census listed Henry, by then 18, living with his mother, step-father, two sisters and four half-siblings at 9 Redcliffe Road, Chelmsford. The family were to remain there at until at least 1920. The census showed that Henry and his elder brother William, were both working for the ball-bearing manufacturer, Hoffmann's. Their 36 year-old step-father was a corporation dustman.
Henry enlisted at Chelmsford and served in the 9th and 10th (Service) Battalions of the Essex Regiment. He landed at Boulogne, France with the former battalion on 30th May 1915, just 27 days after his brother William Charles Twinn had been killed in action. The 9th (Service) Battalion of the Essex Regiment, was a 'New Army' battalion, formed in August 1914 and was attached to the 35th Brigade in the 12th (Eastern) Division.
On 12th November 1915 the Essex County Chronicle reported:
"Lance-Cpl. H. J. Twinn, 9th Essex Regt., of 9 Redcliffe Road, Chelmsford. was wounded in France on October 19. He was formerly employed at the Hoffmann Works."
Henry later served in the 10th (Service) Battalion of the Essex Regiment, also a 'New Army' battalion that was attached to the 53rd Brigade in the 18th (Eastern) Division. It had gone to France in July 1915 and into the line for the first time a month later. The battalion saw much action in the summer of 1916 in the Battle of the Somme, most noteworthy perhaps being the capture of Thiepval on 26th September 1916. In early 1917 the battalion was in the Ancre valley, captured Folly Trench on 8th February 1917 and helped capture Irles on 10th March 1917.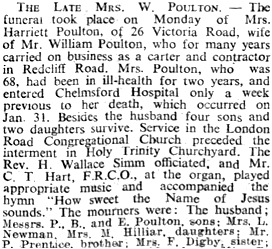 Henry is commemorated on the Civic Centre Memorial, Chelmsford, on the Hoffmann Manufacturing Company's War Memorial at Chelmsford Cathedral, and the Moulsham Parish Memorial, St. John's Church, Moulsham. He was entitled to the 1914-15 Star, British War Medal, and Victory Medals.
The 1918 register of electors listed Henry's mother and step-father still at 9 Redcliffe Road.
His mother died in 1940,
140123