William Charles Twinn spent his initial years in Boreham and Runwell before moving to Springfield around 1894, the year of his father's death. After leaving school he worked at Hoffmann's ball-bearings factory in Chelmsford, and later as a fitter. He married a widow, ten years his senior, in 1912 and went on to have a daughter to add to three children she already had. He joined the army within three weeks of the outbreak of war but was discharged medically unfit the following month. After moving to Ilford he rejoined the army in December 1914 and was killed in action in May 1915 near Yores. His only brother was also killed during the war.
TWINN, WILLIAM CHARLES,
Private, The Buffs (East Kent Regiment) (formerly of the Essex Regiment)
Interestingly he gave their marriage date as 24th November 1903 at Chelmsford, describing her as a spinster, with two children, Gladys and Phyllis born in 1912 and 1913 respectively in Chelmsford. However, he was found to have varicose veins discharged as medically unfit, 30 days later, on 22nd September 1914 at Shornecliffe in Kent.
Undeterred by his recent medical discharge from the Essex Regiment on 2nd December 1914 William enlisted as Private G/4878 in the The Buffs (East Kent Regiment) at East Ham for the duration of the war. His attestation papers show (incorrectly) that he was 24 years old and living at 21 Wilton Road in Ilford. He was employed as a fitter, married and had four children. He had previously served with the Essex R. H. A. Territorials.
He was five feet nine and a half inches tall, weighed 142 pounds, with a chest of 38 and a half inches and 'good' physical development. He had two joints missing from his left index finger, scars after an operation for varicose veins on both legs, and a tattoo of a cross on his left forearm - perhaps he had had his varicose veins operated on in the months since his rejection by the Essex Regiment. His next of kin was his wife and he was a member of the Church of England.
William was posted to the 3rd Battalion of the The Buffs (East Kent Regiment) on 3rd December 1914 and remained with them until 21st April 1915 when he landed in France as a member of the regiment's 3rd Battalion. On 13th April 1915 he had been fined three day's pay after overstaying his pass by one day and 45 minutes from a tattoo.
He went missing in action on 3rd May 1915, and eventually, on 17th March 1916, was presumed to have been killed on that date.

William was born at Boreham in 1891, the son of Charles Twinn and Harriet Twinn (nee Prentice). William's father had been born in 1869 in Springfield; his mother in 1871 in High Easter. They had married at All Saints' Church in Springfield on 22nd March 1890. At the time William's father was aged 21 and employed as a labourer. His bride was aged 19 and the couple both lived in Springfield.
William had a younger brother, Henry James Twinn, born in 1892 in Runwell and a younger sister, Lily Clara Twinn, born in Springfield in 1894.
At the time of the 1891 census two month-old William was living with his parents at Boreham Hall Cottages in Boreham. His father was employed as an agricultural labourer. Three years later William's father died.
On 7th June 1897 William's mother, then aged 22, married 26 year-old William Poulton at All Saints' Church in Springfield. Both had been widowed. The 1901 census found William, aged ten, living with his brother, mother and step-father (a bricklayer) at Cuton Lane in Springfield. Over the coming decade William gained four half siblings, all born in Springfield; Percy Arthur Poulton (born in 1901), Bertie Reginald Poulton (born in 1903), Mabel Poulton (born in 1905) and Edward Poulton (born in 1907).
The 1911 census listed William, by then 20, living with his mother, step-father, two sisters and four half-siblings at 9 Redcliffe Road, Chelmsford. The family were to remain there at until at least 1920. The census showed that William and his brother Henry, were both working for the ball-bearing manufacturer, Hoffmann's. Their 36 year-old step-father was a corporation dustman.
A 1913 street directory recorded William's mother and step-father still at 9 Redcliffe Road, Chelmsford, an address they were to remain at until at least 1920.
Twenty-three year-old William married Mabel Jane Carver at St. John's Moulsham on 23rd November 1912. His bride, ten years his senior, was a widow and daughter of the builder's foreman William Wheeler. At the time of the wedding William still lived at 9 Redcliffe Road and was employed as a machinist. Mabel lived in Moulsham Street and already had three children: Gladys May (born on 1st May 1901 in East Ham), Doris Violet (born on 6th February 1903 in West Ham), and Olive Irene (born on 10th August 1904 in West Ham). They had one child together; Phyllis Mabel Twinn (born on 14th June 1913 in Chelmsford).
On 24th August 1914 William enlisted for three years at Chelmsford as Private 12026 into A Company of the 9th Battalion of the Essex Regiment. His attestation papers show that he was 24 years and 210 days old, married, and employed as a fitter. He was five feet nine inches tall, weighed 137 pounds with a 36 and half inch chest, a fresh complexion, hazel eyes and brown hair. He had a tattoo of a dagger on his left forearm. He was a member of the Church of England. His next of kin was given as his wife of 9 Redcliffe Road in Chelmsford.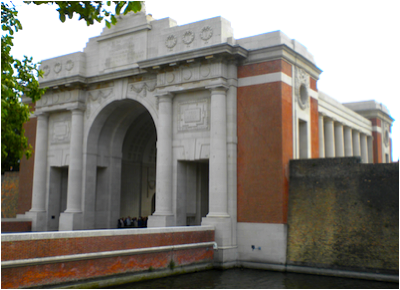 William has no known grave and is commemorated on the Ypres (Menin Gate) Memorial, West-Vlaanderen in Belgium, on the Civic Centre Memorial, Chelmsford, and the Moulsham Parish Memorial, St John's Church, Moulsham. He was entitled to the 1914-15 Star, British War Medal, and Victory Medal.
William's widow was resident at 42 Hampton Road, Ilford after the war. His brother Henry James Twinn was killed in action on 17th May 1917.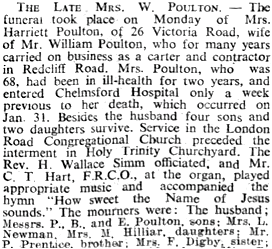 His mother died in 1940, aged 68. His wife is thought to have died in1960 and their daughter died in 1982.
140123