Harry Twitchett came to Springfield from rural north Essex in the 1890s. He worked at a sack factory and married in 1903, going on to have five children. By 1911 he was working for Wray & Fuller, stonemasons of Chelmsford. During the war he served in the army and was killed in action in October 1916 during the latter stages of the Battle of the Somme. His home was in Chelmer Place, off Springfield Road.
TWITCHETT, HARRY,
Private, 1st Battalion, Essex Regiment
Harry enlisted at Chelmsford and served in the 1st Battalion of the Essex Regiment, a regular army battalion that had been overseas in Mauritius when the war started, and returned to England in December 1914 where it was attached to the 88th Brigade in the 29th Division. The bulk of the battalion landed in Gallipoli on 25th April 1915. Harry landed there, presumably as part of replacement troops on 26th September 1915.

Harry was born in Toppesfield near Halstead on 28th February 1882, the son of James Twitchett and Ellen Twitchett.
His birth was registered as 'Harry George' but he never used 'George' as a middle name.
Harry was baptised at Toppesfield on 30th April 1882 at which time his father was a labourer in the village.
His father had been born on 23rd August1853 in Ashen; his mother in June 1853 in Toppesfield. They had married on Christmas Day 1872 at the church of St Margaret of Antioch in Toppesfield, and in 1881 had been resident in the village.
Harry's siblings, all born at Toppesfield, included Ruth Emma Twitchett (August 1872 - July 1884), Emily Twitchett (born in October 1873, baptised at Toppesfield on 21st December 1873, and died in October 1952), Charles William Twitchett (born in November 1875 and baptised at Toppesfield on 14th November 1875) and Harriett Eliza Twitchett (born in January 1877, baptised at Toppesfield on 6 January 1878, and died on 15th March 1947).
Harry's mother died in July 1887, aged just 34.
At the time of the 1891 census nine year-old Harry was living with his widowed father, grandmother and two siblings at Toppesfield. his father was a farm labourer.
Harry's widowed father married Mary Yeldham in 1893 and afterwards moved to Springfield.
The 1901 census found 19 year-old Harry, employed as a labourer in a sack factory, living with his father and stepmother at Back Cottage, close to the prison in Springfield Road, Springfield. His father was a farm labourer.
Harry married Waltham-born Sarah Johnson on 11th April 1903 in Great Waltham. At the time he was 21 years old, employed as a labourer, living at Springfield Hill in Springfield. His bride was a servant, the 19 year-old daughter of Isaac Johnson of Broads Green, Great Waltham. She had been born on 6th July 1883.
The couple went on to have five children:
Gladys Ellen May Twitchett (born on 1st August 1903, baptised at Holy Trinity Church in Springfield on 13th September 1903, died on 5th July 1997), Harry George Twitchett (born on 9th February 1906, baptised at Holy Trinity Church in Springfield on 25th March 1906, and died on 22nd January 1993), Olive Honor Twitchett (born on 21st June 1908, baptised at Holy Trinity Church in Springfield on 23rd August 1908 and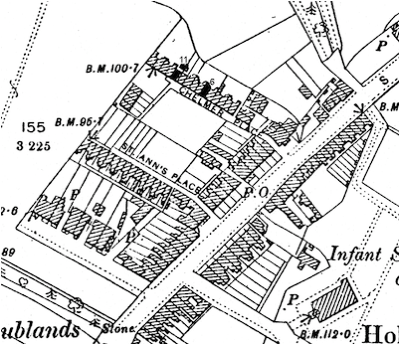 died on 14th August 1979), Leslie Valentine Twitchett (born on 14th February 1911, baptised at Holy Trinity Church in Springfield on 23rd April 1911 and died on 13th October 1968) and Doris Kathleen Twitchett (born on 19th October 1913, baptised at Holy Trinity Church in Springfield on 23rd November 1913 and died on 23rd December 1990).

By 1908 Harry was living at 6 Chelmer Place, Springfield, and by 1911 he had moved to 11 Chelmer Place (two rows of cottages forming an L-shape down a lane beside the Oddfellows Arms pub in Springfield Road, demolished in 1963. The census of 1911 found him living there with his wife and four children. He was a stone mason's labourer at Wray & Fuller's yard further down Springfield Road. Meanwhile his father remained in Springfield Road.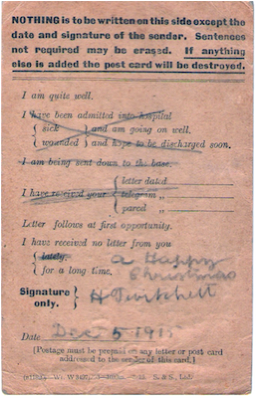 The battalion was evacuated from Gallipoli and arrived back in Alexandria, via Mudros, on 15th January 1916. After a spell in the Egyptian desert the battalion sailed from Alexandria for Marseilles on 16th March 1916 on the S.S. Transylvania. Having travelled up through France it took its place on the Western Front, initially at Louvencourt, on 4th April 1916.
On the opening day of the Battle of the Somme, on 1st July 1916, the battalion participated in an unsuccessful attempt to capture Beaumont Hamel. The remainder of the summer and the autumn saw the battalion continue to be involved in action.
On 12th October 1916 the 1st Battalion of the Essex Regiment went on the offensive with the Newfoundland Regiment north-east of Gueudecourt. Four days later Harry was killed in action there while serving as Private 19206. He was aged 34.
The Essex County Chronicle of 17th November 1916 reported:
"Mrs. Twitchett, of 11 Chelmer Place, Springfield, is unofficially informed of the death of her husband at the Front."
A week later the same paper confirmed the bad news:
"Pt. Harry Twitchett, of the Essex R., who was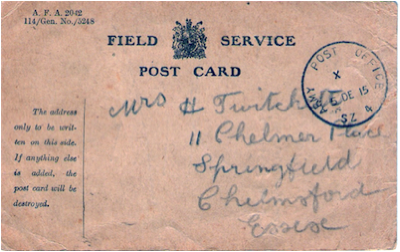 killed in action in France on Oct. 16, was employed for many years at Messrs. Wray and Fuller's, Chelmsford. He leaves a widow and five young children."
Harry has no known grave and is commemorated on the Thiepval Memorial, near Albert, Somme, France, on the Civic Centre Memorial, Chelmsford and on the Springfield Parish Memorial at All Saints' Church.

Harry was entitled to the 1914-15 Star, British War Medal, and Victory Medal.
Harry's father died in October 1917 aged 64. On 12th October 1917 the Essex County Chronicle carried an in memoriam notice from Harry's widow:
"Twitchett. - In loving memory of Pte. Harry Twitchett, killed in action in France, October 16th, 1916, aged 34 years.
Somewhere in France He is laid to rest; For King and country He did his best.
From his wife, children and mother."
Harry's step-mother died in 1924. In the inquest that followed the coroner returned a verdict that death was from bronchitis and heart failure caused by a self-inflicted wound to her stomach 'while she was suffering from mental weakness and senility.
As late as 1936 Harry's family were placing 'in memoriam' notices in Chelmsford's newspapers.
Harry's widow (pictured, left, possibly in Sandford Road, Springfield) was still living at 11 Chelmer Place in 1929.
She died on 24th March 1960.
180607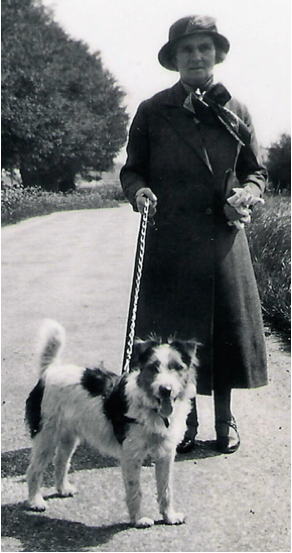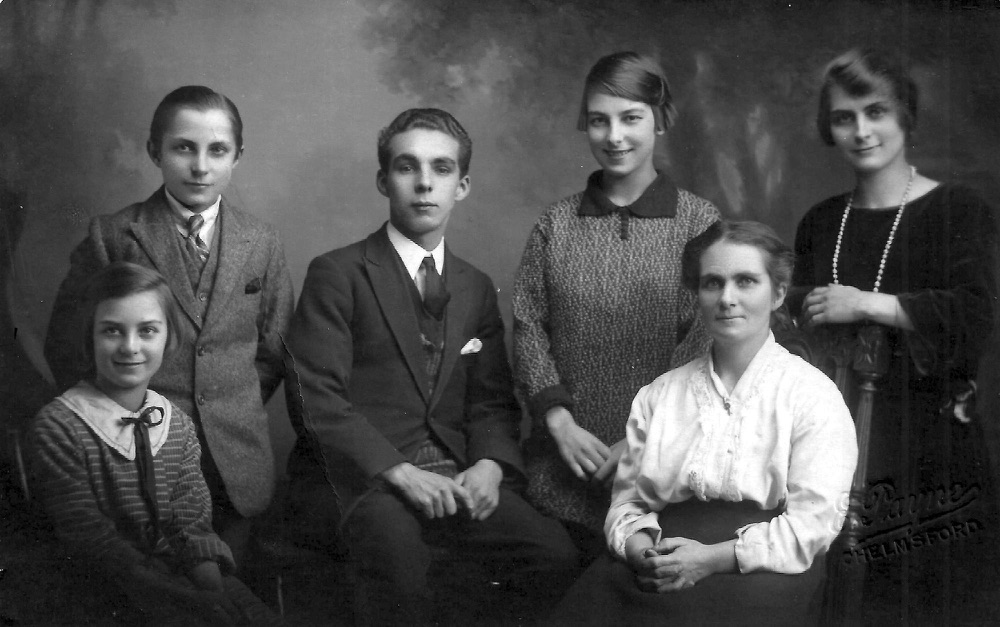 Below is a photograph, probably taken in late 1925, of Harry's wife and children. From left to right: Doris (1913-1990), Leslie (1911-1968), George (1906-1993), Olive (1908-1979), Sarah (1883-1960), and Gladys (1903-1997). The photograph was discovered at a postcard fair in Suffolk in May 2018 and with the aim of this website a genealogist was able to pass it to Harry's grandson. The full story can be read here.