Ernest Henry Linge had a fairly nomadic life until his marriage in Springfield in 1910. There he worked as a farm labourer and a plasterer's labourer and became father to two daughters. He joined the army and landed in France in January 1915, and died from his wounds less than three weeks later. His home was in Pump Lane, A brother was also killed in the early part of the war.
LINGE, ERNEST HENRY,
Private, 2nd Battalion, Essex Regiment
Ernest is commemorated on the Civic Centre Memorial, Chelmsford and on the Springfield Parish Memorial at All Saints' Church.
Ernest's widow married Cornelius Herbert Owers (1878-1962) on 28th April 1917 at All Saints' Church in Springfield. At he time Cornelius was a soldier. The couple had six children and Ernest's widow eventually died in Halstead in 1963.
Ernest's daughter Dora, later married Thomas Walter E. Nelson (1909-1979), lived to be 86, dying in Halstead in June 1998. His other daughter Ivy married Edward J. Brown in 1935. Ernest's father died in 1922, aged 70.
Ernest's brother-in-law Edward George Harvey was killed on 5th May 1917 while serving with the Essex Regiment and is also commemorated on the Civic Centre Memorial, Chelmsford and on the Springfield Parish Memorial at All Saints' Church. Ernest's wife therefore lost her brother, husband and brother-in-law in the war.
131116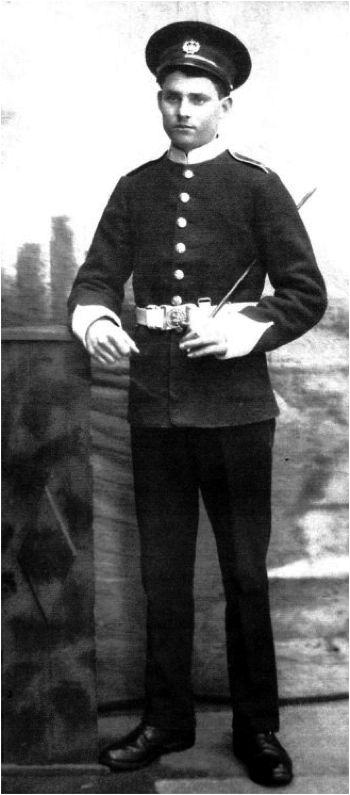 Ernest was born at Althorne in 1889, the son of William Linge and Alice Linge (nee Copsey). Arthur's father had been born in Mayland in 1851 and his mother in Latchingdon in 1862. They had married in 1880 and year later had been resident at Southminster.
Ernest's siblings were Edith Mary Linge (born in 1882), William Thomas Linge (1883-1961), Arthur James Linge (1885-1914), Martha Jane Linge (1887-1953), Lily Linge (1891-1893), Florence Linge (born in 1894), Elizabeth Alice Linge (born in 1896), Bertie George Linge (1898-1972), Edward George Linge (1901-1933), and his twin Albert Walter Linge.
All the children except Florence and Lily (who were born in Coundon, County Durham), Bertie (who was born at Barling), and Edward and Albert (who were born in Rawreth), were born at Althorne.
At the time of the 1891 census the family were living at Coundon in County Durham. Ernest was aged one. His father was employed as a coal miner. By 1893 the family were back in Essex and the 1901 census recorded 11 year-old Ernest and his family resident at Back Road, Rawreth. His father was an agricultural labourer.
On Christmas Eve 1910 Ernest married Isabella Amelia Harvey (born in Springfield in 1890), the daughter of John Harvey and Elizabeth Caroline Harvey (nee Jiggins) at All Saints' Church in Springfield. At the time Ernest was aged 24, employed as a labourer and lived in Springfield. His bride was aged 20 and also lived in the parish.
The census of 1911 found the newly-weds living together at Nabbotts Cottages in Springfield. Ernest was a farm labourer.
Ernest and Isabella had two daughters - Dora Mary Linge, who was born on 16th July 1912 at Springfield and was christened at Holy Trinity Church in Springfield on 6th October 1912; and Ivy May Linge, born 22nd May 1914. She was christened at St John's Church, Moulsham on 16th August 1914, at which time Ernest was described as a plasterer's labourer of Pump Lane, Springfield.
Ernest's elder brother, Arthur James Linge, who is also commemorated at the Civic Centre, died from wounds on 24th November 1914.
The picture left shows Ernest's wife on the left, with their daughters Ivy on her lap and Dora at her feet. Ernest's sister-in-law (wife of his brother Arthur) is on the right with her younger daughter Dorothy on her lap and elder daughter Lily stood in the centre rear..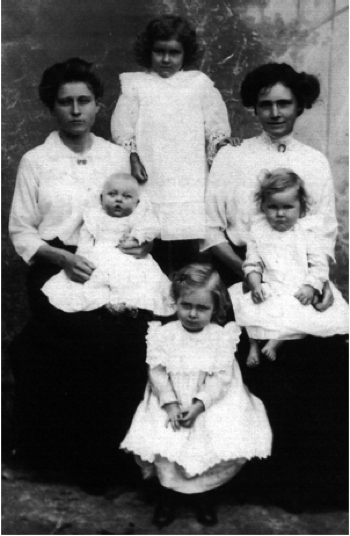 Ernest enlisted at Warley and entered France on 12th January 1915. Three weeks later he was dead, dying from wounds on 29th January 1915 while serving as Private 3/860 in the 2nd Battalion of the Essex Regiment. He is buried at Strand Military Cemetery, Comines-Warneton, Hainaut, Belgium, some eight miles south of Ypres near the village of Ploegsteert (grave: X. I. 6). He left a widow and two daughters under the age of three.
Ernest's grave is one of many in the cemetery made after the Armistice, when graves were brought in from some small cemeteries and from the battlefields lying mainly between Wytschaete and Armentieres. Ernest was entitled to the 1914-15 Star, British War Medal, and Victory Medal.
The Essex County Chronicle of 19th February 1915 carried the following report of his death:
"Springfield Man Killed – News has been received that Pt. E. Linge, of the 3rd [stet] Essex Regt., was killed in action in France on Jan 29. The deceased soldier's home was at Pump Lane, Springfield, and he leaves a wife and two children. Pt. E. Linge was brother of Pt. A. Linge, of the Essex Regt., who died of wounds received in action about two months ago."