Charles William Webb Hayward came to Chelmsford as a teenager and worked at Hoffmann's ball-bearings factory. He enlisted in the army in November 1915, but was not mobilised until March 1918. He was sent to Mesopotamia two months later, and was killed in action in August 1918 near Basra. His home was in Swiss Avenue.
HAYWARD, CHARLES WILLIAM WEBB,
Sergeant, Machine Gun Corps (Motor Branch)
Charles' father died in 1942, aged 75 in an accident that was reported by the Essex Chronicle as follows:
"A verdict of Accidental death was returned at an inquest at Chelmsford on April 17 on John Hayward, 75, retired butcher, of Swiss Avenue, Chelmsford, who was involved in a collision with a car at the Stone Bridge, Chelmsford, on March 30, and sustained fatal injuries.
The inquest had been opened, and adjourned for the attendance of witnesses of the occurrence, and a police car was used in street broadcast for witnesses.
Thomas Turner, of Sussex Gardens, Paddington, said at 10.40 a.m. on March he was standing outside his shop in High Street when he saw an old man twist and fall, hitting his head on the kerb. His feet were pointing across the road. He could not have been far into the road. Witness then saw a car standing just over the brow of the bridge Traffic was light at the time. " am quite unable say what happened," added the witness.
Harold Oliver, Cornerways, Tiptree, who was driving a car in Moulsham St. at the time, going in the direction of the bridge, said: " t was very thick traffic. It was one of the worst traffics I had been in in Chelmsford, and iwas going in my direction in a steady stream. There was also a stream coming towards me, including a car. The next thing I saw was a man losing his balance and falling. As far as I remember, he twisted and fell, striking the back of his head on the kerb. If the car struck him, he must have been hit by the wing or the front of the bumper, but I could not say, as my view was obstructed."
Mr. J. C. Llewellyn (for the deceased's relatives) asked Mr. Oliver: What caused him to fall?—Witness: I could not say. My vision was obscured. The oncoming car drew up in about its own length. I could not get near the injured man, there were so many people about. Replying to Mr. Moses (representing the driver of the car), witness said he first saw the old man as he was losing his balance.
Mrs. Edith Rainscroft, of Tabors Avenue, Great Baddow, said she was looking from her office window in the Pearl Insurance building, when she saw a car coming from the High Street at about 10-15 miles per hour—quite normal— bearing towards the crown of the road. It stopped in its own length without any screeching of brakes. "I did not see any reason for it to stop, but saw a woman in the street waving her shopping basket —she was agitated. I opened the window, and for the first time I saw a man lying at right-angles in the road, with the back of his head on the kerb He was 3 to 6ft. away from the back of the car. Traffic was light at the time." The Coroner: You cannot say that this car was involved in hitting this man? No.
Kenneth Thompson, Kings Road, Chelmsford, who was walking in the road at the time towards the bridge, said he saw elderly man stop on the edge of the path, look at traffic coming from the town, and then hurry across. "He stepped right into the path of an oncoming car," said witness "He was about three feet into the road, and was struck I should say, by the near side of the car. which was going at about 20 miles per hour. Traffic was moderately heavy." The Coroner: That is another variation about the traffic.
P.c. (W.R.) Watts, who went to the scene of the accident, said he failed to find any marks on the car which might have been caused by the accident. He asked the driver, Mr. E. J Ratcliff, if he wished to make a statement. Mr. Ratcliff said: "No, not now. don't feel like it." Later he made a statement that he was proceeding over the Stone Bridge towards Moulsham at about 15-20 miles an hour, when he felt a bump on the middle near side of the car. He immediately pulled up—within six or seven feet. He was travelling about six feet from his near side kerb "I at once got out to see what had happened," the statement continued. " I then saw a man lying in the road. did not see him at all until got out of the car. I fail to see how the accident happened. I had a clear view of the road ahead tor 100 yards."
Edward John Ratcliff, ot Queen Street, Chelmsford, the driver of the car, giving evidence, said ne was proceeding in a normal manner. There was nothing much,in front of him. "As I was going over the crown of the bridge I felt a bump which appeared to be on the centre of the nearside of the car. automatically pulled more to the centre of the road and applied my brakes heavily. got out and saw an old gentleman lying at the back of the car —about six to ten feet behind. My speed at the time was 15 to 20 miles per hour. I was paying particular attention to the people who were walking on the path."
Replying to Mr. Llewellyn, witness said it might have been that the deceased's elbow caught the car, twisting him round and causing him to fall.
Returning a verdict of Accidental death, the Coroner said: There is not very much doubt that this unfortunate old man stepped out into the road at the moment that this car was about to pass. The driver had not the slightest opportunity of seeing him, and that being so there was nothing he could do. I accept that the deceased walked into some portion of the car, near the front. If that is so, and there does not seem to be very much doubt about it, then the driver is entirely free from blame."
Charles's mother died in 1955, aged 86.
131101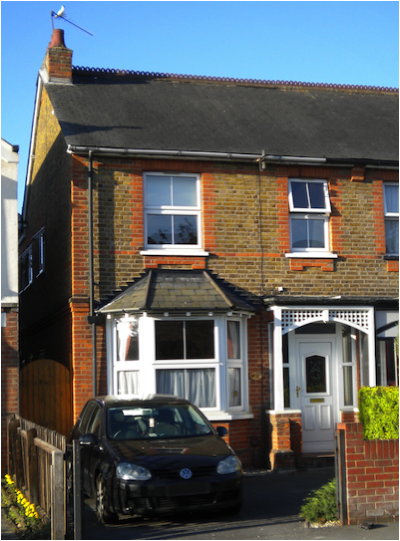 Charles was born in Earl's Colne in 1896, the son of John Hayward and Rhoda Hayward. His father had been born in 1867 in West Wickham, Cambridgeshire; his mother in 1868 in St. Mary's Huntingdonshire.
Charles' three siblings were Florrie Hayward (born in 1892 in Bradford, Yorkshire, died 1981), Ethel Hayward (born in 1893 in Earl's Colne), and Dora Hayward (born in 1895 in Earl's Colne).
Four year-old Charles was recorded by the 1901 census living with his parents and three sisters at his father's pub, the Bird-in-Hand, in Earl's Colne. A decade later the 1911 census listed 14 year-old Charles living with his parents and sister Dora in Tiptree where his father was a poultry dealer.
On 23rd November 1915 Charles attested to join the Machine Gun Corps for the duration of the war. He was 19 years and one month old, employed as a machinist at Hoffmann's
ball-bearings factory in Chelmsford and resident at 6 Willow Villas, Chelmsford later amended to Lyme Villa (number 13) in Swiss Avenue, Chelmsford. His father was his next of kin.

He does not seem to have immediately been posted, perhaps due to the nature of his job at Hoffmann's, and he was not posted to the Machine Gun Corps Training Centre at Grantham until 17th March 1918, being promoted to sergeant the same day. At the time he was five feet three inches tall, weighed 124 pounds with dark hair, a fresh complexion and blue eyes. His chest was 33 inches.
He served as Serjeant 80096 in the 6th Light Armoured Motor Battery of the Machine Gun Corps (Motors) and proceeded overseas as part of the 17th Indian Division in the Mesopotamian Expedition Force on 15th May 1918.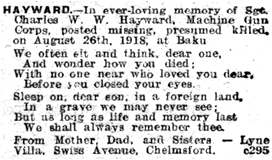 On 26th August 1918 Charles went missing, believed killed in action near Basra in modern-day Iraq. On 5th September 1918 his next of kin was notified at 13 Swiss Avenue. On 29th January 1920 he was formally assumed to have died on or since 26th August 1918. His family were notified accordingly on 4th February 1920. His service had been for a total of 168 days.
Charles has no known grave and is commemorated Basra Memorial in Iraq and on the Civic Centre Memorial, Chelmsford. He was entitled to the British War Medal and Victory Medal.