Frederick Charles Hooker married in 1913 and lived in Baddow Road. He joined the army and died in a Surrey hospital in November 1918, nine days before the Armistice.
HOOKER, FREDERICK CHARLES,
Driver, 1205th Battery, 12th Brigade, Royal Field Artillery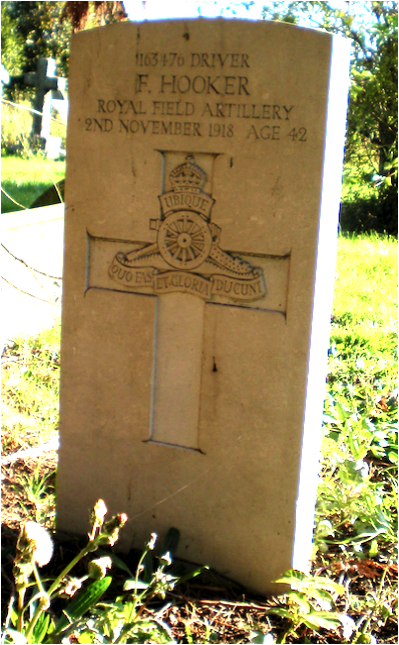 Frederick was born around 1876.
He married Mary Ann Pluck in 1913. The couple had no children.
He lived and enlisted at Chelmsford and died on 2nd November 1918 in a military hospital in Epsom, Surrey while serving as Driver 163476 in the 1205th Battery 12th Brigade of the Royal Field Artillery. He was aged 42. He is buried at Great Baddow (St. Mary) Churchyard.
Frederick is commemorated on the Civic Centre Memorial, Chelmsford, and the Moulsham Parish Memorial, St John's Church, Moulsham. He was entitled to the British War Medal and Victory Medal.
The 1918 register of electors listed an absent Frederick, and his widow at 46 Baddow Road, Chelmsford (later renumbered as 168).
His widow died in 1935.
131102